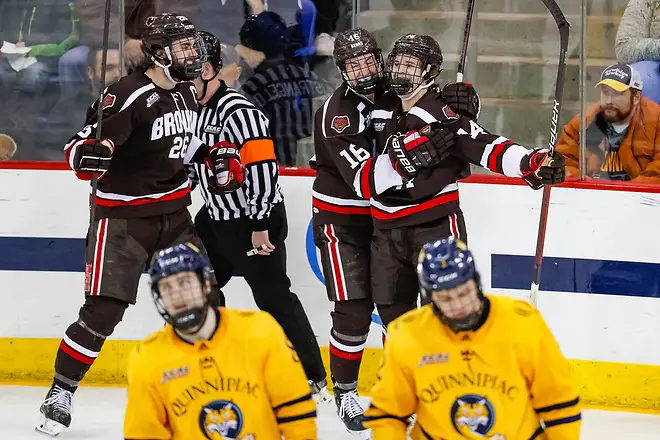 Last year, sixth-seeded Princeton rode a hot streak to an ECAC Hockey championship.
That won't happen again this season, thanks in part to a recent hot streak by No. 8 Brown.
The Bears knocked off the Tigers in the opening round of the league playoffs and then swept top-seeded Quinnipiac on the road last weekend to advance to the league semifinals for the first time since 2013.
"This is a fun group to coach — they really believe in our team and each other," Brown coach Brandan Whittet said.
That sweep meant the Bobcats did not win a playoff series for the first time since joining ECAC Hockey 14 years ago, the longest such streak in league history. It also marked the first time since 2011 that a No.1 seed was beaten in the league quarterfinals.
Brown will play No. 2 Cornell Friday at 4 p.m. EDT while No. 3 Clarkson and No. 4 Harvard meet at 7:30 p.m. The Big Red, Golden Knights, and Crimson are all making their second straight semifinal appearance. The championship game will be Saturday at 7:30 p.m.
Depending on how the weekend goes, it's possible all four teams in Lake Placid plus an idle Quinnipiac team could earn NCAA tournament berths. Clarkson and Quinnipiac are the only league teams that have clinched a spot in the tournament.
Here is a look at the matchups this weekend:
No. 2 Cornell vs. No. 8 Brown
Season series: Cornell, 1-0-1
It seems hard to believe, but Cornell is looking for its first Whitelaw Cup since 2010. The Big Red almost joined regular season co-champion Quinnipiac on the sideline this weekend, but Cornell scored two third-period goals in a span of 42 seconds to win the deciding Game 3 of its quarterfinal series with Union on Sunday.
Cornell had an uneven first half thanks to a rash of injuries, but the Big Red got healthy over the semester break and started the second half with one loss in its first 13 games. However, Cornell closed the season with a 2-2-1 record, a stretch that cost it a chance at winning the Cleary Cup outright.
Leading scorer Morgan Barron was a member of the All-ECAC first team and possesses a good shot to go along with a solid two-way game. Sophomore Cam Donaldson took a big step up this season, while freshman Michael Regush finished the season strong and joins Barron as a threat on the power play.
On defense, senior Matt Nuttle was named the league's top defensive defenseman. It's the second straight year a Big Red player has won the award, as classmate Alec McCrea won it last season. Those veteran defensive stalwarts are complemented by junior Yanni Kaldis, whose skating ability should be an asset on the Olympic ice sheet in Lake Placid.
In goal, sophomore Matthew Galajda's numbers are down a bit from last year's outstanding rookie season, although they are skewed by a rough start that included time missed with an injury earlier in the season.
Like Cornell, Brown closed the regular season in a bit of a swoon, going 1-3 over the last two weekends. But that's the only blip in what has been an outstanding second half for a Bears team that started the year 2-7-3.
Senior forward Tommy Marchin has points in four of his last five games, including two goals against the Bobcats Saturday. Marchin is the only Bears players with double-digit goals, but Brown does the little things well and has some depth through its lineup. That includes on defense, where Zach Giuttari, Max Gottlieb, and Tony Stillwell can all move the puck.
Junior Gavin Nieto has started in goal for all four of Brown's playoff games after missing time with an injury last month.
"We try to play a heavy game," Whittet said. "We've been much better defensively over the last two-and-a half months here. We have pretty good structure in what we do."
Including the playoffs, Brown is 13-6-2 since Dec. 29. Included in those wins is a triple-overtime win on March 9 to eliminate Princeton from the playoffs, and a 2-1 overtime win in Game 1 against Quinnipiac last Friday. Brown scored an extra-attacker goal in the final minutes against the Bobcats to force the extra period.
"It's one thing to talk about it, but it's another thing to be able to come back in a game against an excellent hockey team" Whittet said. "When you do it, there's a definitive sense that it can be done.. We won the game in triple overtime [two weeks ago]. There's definitely a belief in the locker room that if we play the right way, good things can happen."
No. 3 Clarkson vs. No. 4 Harvard
Season series: 1-1
Both teams return to Lake Placid for the second straight year – although under different circumstances.
Clarkson made it to title game last season despite fading during the final weeks of the regular season. This year, the Golden Knights enter the semifinals on a seven-game unbeaten streak. As for Harvard, the Crimson return despite missing two of their top four scorers and starting goalie from a year ago.
Clarkson has a deep lineup, but its anchored by the top line of Nico Sturm, Harald Egles, and Devin Brosseau. Egles has 17 goals this season after scoring 11 during his first two collegiate seasons, while Sturm, a Hobey Baker finalist, is an excellent defensive forward and has only been held without a point in two games this year.
'They're difference makers for us in terms of a line that other people have to worry about," Golden Knights coach Casey Jones said. "They've carried us for quite a bit of the season."
Freshman forward Josh Dunne missed some time with an injury but has 14 goals and is an excellent penalty killer.
In goal, junior Jake Kielly turned in another strong season, starting every game after starting all but two last year.
"You just play aggressive in front of him," Jone said. We get a chance to play the way we want to play. We know they are going to be some stops coming behind us if we make a mistake. You play a little bit freer."
Kielly and the Golden Knights will be tested by Harvard's power play, which enters the weekend as the most efficient in the nation.
That power play is driven by junior defenseman Adam Fox, who leads the nation with 37 assists, and has scored half of his overall points on the power play. Fox is joined on defense by sophomore Reilly Walsh (12 goals) and freshman Jack Badini (21 points).
Senior forward Lewis Zerter-Gossage leads the Crimson with a career-high 18 goals, while freshman Casey Dornbach and Jack Drury are having strong seasons as well.
In goal, Cameron Gornet has played well since taking over for an injured Michael Lackey on Feb. 16. He has a .938 save percentage in six starts, and the Crimson are 5-1 in those games.