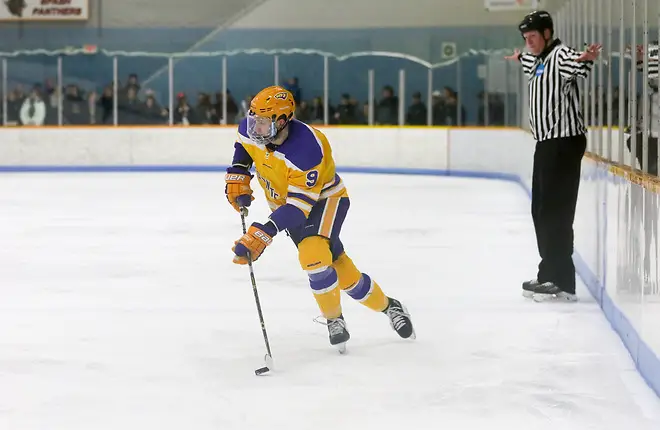 Kelly O'Brien used to watch his brother play hockey at Wisconsin-Stevens Point. The school made quite an impression on him at the time.
"I've been coming here since I was 9 or 10; Stevens Point was like the NHL to me when I was that young," O'Brien said. "It was a special place, and it's special that my brother played here. It's become kind of a family thing. He wasn't the only reason I came here, but he played a big role in me coming here."
His brother, Korey, graduated nearly a decade ago after playing from 2007-11. The two are still close.
"He's in my ear all of the time, whether it's good or bad," O'Brien said. "He's a coach, a mentor, and one of my best friends. He's talking to me after every game, cheering us on. It's really cool we have going to the same school in common."
This weekend, O'Brien will have an opportunity to win a national championship with the Pointers and forever carve out his own special place in the program's history. He is on a Pointers team that is unbeaten through 29 games and ranked No. 1 in the nation, a team seeking their first title since 2016 and their sixth overall.
Coming off a 3-0 win over reigning national champion St. Norbert, Wis.-Stevens Point now faces Hobart in a national semifinal Friday at K.B. Willett Arena. The winner gets either Norwich or SUNY Geneseo Saturday in the national title game.
"To be able to host the Frozen Four in our hometown, on our own ice, is something so special it can't be put into words," Wis.-Stevens Point coach Tyler Krueger said. "It has been our long-term goal from day one this season. Our fans and community deserve it."
To be in this position isn't surprising by any means. The Pointers were in the Frozen Four last year as well. The expectation every year is to play for a national title.
"It's something that is a goal of ours, to get to the Frozen Four," O'Brien said. "We've made the tourney every year I've been here, and now that we are here again, we are excited. It's even more special we are playing at home. It's a different experience, and we are taking it head on."
But to be in this position without a loss? It's a little unreal.
"It's been a crazy year to say the least," O'Brien said. "Anyone saying they expected this to happen is lying."
Of course, the Pointers did what needed to be done to have a chance to remain unbeaten.
"Everyone has bought in, and everything has just clicked for us," O'Brien said. "Everyone is on the same page and firing on all cylinders."
Is there pressure?
"People say there is pressure, but that's just a mental thing," O'Brien said. "We've just taken it one day at a time and haven't paid attention to what is going on in the background. We just know we have to win the next game."
What has helped the Pointers is that they play in a conference (WIAC) where there is no automatic bid to the NCAA tournament up for grabs. That has magnified the importance of each game Wis.-Stevens Point plays.
"It's been our mentality all along, every game is a playoff game," O'Brien said. "We have to be at our best every night. It's been a motivator for us, along with the expectations that come with being a Pointer."
O'Brien has been a key contributor for the Pointers this season, ranking fifth on the team in points (20). He has come through with six goals and 14 assists. Wis.-Stevens Point has scored 122 goals in all.
"At any given time, anyone can put the puck in the net and put us in a better position or bring us back even," O'Brien said. "It's a nice feeling knowing every line is a production line. We have a team full of great hockey players that can get the job done in every aspect, and we pride ourselves on that."
A year ago, the Pointers lost 3-0 to Salve Regina in the national semifinals, despite holding a 55-20 advantage in shots.
"Not a single day has gone by in the last 360 some days where we haven't thought about it," O'Brien said. "If you look at the stats, it's bizarre it turned out the way it did. We don't want that feeling again and have the best opportunity we've ever had."
In terms of preparation, nothing has changed. It's business as usual for the Pointers as they gear up for the biggest weekend of the season.
"We're doing the same things we've been doing all year," O'Brien said. "We are staying focused on the little things and are touching up on things that we need to be better at. It's like any other week for us."
Krueger expects his team to be ready to go.
"We will be prepared for our game Friday against Hobart. There will adjustments we will need to make in our game plan, but mainly we need to wash, rinse, and repeat our effort and attention to detail from the quarterfinal game," Krueger said. "This is what we work toward all year, and now it's time to embrace the moment and have some fun."