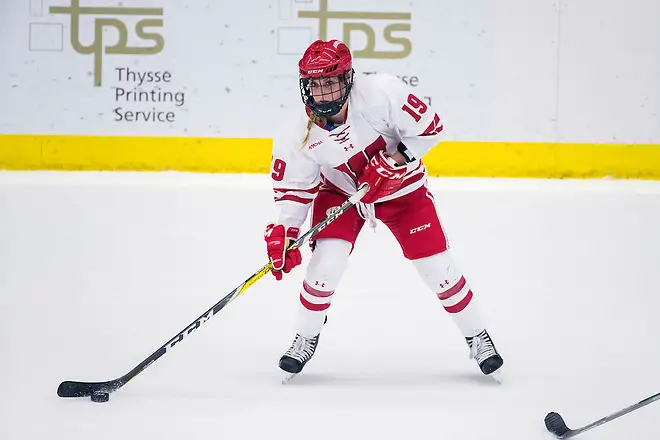 What does it mean when you are ranked first in the country all season, lead the nation in goals and shots, have the Patty Kazmaier winner who rewrote the record books in net and you double-up your opponent in shots, but only manage to score a single goal in the Frozen Four while giving up three in the title game?
How do you "fix" that? What could you do differently, when a full season is undone in six periods? What can a coaching staff do to ensure it doesn't happen again? How do you let go and move on from a game — or two games — that define your career, but defy explanation?
Badgers coach Mark Johnson talks about his affinity for winning the regular-season conference title versus the tournament crown as that regular season win shows a full body of work. It means being the best over a period of more than six months, as opposed to over the course of two weekends.
Holding on to the number one ranking from start to finish in a season is no easy feat and tells the tale of a lot of hard work and a little bit of luck. From first puck drop to that final weekend, Wisconsin was the top team in the country, and it really wasn't close. Most weeks, no other team even received votes.
There were not signs of the impending doom in the closing weeks of the season. The Badgers ranked first in team offense, team defense, and penalty kill and were way back in fourth on the power play. They averaged four goals per game in the second half of the season and more than five goals per game in their five playoff games before getting to St. Charles, Missouri, for the Frozen Four. The team had a tendency to take a ton of shots, but on that weekend in March 2017, it was like they couldn't come close to the net. There was a goal called back for interference. There were breakaways and odd-skater rushes. There were opportunities, but Wisconsin could not capitalize on them.
Not only that, but they gave up just 29 goals all year — an average of just 0.7 goals per game. They had never given up more than two goals in a game all season and had 18 shutouts, including in their 1-0 win over Boston College in the national semifinal. After having reached three straight Frozen Fours without advancing to a title game, this team took down Boston College with a minute to go and took a huge step forward. But it was not to be.
The Badgers fell to Clarkson, 3-0, in the 2017 National Championship game, and it's something the players who were on the ice that day haven't forgotten. There was the disappointment of losing, of course, but it was compounded by the manner in which it happened.
*number one in the nation 27 weeks in a row*
*outshoots the other team 48-18*
Badgers: loses national championship pic.twitter.com/zpDgkDphIn

— Jenny Ryan (@j_flow5) March 20, 2017
This year's team hasn't been quite as dominant as that 2016-17 squad, but that doesn't mean the team doesn't have high expectations for what they can — and should — accomplish. The 11 players on this team who stood on the ice while Clarkson celebrated two years ago are eager to face down some demons and get some redemption at the same time.
"Just watching (Clarkson) play this year and seeing those top players who are putting up a lot of points, you're excited for that challenge," said Wisconsin goalie Kristen Campbell after the team's NCAA quarterfinal win. "I know that this team is more than ready to take on those players. I know that we can shut them down."
Redshirt senior captain Annie Pankowski said the Badgers checked the outcome of the other quarterfinal games as soon as they got off the ice following their own win over Syracuse last Saturday.
"For the people that played in that 2017 game, it's important," said Pankowski said. "And we feel it. We looked at who won (Clarkson's quarterfinal against Boston College) after the game, and everyone was like, 'All right, let's go. We're ready for this.'"
This is Wisconsin's sixth-straight Frozen Four appearance. The program's last national title was 2011, which at this point may as well be a lifetime ago, since the current squad's freshmen were in fourth grade when it happened. Pankowski is arguably the most recognizable and prolific Badger of her generation. Her stats put her on par with past Wisconsin greats Meaghan Duggan, Hilary Knight, and Brianna Decker. She's a two-time Patty Kazmaier top-10 finalist and this year is a top-three finalist. She's a finalist for the Hockey Humanitarian Award. In a few weeks, she'll be playing with Team USA in the Women's World Championships. However, the national title has eluded her and her teammates.
There's a sense that the Badgers feel like this is their redemption arc. Slay the dragons of the past, win the title, cement their legacy. In order to bring it home, they'll have to go through Clarkson and then, possibly, Minnesota — their biggest rival. As far as superhero stories go, it sounds pretty good. Reaching the top feels that much better when you have to step on your biggest nemesis to get there, but it all only makes for a good story if there's a happily ever after.
We'll find out this weekend if the Badgers are the heroes of their own story, or just secondary characters in another team's fairy tale.