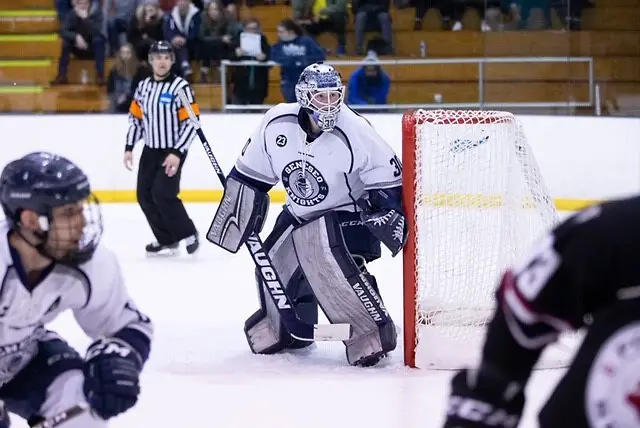 Geneseo senior goaltender Devin McDonald has been chosen as the 2019 winner of the Sid Watson Award, symbolic of the best NCAA Division III men's hockey player.
The award honors the memory of former Bowdoin coach and athletic director Sid Watson. A three-time AHCA Coach of the Year, Watson served Bowdoin for more than 30 years, winning 326 games in 24 seasons as head coach.
This season, McDonald has compiled a record of 23-1-2 with a 1.12 GAA and a .920 save percentage.
The Calgary native has been a factor from his freshman year when he played 25 games and earned Third Team All-SUNYAC recognition, an honor he also received last year as a junior.
Entering the NCAA tournament, his career numbers in 97 games are a 2.05 GAA, a .921 save percentage and a win-loss record of 70-13-13. This year he was named a First Team AHCA All American.
"Devin has established himself over the course of four seasons as one of the best players in college hockey," said Geneseo coach Chris Schultz in a news release. "He has a tremendous passion for the game and has earned himself the reputation of rising to the occasion in the big moments. With Devin in goal, it has solidified our defense first mind set, which has allowed us to get on the offense, have the ability to play creatively, and be confident that if something breaks down, and we need a save, that Devin will bail us out. Devin's worth to our program cannot go understated.
"Beyond his on ice importance, Devin has also become a pillar within our tight-knit community and has quickly become a fan favorite among that community, Jr. Ice Knight program, and within our on campus community itself."
The runner-up for this year's Sid Watson Award is University of New England senior forward Brady Fleurent.