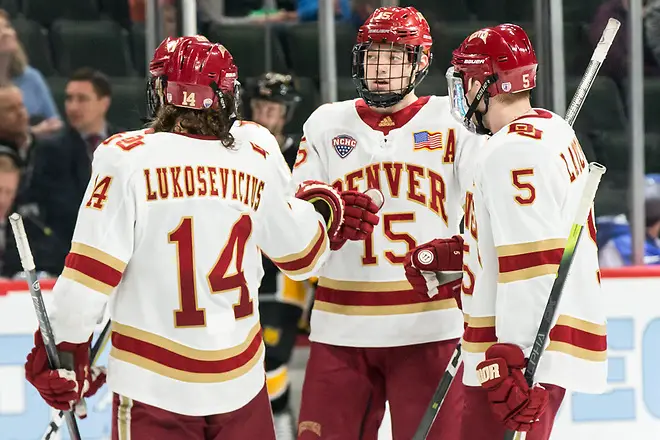 ST. PAUL, Minn. — Behind four points from defenseman Ian Mitchell (two goals, two assists), three points each from Liam Finlay (two goals, one assist) and Tyson McLellan (one goal, two assists), Denver defeated rival Colorado College in the NCHC Frozen Faceoff consolation game 6-1 Saturday night.
Devin Cooley made 22 saves for the win in goal for the Pioneers.
"It was a good game for us," said Denver coach David Carle. "Obviously, I liked our execution offensively. First time in a while we've been able to execute like that."
The win came just two weeks after CC swept the Pioneers and took back the Gold Pan trophy that is awarded to the winner of the season series.
"I guess we definitely wanted to make a statement tonight with how the regular season ended with them taking the Gold Pan from us," said Mitchell. "I don't know if we needed any extra motivation against CC, but that was definitely on our minds."
Colorado College goalie Alex Leclerc looked sharp early, making several stops on Denver shots from the hashmarks area.
It took a near-perfect play for DU to get on the board. Emilio Pettersen picked the puck from CC's Mason Bergh at the DU blue line and raced up the left side boards on a two-on-one with Jarid Lukosevicius. He held it until near the bottom of the left circle and passed it to Lukosevicius, who knocked it into the open net top corner at 5:49 before Leclerc could get over to cover the post.
"There were a lot of pretty goals scored tonight," said Carle. "I thought guys presented for pucks, talked for pucks, better than we have a in a long time."
Despite the early lead, the Pioneers looked sloppy, turning the puck over numerous times in the defensive zone as CC got its forecheck going. CC ended up getting the first power play of the game due to this pressure, and Cooley made a big stop on a chance by Grant Cruikshank from the slot on a rebound. The power play then turned into a five-on-three, and CC capitalized when Bergh passed it down low to Trey Bradley, who took a couple of strides toward the net and ripped a shot from the bottom of the right circle top corner glove side at 15:01. Denver killed the second penalty however, and the game was tied after one.
"I got the puck from (Christiano) Versich and gave it up to Mason, and he kind of snuck some guys up to the point and gave me a lot of time," said Bradley. "I saw the goalie didn't have his stick, so I just tried to get it on net quick and catch him out of position."
Denver's turnovers almost cost them early in the second when CC raced in on a two on one. Cooley made a huge stop by sliding to his left and stopping Bergh's one-timer. In the play after, Mitchell ended up getting called for tripping, putting CC on its third power play. However, Denver had a very aggressive kill and prevented CC from getting any good chances.
"DC (David Carle) came in the room and let us know, 'Tighten it up, this game means a lot," said Finlay. "He kind of made that really clear to us, and I think we came out with a better effort in the second."
On its first power play of the game, Denver almost took the lead when a shot hit the crossbar, but it stayed out. However, on DU's second power play, the Pioneers took the lead when Mitchell fired a snap shot from the middle of the blue line that beat a screaned Leclerc top corner stick side at 8:29.
"I thought we played well in the first, and I don't know if after that we ran out of steam, five games in eight nights," said Colorado College coach Mike Haviland. "Certainly, I thought we were chasing the game the last 40."
Denver then took the two-goal lead just a minute later when Michael Davies carried the puck down the left side almost to the goal line and sent a pass through the crease to Finlay on the far post, who directed it into the open net. Finlay had a made a good spin move to get out of a stick check by Bryan Yoon and free himself for the redirect.
"We know he's a great goalie," said Finlay of Leclerc, who had held Denver to just two goals in the three previous games between the two. "He's been really good all year, especially against us. We just knew we had to be harder around the net."
Just 27 seconds into the third period, Mitchell made it 4-1 almost single-handedly. He got the puck at the left point and drove down low toward the center, roofing a shot top corner from the hashmarks of the right circle.
"He was really good," said Haviland of Mitchell. "He's a guy that has a lot of offensive abilities. He's a smart hockey player. I think his movement up top was outstanding, his little give-go's. He made us pay."
Denver kept up the pressure and made it 5-1 at 5:37. Mitchell left a nifty behind the back drop pass for McLellan at the blue line. McLellan drove down the left side and backhanded a pass to Finlay driving the net, and Finlay directed it top corner stick side.
Mitchell continued his offensive onslaught a few minutes later. After Denver killed a CC power play, Mitchell drive toward the middle of the offensive zone and dished a pass to Brett Stapley down low, who then passed through the crease to McLellan driving toward the left post. McLellan redirected it in at 12:11.
"Ian usually doesn't need extra motivation, he's a really driven person," said Carle. "Ian sometimes forgets how influential he can be on the game with the puck, and tonight I think you saw him attack the game every time he was on the ice, and it really put them on their heels."
Third-place games usually aren't too intense, but late in the game a scrum broke out. McKay Flanagan checked Lukosevicius in the Denver zone, leading with an elbow high that appeared to hit his head. Pettersen and Mitchell took exception, immediately going after Flanagan while Lukosevicius was on the ice.
Then CC's Tanner Ockey tied up Cole Guttman and took some swings at him. Lukosevicius pulled Ockey off Guttman while Pettersen and Alex Berardinelli went after each other. A long review by the referees after led to Ockey's ejection and a five-minute major for cross-checking and Flanagan getting a five-minute major for charging. Mitchell also received two minutes for cross-checking.
With the win, Denver is guaranteed a two-seed band in the NCAA tournament, but how high they finish will depend on other results this evening.
CC ends it season with a 17-20-4 record, but took major steps forward as a program by qualifying for its first Frozen Faceoff.
"It means an awful lot to get here," said Haviland. "You have to continue to learn from our process, and I thought this year we did, especially in the second half. Now the bar has been set, and we have to keep pushing for excellence."