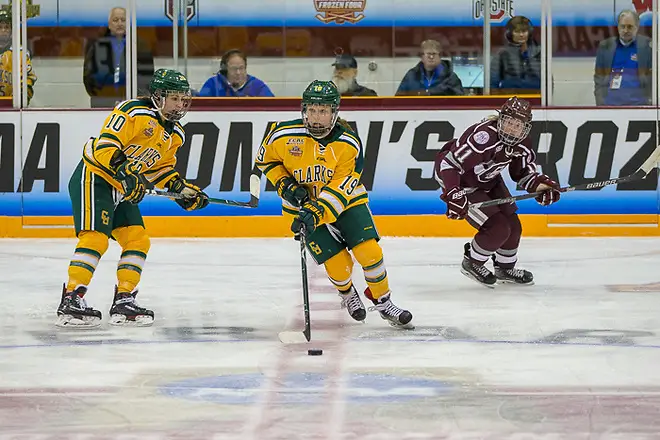 HAMDEN, Conn. — Clarkson University senior forward Loren Gabel has been awarded the 2019 Patty Kazmaier Memorial Award. The honors were presented to Gabel Saturday afternoon at Cascade Catering as part of the women's Frozen Four weekend hosted by Quinnipiac University.
The award, which is in its 22st year, is presented annually to the top player in NCAA Division I women's hockey by the USA Hockey Foundation.
Gabel is the second winner from Clarkson University, joining Jamie Lee Rattray, who won in 2014. Gabel was selected from a group of three finalists that included senior defenseman Megan Keller (Boston College) and senior forward Annie Pankowski (University of Wisconsin).
Gabel entered Clarkson the year after the Golden Knights won their first national championship, but she said before this season that she wasn't actually aware of the fact when she enrolled. She did not know what she nor the program were capable of.
"Winning those two national championships — never would I have thought of winning one, let alone two," she said. "It's just an amazing honor and an unbelievable accomplishment. It's very indescribable."
She was named ECAC Hockey Player of the Year for the second straight season and is Clarkson's all-time leading scorer, finishing her career with 213 points (116 goals, 97 assists). Her 116 goals in 160 career games is also a program record. She led the nation with 34 goals during the regular season. She added 29 assists, giving her 63 regular-season points, which is second in the country behind teammate Elizabeth Giguère.
"I couldn't have gotten here without my amazing teammates and coaching staff. It's just an amazing honor," said Gabel. "Leading our underclassmen every day, day in and day out, and leading them in the right direction to pursue that hard work and dedication and leave a mark in the Clarkson hockey program is amazing. It's a complete honor."
A two-time Patty Kazmaier top-three finalist, Gabel rose to new heights this season in part because how well she and Giguère worked together along with linemate Michaela Pejzlová. They were three of the top five scorers in the country.
"Loren brought out the best in (Elizabeth) and Elizabeth brought out the best in Loren. They just had that instant chemistry," said Clarkson coach Matt Desrosiers.
The left winger led the Golden Knights to a 30-8-2 record and the team's fourth-consecutive Frozen Four. In addition to all her other accolades, she was named to the ACHA All-American First team for the second-straight year.
"I'm extremely happy and proud of her," said Desrosiers. "What she's been able to do over her whole career — just the growth she's shown as a player and as a person in those four years — it's no surprise to me that she was able to receive this award. She leads by example, with her work ethic on and off the ice. She's someone that our team kind of rallies around and kind of follows in that sense. She's just done a tremendous just growing as a person into the leadership role over her four years."
The award caps off a truly astounding and stellar career for Gabel, who now holds most every program scoring record — goals in a season and goals by a senior (40), career goals (116), goals by a junior (36), assists by a junior (39), points in a season and by a junior (75), career points (213), game-winning goals in a season (11) and career (25), and career hat tricks (7). She also owns the NCAA record for fastest hat trick (2:21), which she accomplished against Yale in 2018.
"I have had the privilege to coach some very elite and talented players during my time at Clarkson, and Loren has proven to be one of the all-time great Golden Knights," said Desrosiers. "Loren exemplifies everything the Patty Kazmaier Memorial Award represents: a top performer in the country, competitiveness, performance in the clutch, and a true passion and love for the game of hockey."