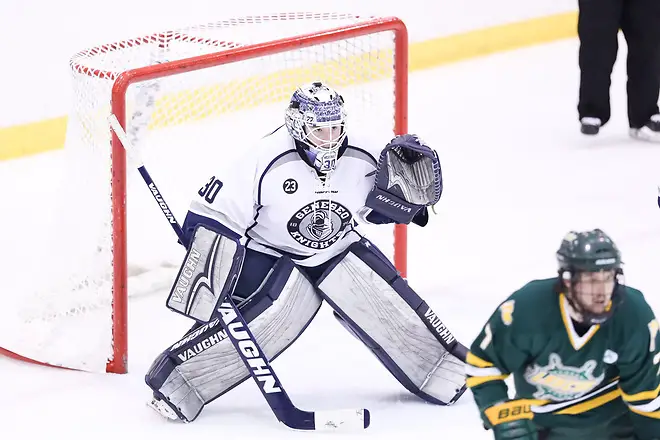 While last weekend's NCAA Frozen Four did not work out as Geneseo and goaltender Devin McDonald had hoped, the senior netminder can look back on the season and celebrate significant team and personal successes that have earned him this season's USCHO Player of the Year honors.
A first-team All-American and winner of the Sid Watson Award as the ACHA National Player of the Year, McDonald truly saved his best career performance for his senior season with the Knights. He finished the season with a 1.22 goals-against average (number one in the nation), a .940 save percentage (number five in the nation) and 12 shutouts (number one in the nation). The 12 shutouts established a new single-season NCAA record. He was 23-2-2 in 27 games played and finished his career with 70 wins and 18 shutouts in 98 games played at Geneseo.
"Devin was a big part of the most successful four-year aggregate record we have had as a program," noted coach Chris Schultz. "I think he has elevated himself to like sixth on the all-time NCAA wins list for a goaltender, and this season he was very consistent with an attitude that was looking to win every game we and he played. He learned from adversity his sophomore season and clearly his last two seasons, and this past season especially he was driven to help the team succeed by being as good as he could be. He, along with the rest of the senior class, is a big part of building a winning and team-first culture here at Geneseo."
McDonald was also named a first-team All-Conference goaltender by the SUNYAC and was the Goaltender of the Year in the conference.
"Devin doesn't quite fit the physical mold many coaches look for in a goaltender," said Schultz. "He isn't 6-foot-3 and covers a lot of net just by his physical presence, but he has used his athleticism, his technique, his quickness, and mental toughness in the crease to maximize his performance. His numbers this year really speak to that dedication in the crease."
McDonald will finish his degree this spring at Geneseo and is exploring options for professional hockey in Europe that include possible destinations in Italy or Switzerland next season.