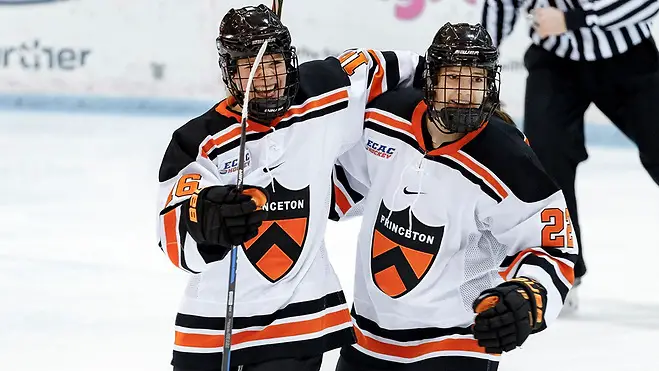 This season's freshman class could be described in one word: loaded. This was especially true at the forward position, where many top teams featured not one, but two game-changing players up front.
Wisconsin had Sophie Shirley and Britta Curl, Minnesota Duluth was led by Gabbie Hughes and Anneke Linser, Taylor Heise and Amy Potomak debuted at Minnesota, and Northeastern rose to prominence thanks in large part to Alina Mueller and Chloé Aurard.
Among all this abundance of talent, Princeton's duo of Sarah Fillier and Maggie Connors stood out. They finished first and third, respectively, in scoring average.
In fact, Fillier, our USCHO D-I Women's Rookie of the Year, produced points at a higher rate than anyone else in country, regardless of class, averaging 1.97 point per game.
"I knew Sarah Fillier was a special player from the moment I saw her when I was recruiting," Princeton coach Cara Morey said. "You can't describe how she plays; she has a special instinct. She understands time and space better than anyone, so I knew she would be a massive factor right away."
That she was, as she sparked the Tigers to the top of the standings throughout most of the ECAC campaign. Fillier didn't slow down when the postseason arrived. She recorded a natural hat trick in a span of just over 14 minutes in her first playoff game, a 4-1 win over St. Lawrence, and was back with another three points the next day as the Tigers completed the sweep.
In the conference semifinal, Cornell held her to a single point as it dropped Princeton by a 3-2 decision in double overtime, as Connors, Fillier's usual left wing, was unable to play. However, Connors was back for the NCAA tournament, and Fillier responded with another multipoint game against Minnesota.
It only took her 5:26 into her first taste of the national tournament to slip behind the Gophers' defense and finish under the bar to give Princeton the early lead. Coming out of the first intermission facing a deficit, Fillier needed less than three minutes to erase it. Breaking in on a line rush, she sent a laser into the top corner, and it wasn't until the game's closing minutes that Minnesota was able to pull away.
The product of Georgetown, Ontario, possesses a rare blend of speed, quickness, hands, and hockey sense, and it was all on display during her dazzling first season.
Congratulations to Sarah Fillier, USCHO's Rookie of the Year!