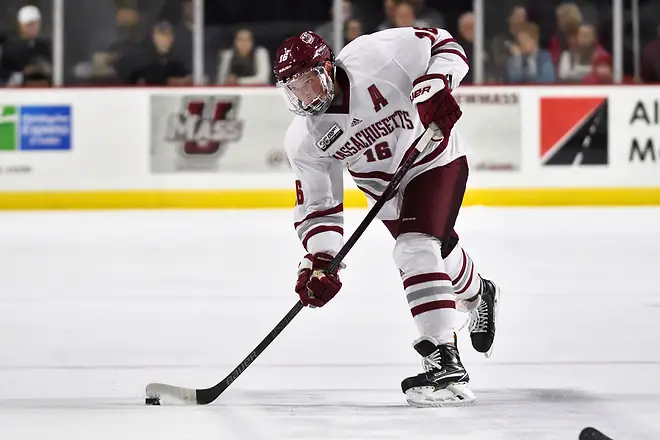 Northeast Regional
March 29-30, SNHU Arena, Manchester, N.H.
Friday, March 29, 3 p.m. Eastern time, ESPN2/WatchESPN, No. 1 Massachusetts vs. No. 4 Harvard
Friday, March 29, 6:30 p.m. Eastern time, ESPNU/WatchESPN, No. 2 Clarkson vs. No. 3 Notre Dame
Saturday, March 30, 6:30 p.m. Eastern time, ESPNU/WatchESPN, Northeast Regional Championship
MASSACHUSETTS
Season record: 28-9-0 (18-6-0 HEA, 1st)
Playoffs to this point: defeated New Hampshire (5-4 (2OT), 6-0), lost to Boston College (3-0)
Top players: Defenseman Cale Makar (15-31–46); Forwards Jacob Pritchard (16-29–45), Mitchell Chaffee (17-24–41), John Leonard (13-23–36)
Top goalies: Matt Murray (20-5-0, 2.11 GAA, .919), Filip Lindberg (8-3-0, 1.67 GAA, .932)
Why they will advance to Buffalo: UMass is as talented as any team in the country, led by arguably college hockey's top player, defenseman Cale Makar. The Minutemen can boast the nation's No. 3 offense, No. 2 power play, No. 9 defense, and No. 4 penalty kill. They have it all.
Why they will not advance to Buffalo: They have it all… except experience. The big stage was not kind to them in the Hockey East semifinals, so the onus is on them to shine in the limelight like theu shined all season.
Experience can't be conjured out of nothing. UMass found that out the hard way in its first trip to the Hockey East semifinals in 12 years. The Minutemen had been the class of the league all season long, but fell 3-0 to a Boston College club well-accustomed to the big stage and the TD Garden in particular.
"It was definitely a factor that we didn't want to discuss all week with the kids," coach Greg Carvel says. "We didn't want to give them an excuse.
"But for our kids, this was a big stage that they're not used to. It was a big opportunity for our program. Honestly, [it was] one of the poorer games we played this year. We were a little eyes-wide-open, and guys weren't our usual selves."
So if the league semifinals produced lights too bright for the inexperienced Minutemen, how are they going to turn it around on the even brighter, bigger stage of the NCAA tournament?
"We all feel pretty badly that we let a great opportunity slide by," Carvel says. "I can't imagine we'll let that happen twice in a row. Hopefully, we learned a lot.
"The quick turnaround from the lessons that we learned [will help]. It's not like a year later where we're going to be on a big stage again; it's the next weekend. So lessons learned will be quickly reapplied on Friday afternoon."
In Harvard, the Minutemen will be playing a mirror image of themselves. The teams rank first and second in the nation in power play, and are also among the top overall offenses, led by elite defensemen.
It's in the defensive end where UMass holds the advantage, both overall (ninth vs. 19th) and especially on the penalty kill (fourth vs. a shocking 49th).
"Both teams rely on defense to create a lot of offense," Carvel says. "Both teams have offensive threats up front that can score. Both teams have strong power plays.
"It's the team that's going to defend better that's probably going to find a way to win. So that's what we'll focus on, continuing doing what we do offensively, but making sure we're as good as we can be defensively."
— David H. Hendrickson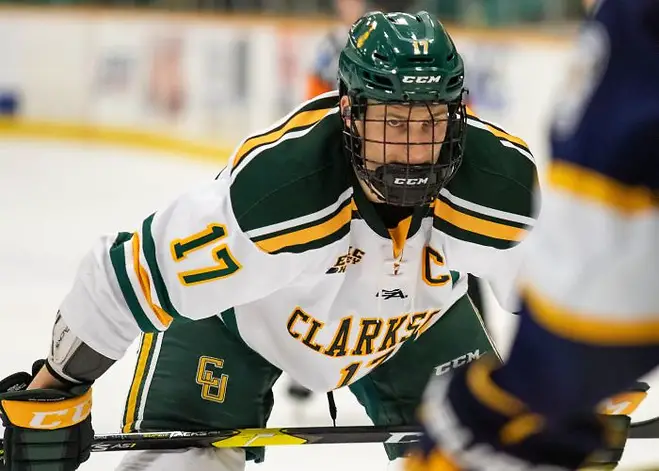 CLARKSON
Season record: 26-10-2 (13-7-2, third in ECAC)
Playoffs to this point: Swept Yale in the ECAC quarterfinals, beat Harvard in the semis and beat Cornell in the championship.
Top players: Nico Sturm (14-31-45), Haralds Egle (18-21-39), Devin Brousseau (14-14-28), Aaron Thow (8-17-25), Jack Jacome (6-18-24).
Top goalie: Jake Kielly (26-10-2, 1.89 GAA, .929 save percentage)
Why they will advance to Buffalo: They have a solid top line in Sturm, Egle and Jacome who have combined for 108 points so far this season. Jake Kielly has been outstanding in goal and the Golden Knights are 5-0-0 on neutral ice this season.
Why they will not advance to Buffalo: Will their secondary scoring be enough, if the top line gets shut down? Creating offense from the back end may be challenge. They have Aaron Thow and Greg Moro who each have 20-plus points on the first pairing, but after that, the point totals drop off with Connor McCarthy's 13 points and Jordan Schneider's 11.
The Golden Knights took the New England Patriots approach this season.
Just like the six-time Super Bowl champions have done under coach Bill Belichick, who has his teams playing its best football towards the end of the regular season and playoffs, sometimes after a slow start to the season, the Patriots were like that this season with losses to the Jacksonville Jaguars and Detroit Lions in the first four weeks.
The Golden Knights, just like the Patriots this season, got off to a slow start. Like the Patriots do with free agents and draft picks, the Golden Knights knew they were going to take its bumps with newcomers taking on big roles.
They dropped the opening two games of the season to Penn State, and also had losses to Canisius, St. Lawrence and Yale in the first half. Heading into the tournament, Clarkson is 7-1-2 in the past 10 games.
Now they are the No. 2 seed (like the New England Patriots were this season in the playoffs) in the Northeast Regional as they take on Notre Dame.
"I think our locker room understood our vision was the fact, 'Hey guys, you have to trust that we have to develop in the first half and we can't be focused on wins and losses at this point of the season,'" Clarkson coach Casey Jones said after the 3-2 overtime victory over Cornell to win the ECAC championship last Saturday night.
Jones knew his team had to develop secondary scoring, but he was more concerned developing the defensemen after losing Terrance Amorosa and Kelly Summers from last year's team. That pair played 25-plus minutes a game in 2017-18.
The Golden Knights also have three freshmen at the center position, led by Josh Dunne who has 14 goals and nine assists in 31 games this season. The others is Vegas Golden Knights pick Nick Campoli and Anthony Callin.
"I was prepared to let them play, throw them to the fire, make sure they came along," Jones said. "We knew in the second half, we had a chance because we liked our pieces. We weren't worried to finish the puzzle in the first half, but we worried about putting the pieces together in the second half. It was nice it came together."
The players knew they were coming together for a while.
"In this locker room, we felt for a long time that we had something special," goaltender Jake Kielly said. "To have a winning team, a championship team, you need more then skill, you need camaraderie and you need to gel between the guys."
— Nathan Fournier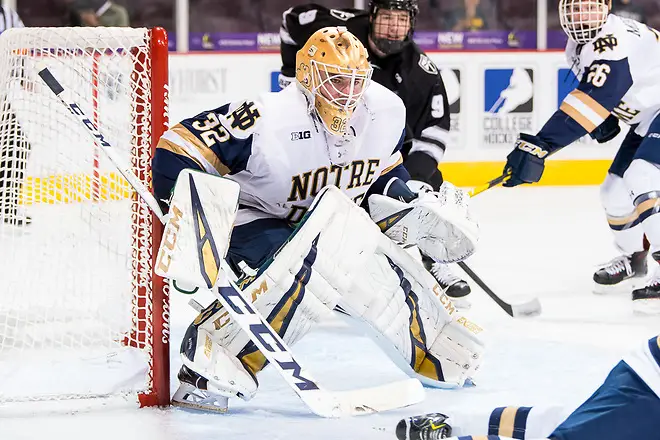 NOTRE DAME
Season record: 22-13-3 (2nd in the Big Ten)
Playoffs to this point: Defeated Michigan State in the first round, Minnesota in the semifinals and Penn State in the final
Top players: Bobby Nardella (7-25-32), Dylan Malmquist (10-20-30), Cal Burke (12-17-28)
Top goalie: Cale Morris (18-12-3, 2.19 GAA, .931 SV%)
Why they will advance to Buffalo: Goaltending. The only postseason game Cale Morris has lost was last year's final against Minnesota Duluth. He gives Notre Dame a chance against any opponent.
Why they will not advance to Buffalo: Lack of goal-scoring. If Morris is to falter, Notre Dame doesn't have a ton of scoring depth. The Irish have the 26th-ranked scoring offense in the nation, averaging 2.87 goals per contest.
Notre Dame appears to be hot at the right time.
After struggling to get on a roll during the regular season the Irish gave up three goals over their four games in the Big Ten Tournament and defeated Penn State 3-2 at home to take home the conference trophy.
"In the last month, we started really coming into form," head coach Jeff Jackson said after the victory over the Nittany Lions. "We've played really good hockey over the past eight weeks, but it didn't always show in the results. Once we got to the playoffs, our goaltender got dialed in, our defense got better and I thought that, as all year long, [we got] timely scoring."
After losing a ton of scoring depth from last year's national runner-up team, Notre Dame took some time to come together this season. That being said, the players that did get experience last year were crucial during the conference postseason run, according to Jackson.
"We have a lot of veterans that went all the way to the championship game last year and won a championship in the Big Ten," he said. "They need to lead the way, by keeping guys calm and not getting rattled."
One of those veterans is goaltender Cale Morris, who backstopped the Irish to 1-0, 2-0, 2-1 and 3-2 victories in the tournament.
"He's a big part of why we are where we are," Jackson said. "Over the last two years, he's been a difference-maker. If you have a difference-maker in net, it makes a big deal winning hockey games. He's shown that he can be composed in the finishes of games that are really important, and he did it again [Saturday]."
Jackson didn't use the Big Ten's automatic bid as motivation for his team, which was sitting on the PairWise bubble heading into the tournament, preferring a next-game up mentality. Now with the Irish in the field of 16, expect a similar philosophy.
"We have to do the same thing we did going into the [conference] playoffs," he said. "The NCAA tournament wasn't being talked about, it was about the Big Ten championship and winning the next game in front of us. We have to do the same thing now. Uur season's going to carry on because we did win the championship, and we just have to focus on the next game. That's all we can do, at this point."
— Drew Claussen
HARVARD
Season record: 19-10-3 (13-7-2, fourth in ECAC Hockey)
Playoffs to this point: Beat Dartmouth in the ECAC Hockey quarterfinals, lost to Clarkson in the semifinals
Top players: D Adam Fox (9-39-48); D Reilly Walsh (12-19-31); F Casey Dornbach (7-22-29); F Lewis Zerter-Gossage (18-6-24)
Top goalie: Michael Lackey (14-7-3, 2.31 GAA, .918)
Why they will advance to Buffalo: The Crimson have the nation's top power play and a group of talented defenseman that pose a challenging matchup to any team.
Why they will not advance to Buffalo: Youth. As talented as they are, the Crimson's lineup is filled with underclassmen.
Harvard is making its fourth NCAA tournament appearance in the last five years, but it's a new experience for much of this year's team.
Only 11 players from this year's roster saw action in 2017 when the Crimson made it to the Frozen Four in Chicago.
But it's been contributions from Harvard's underclassmen that have given the Crimson the chance to reach Buffalo this season.
"When you have two freshmen and a sophomore down the middle as center ice men that is such an important position that you have to get a lot of improvement throughout the year to get to this point," Harvard coach Ted Donato said, referring to sophomore Jack Badini and freshmen Baker Shore and Jack Drury. "Our freshmen have been integral to our success."
Senior co-captain Michael Floodstrand is one of the holdovers from the Frozen Four team and is now in the position of helping prepare his younger teammates for the experience.
"I think in years past, you're always looking at the older guys for guidance," Floodstrand said. "And now you're just kind of relying on everything that you've learned in the past. I think it's even more special as well. It's your last time to go into it, so there's a little more desperation as well."
Senior goalie Michael Lackey has also been an important part of the Crimson's success. After seeing little playing time his first three years, in part to due to injuries, Lackey helped Harvard to a second-half hot streak before getting hurt on Feb. 16 against Clarkson.
Junior Cameron Gornet took over until Lackey made his return Friday in the conference semifinals. However, Lackey was pulled in the second period after allowing three goals on 22 shots against Clarkson.
Harvard's Adam Fox and Massachusetts' Cale Makar are two of the top defensemen in college hockey and have a chance to be Hobey Baker Hat Trick finalists. Both also help drive the country's top two power play units, as the Crimson have a fraction of percentage point lead over the Minutemen for the top spot.
"I think it's great," Donato said. "Whether you're a Fox guy or a Makar guy you enjoy the fact that the two most dynamic offensive defensemen in college hockey this year are facing off against one another."
Fox and Makar aren't the only dynamic defensemen who will take the ice Friday in Manchester. Sophomore Reilly Welsh and freshman Jack Rathbone give Harvard plenty of offense from the blueline, while junior John Marino is a steady presence as well.
Despite playing less than 100 miles from each other, this is the first time the Crimson and Minutemen will play each other since a 4-4 tie in Amherst on Dec. 2, 2011.
Donato said he had a feeling that Harvard would be playing Massachusetts in the opening game of the tournament. And while he's familiar with Minutemen coach Greg Carvel, who was the head coach at St. Lawrence for four seasons, he's more concerned with focusing on what the Crimson need to do in order to win.
"We have a healthy amount of respect for them, but ultimately we have to play to the identity that we feel gives us the best chance at success," Donato said.
— Nate Owen