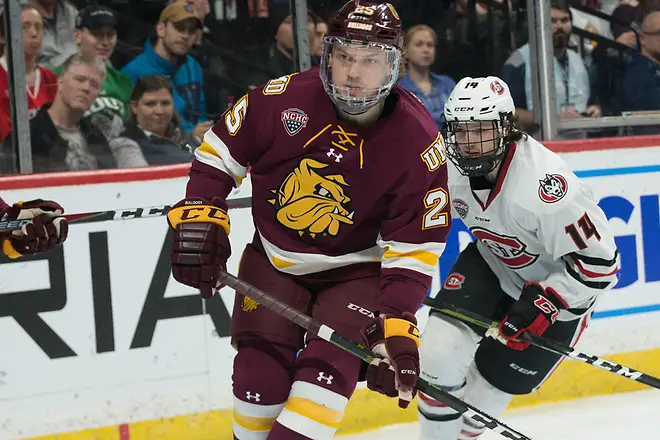 Midwest Regional
March 30-31
PPL Center, Allentown, Pa.
Saturday, March 30, 4 p.m. Eastern time, ESPNU/WatchESPN, No. 1 Minnesota Duluth vs. No. 4 Bowling Green
Saturday, March 30, 7:30 p.m. Eastern time, ESPN3/WatchESPN, No. 2 Quinnipiac vs. No. 3 Arizona State
Sunday, March 31, 6:30 p.m. Eastern time, ESPNU/WatchESPN, Midwest Regional Championship
MINNESOTA DULUTH
Season record: 25-11-2, (second, NCHC)
Playoffs to this point: Won NCHC Frozen Faceoff, sweeping Omaha in the first round and beating Denver and St. Cloud State in the Frozen Faceoff
Top players: Justin Richards (10 goals, 18 assists, 28 points), Scott Perunovich (3-25-28), Parker Mackay (12-15-27), Nick Swaney (15-9-24)
Top goalie: Hunter Shepard (25-11-2, 1.87 GAA, .918 save percentage)
Why they will advance to Buffalo: The Bulldogs have one of the best defenses in the country. They are the defending national champions and have played in the last two national championship games. They looked outstanding at the Frozen Faceoff.
Why they will not advance to Buffalo: The curse of the Frozen Faceoff. Since the start of the league championship, the winner of the conference tournament has advanced to the Frozen Four only once. Three times the tournament winner has fallen in the first round, and once in the quarterfinals. Having said that, the one team to win the conference tournament and advance to the Frozen Four was Minnesota Duluth in 2017, so …
The NCHC continues to be the strongest conference in college hockey. It has produced the last three national champions (North Dakota, Denver, Minnesota Duluth), and now, with the 2019 tournament upon us, has also produced the top seed in the tournament for the last three seasons (Denver, St. Cloud, St. Cloud).
Not only that, entering the tournament this season the top two seeds in the tournament come from the NCHC, as Minnesota Duluth is seeded two. Duluth was also seeded second in 2017 when they lost to top seed Denver in the national championship game, so that might give them extra confidence headed into the NCAA tournament.
"I can tell you how hard it is week in and week out," Duluth coach Scott Sandelin said of the conference. "Our guys have had some ups and downs, but we're pushed every week. Even in the playoffs last weekend we play Omaha and they were not easy games. I remember Bobby Motzko used to say it's like playoff hockey every weekend. The intensity ramps up in the second half. Even last year in the tournament, I thought St. Cloud and Denver were two of the best teams, and we played them four times each, so you get prepared. When you go into the tournament, I don't think you're phased by a lot of things. There's a lot of great teams in the country, but you see a lot of the best ones right here. I think it helps your players prepare and know what's coming."
The Bulldogs enter the NCAA tournament as one of the obvious favorites. They have made the last two national championship games, and they are the defending national champions. They are also coming off a double overtime win over St. Cloud State in the NCHC Frozen Faceoff, a game where the Bulldogs had to survive an onslaught in the first 12 minutes before settling in and battling back twice from a one-goal deficit.
"We were fortunate to only be down one," said Sandelin. "I think as the game got going and the score stayed the same and we got through some of those penalty kills, our guys felt better. I thought we did get a little better as the game went on."
One of the reasons Duluth was only down a goal was the play of goaltender Hunter Shepard, who backstopped the Bulldogs to a national title as a freshman. Having Shepard in net relaxes the Bulldogs.
"He gives us a lot of energy," said forward Billy Exell after the win against St. Cloud. "He's a little bit of our quarterback on faceoffs. He's always telling guys, keeping them honest on the faceoff. When we know he's back there and make a mistake, we know he's going to be there for us. It's important for us to limit his job, what he has to do, but we know he's going to there. I think that feeds into playing our defensive game."
— Candace Horgan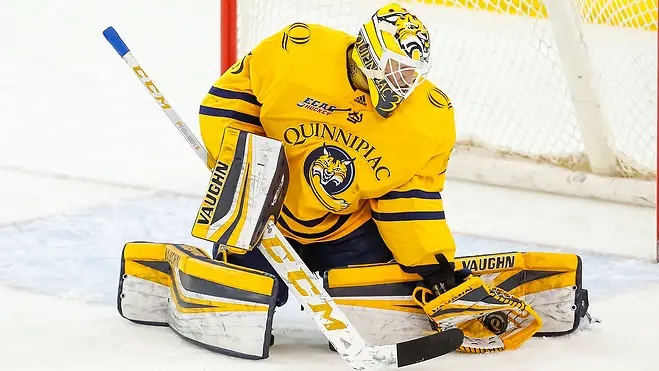 QUINNIPIAC
Season record: 25-9-2 (14-6-2, tied for first)
Playoffs to this point: Lost to Brown in the ECAC Hockey quarterfinals
Top players: F Odeen Tufto (15-27-42); D Chase Priskie (17-22-39); F Ethan de Jong (10-15-25); F Wyatt Bongiovanni (14-9-23)
Top goalie: Andrew Shortridge (17-6-2, 1.51 GAA, .941)
Why they will advance to Buffalo: Quinnipiac is one of the most balanced teams in the country, ranking in the top five nationally in offense, defense, and combined special teams play.
Why they will not advance to Buffalo: Youth. As talented as they are, the Bobcats play a number of underclassmen each night. That youth and inexperience has shown up in several of the team's losses this year.
A young Quinnipiac team that was picked to finish eight in the ECAC Hockey preseason poll has had stretches of dominance this season, but also spurts of poor play that have cost it several games this season, including the quarterfinal series against the Bears.
It was the first time in 14 seasons in ECAC Hockey that Quinnipiac did not win a playoff series, a league record.
The absence of senior defenseman and Hobey Baker candidate Chase Priskie hurt the Bobcats against Brown. Priskie was suspended for two games after kicking a Yale player with his skate in Quinnipiac's regular-season finale.
Priskie's absence showed, as the Bobcats struggled to find consistency in the series against Brown, scoring one goal in an overtime loss in Game 1, and then surrendering four third-period goals in a 4-3 loss in Game 2.
Despite that, it's been a rebound year for Quinnipiac. The Bobcats are back in the national tournament for the first time since 2016 after finishing with a losing record last season for the first time since 1996, when the team was a Division II program. Quinnipiac also swept its final regular-season weekend to clinch a share of the Cleary Cup with Cornell.
"Getting back to the tournament was a big goal of mine," Quinnipiac coach Rand Pecknold told the New Haven Register. "I wasn't sure it was feasible given the amount of freshmen we have in the lineup. We're proud to have accomplished that and it's a nice reward for our season."
The Bobcats will face a NCAA tournament newcomer in Arizona State. It was a position that the Bobcats found themselves in not long ago, when they made a run to the Frozen Four in 2013.
Priskie's return is good news for a team that is already short defensively after losing senior Brandon Fortunato to a season-ending injury last month. The Bobcats are at their best when they control possession, and they rely on their defense to help move the puck out of the zone.
Up front, sophomore Odeen Tufto is a dynamic playmaker who has seen an increase in his goal production after shifting to center this season. The freshmen trio of Ethan de Jong, Wyatt Bongiovanni, and William Fällström have all had solid seasons as well. They're joined by upperclassmen Alex Whelan and Craig Martin, giving the Bobcats scoring depth that the team has lacked at times in recent years.
Junior Andrew Shortridge was named ECAC Hockey's goalie of the year despite not taking over the starting job full time until the middle of the season. His experience helps cover up some of Quinnipiac's mistakes, but as the Bobcats learned against Brown, any lapses at this time of year can be fatal.
— Nate Owen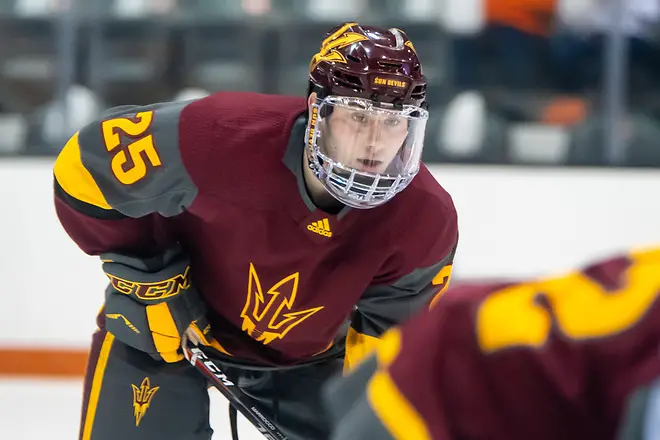 ARIZONA STATE
Season record: 21-12-1 (Independent)
Playoffs to this point: Not applicable
Top players: Johnny Walker (23-11-34), Brinson Pasichnuk (12-17-29), Dylan Hollman (12-7-19), Anthony Croston (7-16-23)
Top goalie: Joey Daccord (21-12-1, 2.36 GAA, .926 save percentage)
Why they will advance to Buffalo: An independent needs to record wins over the right power teams in order to make a national tournament appearance happen. The Sun Devils' experience against Ohio State, Penn State, Harvard, Clarkson and Minnesota State conditioned the team for a potential run to the tournament, and success earning wins and ties against some or most of those teams helped push them to the NCAA Tournament. There's also the 28-day layoff, which means they enter the tournament as the most-rested team in their bracket.
Why they will not advance to Buffalo: They won the right games, but the Sun Devils went 3-6-1 against teams qualifying for the tournament. Two of those wins were against American International, which earned Atlantic Hockey's autobid. So while the math helped get them into the Midwest Regional, there are some holes. The time off could also really hurt this team because it hasn't played a game in almost a month; any rink rust will show early at a time when Arizona State can't afford it.
It's hard to fully understand how a young program could get itself to the national tournament without the added benefit of a glittery home arena or a highly-competitive conference. Those are both future things for Arizona State (the arena is, at least), which is the first independent team to qualify for the tournament since Alaska-Anchorage in 1992.
"(It) really hit me watching the (selection) show," goalie Joey Daccord told the Arizona Republic. "I honestly got a little emotional. It's an extremely special moment for myself, the program, the school."
How the Sun Devils perform in the national tournament is of great interest to the entire hockey community, largely because the program was a club team within the last five years. An independent team hasn't made the Frozen Four since Boston University in 1960, but the college hockey landscape then is virtually unrecognizable; only four teams made the national tournament.
Offensively, Arizona State runs incredibly deep, with six players scoring 20 or more points. Johnny Walker has 23 goals and is averaging a point per game, and two other 10-goal scorers provide the top heaviness to a lineup that has four other players with seven goals. The time off helped Walker the most, after he missed the last series of the season with injury.
In goal, Daccord allowed only 80 goals and ranked as one of the most seasoned goalies in the nation, despite not playing conference games or in a conference tournament. He ranked 13th in save percentage after stopping 994 shots, and he will become the ninth goalie this season with over 1,000 saves this season against Quinnipiac, barring any monumental incident.
"There's no layups in the tournament," Sun Devils coach Greg Powers told the Republic. "Everybody that gets in is really good. There's been years where the last seed has won…Our work is going to be cut out for us in more ways than one."
— Dan Rubin
BOWLING GREEN
Season record: 25-10-5 (third, WCHA)
Playoffs to this point: Runner-up in conference tournament
Top players: F Max Johnson (19-23—42); F Brandon Kruse (9-31—40); F Connor Ford (17-17—34); D Alec Rauhauser (4-22—26)
Top goalie: Ryan Bednard (20-7-4, 1.78 GAA, .926 save percentage)
Why they will advance to Buffalo: For the second time in three years, the Falcons lost the WCHA championship with a gut-wrenching overtime loss. You don't think that's going to motivate their juniors and seniors? Expect BGSU to play as inspired as it has since joining the conference in 2013.
Why they will not advance to Buffalo: Congratulations on a stellar regular season and earning your first NCAA tournament berth since 1990. Your reward? You get to face the defending national champions, Minnesota Duluth, in the opening round. That's a tall order to get out of the opening weekend.
Bowling Green was an absolute powerhouse from 1977 to 1990, so current coach Chris Bergeron is aware the Falcons have a great opportunity ahead of them when they open the NCAA tournament with defending national champion Minnesota Duluth this weekend.
"The history here at Bowling Green says we're supposed to be winning championships, individual awards and meeting extremely high expectations," the ninth-year coach said Monday afternoon. "So it's nice to see the guys back in the tournament, which hasn't been done here in a long time. It's also very exciting for our fan base in particular. Our fan base has been waiting for this for a long time."
It's actually been since 1990 the Falcons have made the NCAA tournament. Had overtime gone their way in the WCHA championship game in 2017 and last week, they would have had more hardware to show their fans, too. They lost to No. 2 Minnesota State 3-2 in overtime last weekend.
That loss is going to motivate them in the tournament.
"Knowing we get to keep playing, that's exciting for us," Bergeron said. "But I thought with the way our game ended Saturday, it's going to take a little time to get over it. We're going back to work Tuesday, and we're getting excited for Saturday, but it's been difficult.
"Our juniors and seniors were in this situation before, two years ago, in Houghton, losing to Michigan Tech in double overtime in the WCHA championship. We felt like we had this game well in hand this last weekend, and we lost our poise there for the last few minutes of the game. The guys are disappointed.
"So our group is out to prove we're resilient and we're out to prove we can bounce back, and there's no better time to do that than this weekend playing against Minnesota Duluth."
Bergeron said his staff hasn't looked too deep into Duluth's video or diagrammed any Xs and Os yet. The Falcons will focus on playing a complete game. Bergeron thinks BG only played strong for 58 minutes against the Mavericks.
"We haven't looked too deep into the matchup yet," he continued. "But we're happy just to be playing. Our kids are aware of the college hockey world, so they know who they are playing against – Duluth is the college champs. So we need to be well prepared.
"I'm hoping we can use last weekend as motivation. We've talked about being conference champions and making the national tournament for the last four or five years around here. Every type of championship has eluded us. But we've gotten to 20 wins five years in a row and have been close to making the national tournament but haven't got in. So getting in is good for us.
"Using that loss as motivation is something we'll have to see if it happens. But it's fresh in everyone's mind. It's up to us to leave it behind, refocus and get ready to go."
— Brandon Folsom