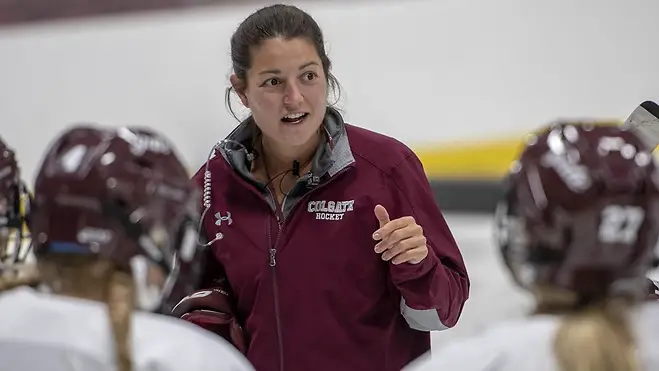 Norwich announced on Friday that Sophie Leclerc will be returning to her alma mater as the second head coach in Norwich women's hockey history.
The Barre, Vt., native returns to Norwich and Central Vermont after spending four years as an assistant coach at Colgate.
She replaces Mark Bolding, who left to become the head women's coach at Yale in April.
"I am humbled and feel extremely fortunate to accept the position of head women's hockey coach at my alma mater," Leclerc said in a statement. "Together, our staff and players will continue to embrace the overall mission of Norwich and represent our institution, program and community, on and off the ice, with purpose, enthusiasm, and excellence."
Leclerc was a four-year standout at Norwich, helping build the program from the ground up as a player on the inaugural varsity team in 2007-08. She went on to cap her sensational playing career by guiding Norwich to its first national championship with a 5-2 victory over RIT in 2011.
She still ranks as the all-time program assists leader and is ranked second in nearly every other offensive category, including career points. She scored 72 goals (third) and tallied 91 assists for 163 points in 112 career games.
After graduation, she spent one season as the head girls hockey coach at Kimball Union Academy in Meriden, N.H., and returned to Norwich to serve as the full-time assistant coach under Bolding in 2013-14 and 2014-15.
"I cannot begin to thank Mark Bolding and Greg Fargo enough for their immeasurable support, mentorship and lessons shared over the past 10 years," Leclerc added. "They have without a doubt created and fostered the love I have for this game and the relentless desire to share it with others through coaching."
Leclerc graduated from Norwich with a Bachelor's degree in Physical Education and then also earned her Master's degree in Organizational Leadership in 2012 from Norwich as well.
"As a former player and coach here, I don't think I ever stopped thinking about Norwich," Leclerc said. "I love this place and the memories it created for me. I have always dreamed of being the head coach here."