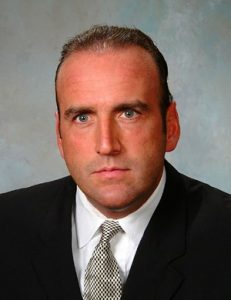 Merrimack announced Thursday the addition of Bob Emery as the team's director of men's ice hockey.
In this role, Emery will oversee a number of day-to-day programmatic responsibilities to assure a smooth operation, including practice planning, film breakdown, analytics, travel logistics, recruiting and more.
"Adding a person of Bob's level of experience is a huge boost for Merrimack Hockey and the Merrimack community," said Warriors coach Scott Borek in a statement. "Bob's success did not begin at Plattsburgh, as he was a member of the Massachusetts state champion Matignon High Warriors in 1981 and then moved onto Boston College, where he was in the NCAA tournament three times. Adding a winner at this level will help our program make the next step, and I could not be more excited to work with him on Mission Merrimack."
"I am more than excited to start working with Mission Merrimack in Hockey East," Emery added. "I was fortunate enough to play in Hockey East in its inaugural season, and now to come back to it 35 years later is an incredible opportunity. The people that I met with during the interview process clearly have the same goals as I do. I am impressed with Merrimack's campus and the ongoing improvements that the administration continues to make. I look forward to giving Coach Borek my best and helping the program to its ultimate goals."
Emery arrives in North Andover after a storied head coaching career at Plattsburgh, where he announced his retirement at the end of the 2018-19 campaign. His coaching tenure, which began in 1989-90, includes an incredible overall record of 624-215-65 and two NCAA Division III national championships in 1992 and 2001. Under his guidance, Plattsburgh won 16 SUNYAC titles and made 18 NCAA Division III Tournament appearances, including 10 trips to the national semifinals.
He is the fifth all-time winningest coach in men's hockey across both divisions of the sport within the NCAA, as he wrapped up his career with a .726 winning percentage. Emery also ranks 11th in career victories with 624. The Cardinals won at least 20 games on 18 occasions under Emery, which included a 32-2-2 mark during the 1992 national championship season. Emery led Plattsburgh to its second NCAA Division III title in 2001, and in all 30 years of Emery's tenure as head coach, the Cardinals never had a losing season. He was an eight-time SUNYAC Coach of the Year.
A 10th-round pick (208th overall) by the Montreal Canadiens in the 1982 NHL Draft, Emery played four years at Boston College. During his time there, the Eagles made three NCAA Division I tournament appearances and won the Beanpot in 1983.