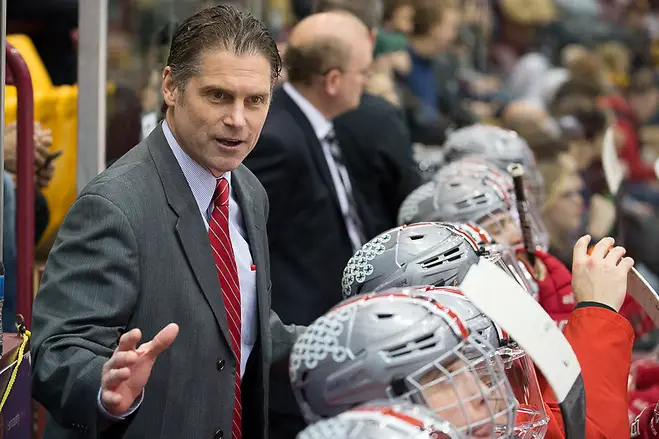 Ohio State head coach Steve Rohlik has signed a contract extension with the Buckeyes that runs through the 2023-24 season.
Through his first six years at the helm of the program, he has led the squad to a Big Ten championship, three NCAA berths and a Frozen Four appearance.
"We appreciate Coach Rohlik and the leadership he brings to the program on and off the ice," said OSU senior associate athletics director for sport administration Shaun Richard in a statement. "He has executed the plan he laid out to elevate this program and the success academically and athletically over the past six years has shown that. We are looking ahead to his continued leadership within the hockey program as we strive to continue moving this program forward on a national level."
Rohlik, the 2018 and 2019 Big Ten Coach of the Year and a two-time AHCA National Coach of the Year finalist (including a runner-up finish in 2018), has compiled a 113-84-28 record, with three consecutive 20-win seasons. The Buckeyes won the 2019 Big Ten regular-season title, the first B1G crown for the program and the team's first regular-season title since 1972.
The Buckeyes have improved a spot in the Big Ten final standings each of the last four years, culminating with the conference regular-season crown in 2018-19.