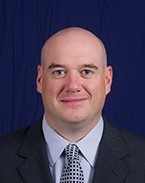 Bowling Green announced Friday that the Falcons have named Curtis Carr an assistant coach.
"We couldn't be happier to add Curtis Carr and his family to the Falcon hockey family," BGSU coach Ty Eigner said in a statement. "Curtis checks all the boxes and then some. He has a proven track record of coaching and recruiting success. Most importantly, he's an incredible person."
Carr comes to Bowling Green after spending the previous eight seasons as an assistant coach and associate head coach at Merrimack.
"I'm thrilled to be joining Bowling Green State University and such a historic hockey program," added Carr. "I'm honored to work with Coach Eigner and to help continue the standard of BG hockey. Margaret and I are excited to have our family be part of the Bowling Green community."
Prior to the 2011-12 season, Carr served as assistant coach for three seasons at Merrimack before his promotion to associate head coach in August of 2014.
Before Merrimack, Carr spent five years with the USHL's Youngstown Phantoms and three seasons with the NAHL's Mahoning Valley Phantoms.
Carr spent seven seasons as a player and coach for Kent State and was a three-time ACHA All-American. Upon graduation in 2003, he was hired as an assistant coach for 2003-04 before being promoted to head coach, where he was an ACHA Coach of the Year finalist after leading the Golden Flashes to the ACHA national tournament.
In his first season at Kent State, Carr inherited a 9-30 team and produced a 21-18 record.