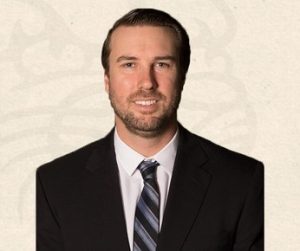 Eric Graham has been named the new head coach at Johnson and Wales, replacing James Lacour.
Graham comes to Johnson and Wales from Bowdoin, where he served as an assistant coach for the last three seasons. On the ice, he was in charge of the Polar Bears' defense while off-ice duties included video analysis, recruiting, alumni relations and community service.
"I am humbled and honored to be named the next men's ice hockey coach at Johnson and Wales University," Graham said in a statement. "I would like to thank Mel Graf, John LaRose, David Kulik and the entire search committee for this opportunity. My family and I are excited to join the Providence and Johnson and Wales communities, and I'm looking forward to getting started with the Wildcats."
Prior to joining the Bowdoin staff, Graham spent four seasons as the head coach at North Yarmouth Academy.
Graham was a defenseman at Southern Maine during his collegiate career. As a junior, he helped lead the Huskies to a No. 7 national ranking. He excelled in the classroom as a two-year ECAC East All-Academic selection and also served as the president for the Student-Athlete Advisory Committee. He graduated from USM with a degree in business administration and economics.