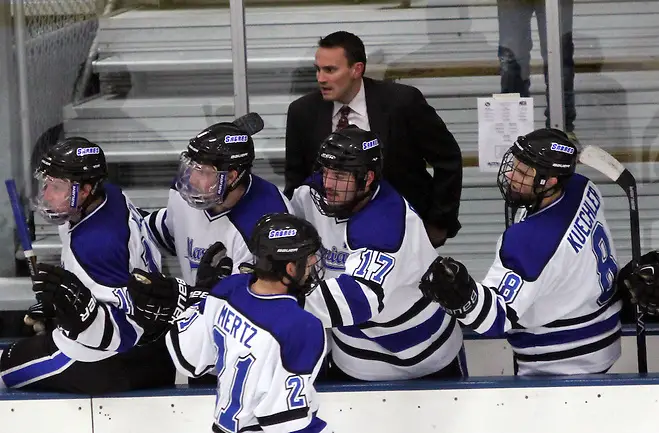 St. Norbert announced Wednesday that the school has named A.J. Aitken women's hockey coach.
Aitken is a familiar face with St. Norbert hockey, serving 11 years during two stints as associate head coach for the Green Knights' men's program. Aitken also spent three seasons as the head coach of the Marian men's program.
He begins his duties at St. Norbert on July 1.
"It is with enthusiasm that we welcome A.J. back home," St. Norbert athletics director Tim Bald said in a news release. "A.J. is a proven winner and understands what it takes to build and sustain a program. He also has the right demeanor and ability to relate, coach and mentor the young women in our program on and off the ice."
During his time with the St. Norbert men's program, Aitken helped the Green Knights to a 264-47-26 record, which included nine NCAA Division III Frozen Four appearances and three NCAA Division III national championships in 2008, 2011 and 2012.
After nine seasons on the St. Norbert bench, Aitken fashioned a 39-37-4 mark during his three seasons with Marian from 2012 to 2015 before returning to St. Norbert for two seasons. Following his second tenure at St. Norbert, Aitken coached the Green Bay Bobcats U14 girls and the Green Bay Hornets U16 girls.
"I'm extremely excited to be back at St. Norbert and want to thank Tim Bald for the opportunity to lead the women's hockey program," Aitken said. "I felt this was the perfect fit for me and am looking forward to not only coaching again, but to building a championship women's hockey team. It feels good to be back home at St. Norbert and I am ready to get started."
A Fort McMurray, Alberta, native, Aitken played for Michigan Tech from 1996 to 2000. Aitken played in 140 games for the Huskies, scoring 14 goals and 17 assists for 31 points. He also served as the Huskies' team captain during his last two seasons.
Following his collegiate career, Aitken played with Macon and Memphis of the Central Hockey League. His stint in Memphis, from 2001 to 2003, resulted in being a part of two CHL championships.