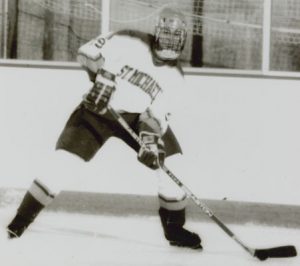 Saint Michael's announced Tuesday its 2019 athletic hall of fame class, with six new members set to be enshrined at the 31st Athletic Hall of Fame Banquet on Saturday, Sept. 28, at the Roy Room in the College's Dion Family Student Center.
Defenseman and 1999 graduate Darren Beers, an assistant captain for the 1999 NCAA Division II champion men's hockey squad, is one of the six.
Beers, who hails from Brewer, Maine, and lives in Colchester, Vt., is the 16th men's hockey representative to earn induction. He was a four-year standout defenseman who helped the Purple Knights claim the only NCAA tournament title in college history. Beers tallied 47 points in 99 career games, missing only five possible contests.
After scoring all four of his goals as a freshman during his first 10 games, the defensive-minded blueliner had six goals in his last 89 career contests, ending with 37 assists among his 47 points while contributing to program-record-setting defense.
Beers was well-decorated following his senior season, earning NCAA Division II All-American First Team, New England Hockey Writers Association All-New England and ECAC Northeast All-Conference First Team accolades.
In the press release following the championship, head coach Lou DiMasi said, "Darren is one of the strongest players we've ever had here. He started his career as a forward and moved to defense because that's what we needed from him."
Following the championship, Beers and four fellow seniors threw the ceremonial first pitch at a Boston Red Sox game on May 5, 1999.
A biology major, Beers was the college's first member of the Northeast-10 Conference Student-Athlete Advisory Committee and was selected as the league's national SAAC delegate in 1998-99. He earned the athletic department's Doc Jacobs Award as a senior and was also involved on campus with MOVE.
Since graduating, Beers has worked for the South Burlington Police Department for more than a decade.