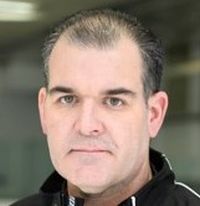 The Northeast 10 announced on Thursday that the coach of the year award will now be named after the late Lance Brady, the former head coach at Assumption.
The Lance "Duke" Brady NE10 Coach of the Year Award was initiated by the league's head coaches and received a unanimous vote of support from the Athletics Council and Council of Presidents. The award is the fourth postseason award in league history to be named after a former coach.
"To have this award named after Coach Brady truly exemplifies the characteristics that we celebrate in our coaches who we honor with this annual award," said Assumption director of athletics Jamie Marcoux in a statement.
Brady, who passed away in early February at the age of 48 after battling cancer, spent 10 seasons behind the bench of the Greyhounds and the 2018-19 season as director of hockey operations at Merrimack. He accounted for 99 wins with Assumption, including five seasons with 11 or more victories, on his way to becoming a three-time NE10 Coach of the Year. Brady also led Assumption to its first and only league title in program history in 2017.
"As the head coach of Assumption, Lance made an indelible mark on NE10 athletics," said Saint Michael's coach Damian DiGiulian in a statement. "He compiled winning records in five of his 10 seasons, including a league championship in 2016-17. However, Lance's on-ice accomplishments pale in comparison to the ways he shaped the lives of student-athletes and his colleagues."
"[Coach Brady] was a person that took pride in everything he did," said Peter McDonagh, team captain of Assumption during the 2018-19 season. "Simple but powerful head nods or fist bumps were a player's dream. He shaped Assumption hockey into what it is today."