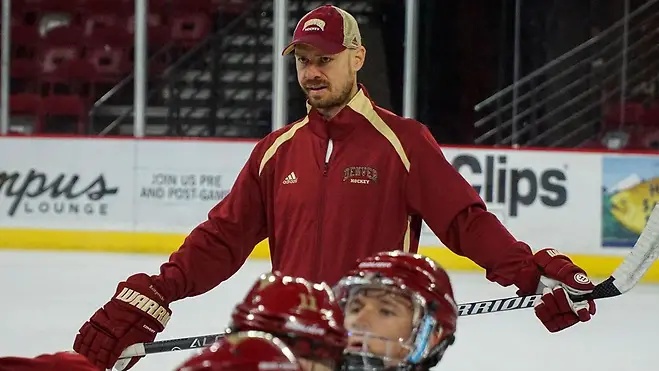 Denver volunteer assistant coach Steven Reinprecht has joined the Colorado Avalanche in the player development department, the Avalanche announced on Thursday.
Reinprecht spent one season with the Pioneers, and then served as an assistant coach for Germany at the 2019 IIHF World Championship. He returns to the Avalanche organization in a coaching capacity after recording 104 points (40 goals, 64 assists) in 165 games as a player from 2000 to 2003, winning a Stanley Cup in 2001.
During his college playing career, Reinprecht recorded 162 points (72 goals, 90 assists) in 154 games at Wisconsin. In the 1999-2000 season, Reinprecht was recognized as WCHA Player of the Year as well as an AHCA First-Team All-American.
In 11 NHL seasons, Reinprecht played for five different teams and finished with 382 points (140 goals, 242 assists) in 663 games. Internationally, Reinprecht registered 303 points (105 goals, 198 assists) through 278 games in the DEL, leading the league with 67 points during the 2014-2015 season. He played six consecutive years for the Nurnberg Ice Tigers prior to his retirement in April 2018.