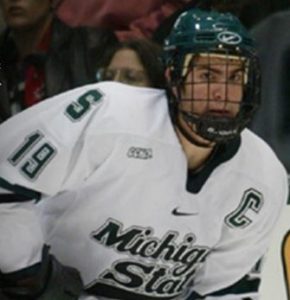 Former Michigan State standout Jim Slater has been named the Spartans' new volunteer assistant coach.
Slater replaces Jason Muzzatti, who recently joined the Carolina Hurricanes as the club's goaltending coach.
"We're thrilled to have Jim Slater join the program as a volunteer assistant," MSU coach Danton Cole said in a statement. "Jim is coming off an extensive pro career that included 10 years in the NHL as well significant international competition, including the 2018 Olympics. He brings a wealth of knowledge and experience that makes him an asset for our program and our players are excited to be able to work with him every day."
"The program has been a huge part of my life and to be able to come back and be a part of it again is great," Slater added. "I'm really looking forward to learning from Danton and the rest of the coaching staff. It's going to be a different experience but one that I'm looking forward to pursuing."
Slater, who played at Michigan State from 2001 to 2005, completed his 14th professional season this past spring. He had a 10-year NHL career as he played nearly 600 games from 2005 to 2015 for the Winnipeg Jets franchise – the first six years in Atlanta, and the next four in Winnipeg after the team relocated. He spent the last four seasons in the Swiss National League, playing for Geneve Servette for two seasons (2015-17), and then Fribourg-Gotteron HC (2017-19).
Slater is one of 18 Spartans to have played in the Olympics as he served as an assistant captain for the United States in 2018 at the PyeongChang Games.
In four years at MSU, Slater played in 157 games, scoring 64 goals and adding 108 assists for 172 points, which is 23rd on the Spartans' career scoring list. He was elected team captain as both a junior and a senior.
As a junior in 2003-04, Slater earned Second-Team All-American honors and was a Hobey Baker Award finalist. He was a two-time All-CCHA First-Team selection and two-time MSU team MVP. In 2018, he was honored with the program's Distinguished Spartan Award.