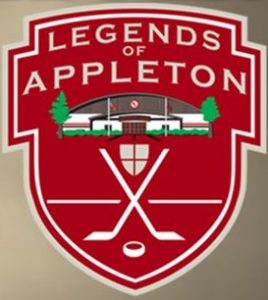 St. Lawrence will induct Gina Kingsbury and former captain Peter McGeough into the Legends of Appleton on February 7-8, 2020.
Kingsbury and McGeough join Bill Torrey and Brian McFarlane and former Saints head coaches Paul Flanagan and Mike McShane in the elite group.
The induction will take place in conjunction with the women's and men's hockey games on Feb. 8, 2020. The women's game versus Brown begins at 3 p.m. with the men's game against Clarkson following at 7:30 p.m. Kingsbury and McGeough will be formally recognized during an on-ice ceremony in between the first and second periods of the men's game.
Kingsbury, a 2004 graduate, was one of the most prolific scorers in the school's history despite missing a number of games while participating on Canadian national teams. A three-time All-ECAC selection, she was named a Second-Team AHCA All-American her senior season and was previously inducted into the university's athletic hall of fame and the Canadian Olympic Hall of Fame.
Upon her graduation, Kingsbury owned the program records for career points (152 on 74 goals, 78 assists), points in a season (57 in 2003-04), multi-point games in a career (43), points in a game (9), multi-point games in a season (17, 2003-04), goals in a season (26 in 2003-04), assists in a season (31 in 2003-04) and game-winning goals in a career (14).
Internationally, Kingsbury won two Olympic gold medals with Team Canada (2006 and 2010), played on six World Women's Championship medalist teams, including gold medal teams in 2001, 2004 and 2007 and was on six Four Nations Cup gold medal teams as well as two silver medalist teams. She played professionally for the Calgary Oval Extreme and the Montreal Axion. She currently serves as the director of the women's national teams for Hockey Canada.
McGeough was the senior captain of the 1988 men's team that played in the national championship game in Lake Placid. A 1983 draft pick of the New York Islanders, McGeough had a banner year in 1988, as he was both a First-Team All-ECAC Tournament selection and the Saints' MVP after totaling 27 points on two goals and a career-high 25 assists. The defenseman finished his SLU career with 84 career points (19 goals, 65 assists) in 127 games.
McGeough suffered a career-ending and life-altering injury in his third AHL game in Springfield, but following a long recovery with support from the Saints hockey family, he has gone on to a very successful career at Morgan Stanley. He also serves on the executive committee of the St. Lawrence Hockey Alumni Association Board of Directors.
The Legends of Appleton program was launched by the university in the fall of 2017 to celebrate inductees for their play, commitment and impact on the St. Lawrence hockey programs and the hockey world.