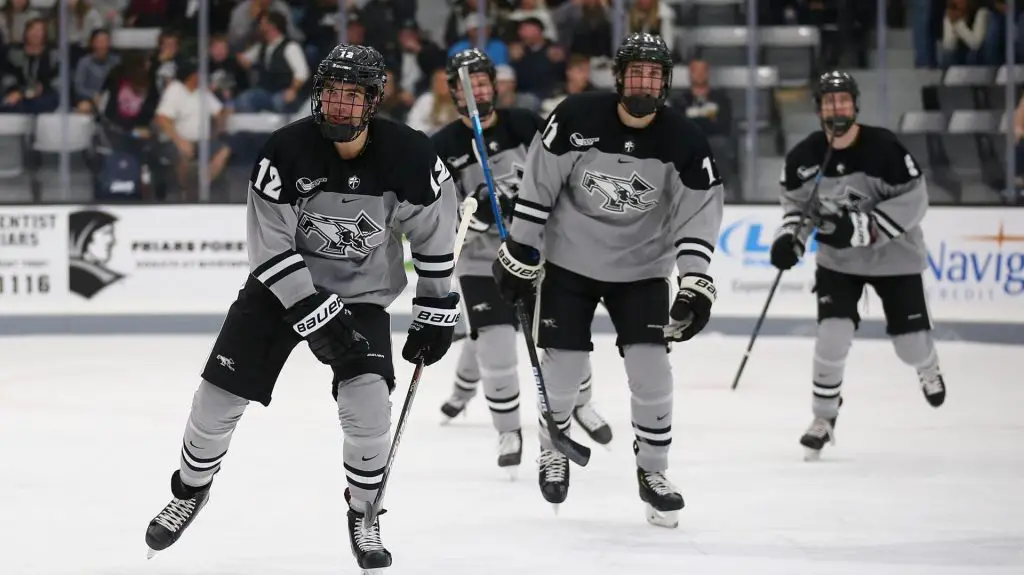 Each week during the season, we look at the big events and big games around Division I men's college hockey in Tuesday Morning Quarterback.
Jim: Here we are again, back for another college hockey season with Tuesday Morning Quarterback, a weekly look back at the games, the people and some of the hot topics in college hockey.
I'll start by welcoming back my colleague Paula Weston and I'll start right away with a question:
This weekend (specifically, Saturday) was the first time teams were allowed to put on the pads and lace the skates and hit someone who was not their own teammate.
In most years past, this game would be filled with exhibition games with the U.S. colleges and universities facing off against their Canadian counterparts. It was a good opportunity to get actual game experience before playing games that "count."
This past weekend, there 40 games total, 24 were exhibitions while 16 games were official NCAA games that will count in the PairWise just as much as a conference tournament game in mid-March.
So Paula, do you like this modified approach to starting the season?
Paula: Thanks, Jim, and it's good to be back both to college hockey and to TMQ.
I love the way you prefaced that question: These games the very first weekend of October will count exactly the same in the PairWise as the conference tournament games played five months from now. Not only does that put the weight of these games into perspective, but it also highlights the bigger issue, the length of the college hockey season.
Half a year is a long time for a team to develop, and we both know that teams that are playing now may be performing very differently by the time March arrives. For some of these teams that played games that counted last weekend, that one week is going to be significant – in both how much preparation they could have used the outcome of the games will factor into the PWR.
You asked me directly how I like it, and I have mixed feelings about it. I am eager to see hockey that counts as soon as possible in the season, but I think D-I hockey as a whole would benefit from a bit more uniformity in terms of scheduling – as difficult as that is with degrees to which the conferences themselves vary.
And while coaches may be concerned about how early games will affect them in the long run, they'd be the first to say that any game, any series, any sequence during the season may have as big an impact on the PWR as these early October games.
Jim: I think a major part of why teams are more comfortable playing meaningful games so early has a lot to do with the ability of the coaches to be on the ice with the team for limited time in September. Yes, this further extends a long season, but it also better prepares teams for being more game-ready on opening day.
A lot of coaches have also talked to me about the desire to use the exhibition game in late December when they are coming out of the holiday/exam break. Those games, often after teams haven't skated together in 2-3 weeks, do seem to serve a much better purpose to slowly ease players back into game shape.
Changing subjects a bit, a few takeaways from the opening weekend. No. 2 Denver did its job and found ways to win two tough road games up in Alaska. Sure, there was a time where going to Alaska was part of the WCHA but in the NCHC, players are less prepared for such a long trip.
Another team that impressed was Providence, a team many had concerns that significant losses from last year's Frozen Four team would create a down year. Well, Game 1 proved no trail off whatsoever as the Friars put up a seven spot on Maine, outshooting the Black Bears 59-29. If any concerns should come out of that game, it is for the Black Bears that many thought would take a step forward this year. That's not the start they wanted.
What were you takeaways from Week 1 (personally, I prefer to term it Week 0)?
Paula: I am not sure what to make of three teams netting seven goals in a single game as Providence, Boston University and Bowling Green did to open the season, nor am I sure what to think of the lopsidedness of some series. Both Providence and Bowling Green were among the top 10 scoring teams from a season ago, and while there may have been concerns about the Friars' offense because of losses, the Falcons return the core of their offense so perhaps this single game can be an indication that both teams are ready to pick up where they left off last season. I'm sure the Terriers, picked fifth in the Hockey East preseason poll, are looking to build on their stronger second half from 2018-19.
It was interesting to see two WCHA teams that made real strides last season turn in strong performances. After squeaking by Robert Morris with a 2-1 OT win Saturday, Michigan Tech blanked RMU 7-0 the following afternoon, and Lake Superior State swept Merrimack 6-2 and 4-3, outscoring the Warriors 2-0 in the third period of each game. The Huskies and Lakers are predicted to finish fifth and sixth, respectively, in the WCHA. I don't want to give too much weight to these series – or to anything in the opening weekend – but these results have to give fans of each team and the league as a whole a little lift as the season begins.
While I wasn't surprised that there were a number of power-play opportunities in the opening weekend, I was struck by the number of penalties both Denver and UMass-Lowell incurred – and by the number they killed off. Denver was 10-for-10 and Lowell 11-for-12 on the weekend, and that is something that caught my eye.
It's tempting to extrapolate even more from this very limited set of data given to us in the opening weekend, but the results – like the initial poll – are really a snapshot of this moment (to me at least) more so than a herald of things to come. I do like the intensity of play, though, that we saw around the rinks.
Jim: I did get to see both games in the Lowell series and, while I always think that we see more penalties early season, I also think that in the case of the River Hawks most were deserved. As someone pointed out to me, a season ago, Lowell had a bunch of penalties early in the season but ended up the least-penalized team in Hockey East by season's end. So it's easy to understand that just as players need to learn systems and build chemistry with their teammates, it's also possible that understand how games will be called is something that is learned as well.
You mentioned the explosive offenses – three teams all scoring seven goals in a game. On the other side of that, do you think that the opponents – Maine, Robert Morris and Union – have a reason to be extremely concerned about their collective team defenses after a single weekend?
Paula: The Black Bears improved defensively in the second half of last season and allowed more than two goals just twice in their last 10 games of the season, but Maine lose three senior defensemen who played every game last year so there are some blue-line adjustments to be made there.
The Dutchmen return a veteran defensive core that allowed 2.62 goals per game last season for 23rd best in the nation – not fantastic, not horrible – and junior goaltender Darion Hanson returns after a strong showing last season, so in spite of the disastrous opening weekend, I think the Dutchmen have the potential to improve.
Robert Morris's tough showing against Michigan Tech is concerning, though, because the Colonials cannot continue where they left off last season. RMU allowed 3.17 goals per game (47th) in 2018-19 but had a solid netminder in junior Francis Marotte, who played 40 games with a .908 save percentage. Marotte has transferred to Clarkson, though, and three goaltenders saw time in net for Robert Morris the opening weekend behind an experienced but struggling defense.
Again, it's hard to extrapolate completely from one weekend of play, but we've seen enough already to begin to wonder whether some teams may be destined to repeat a little recent history.