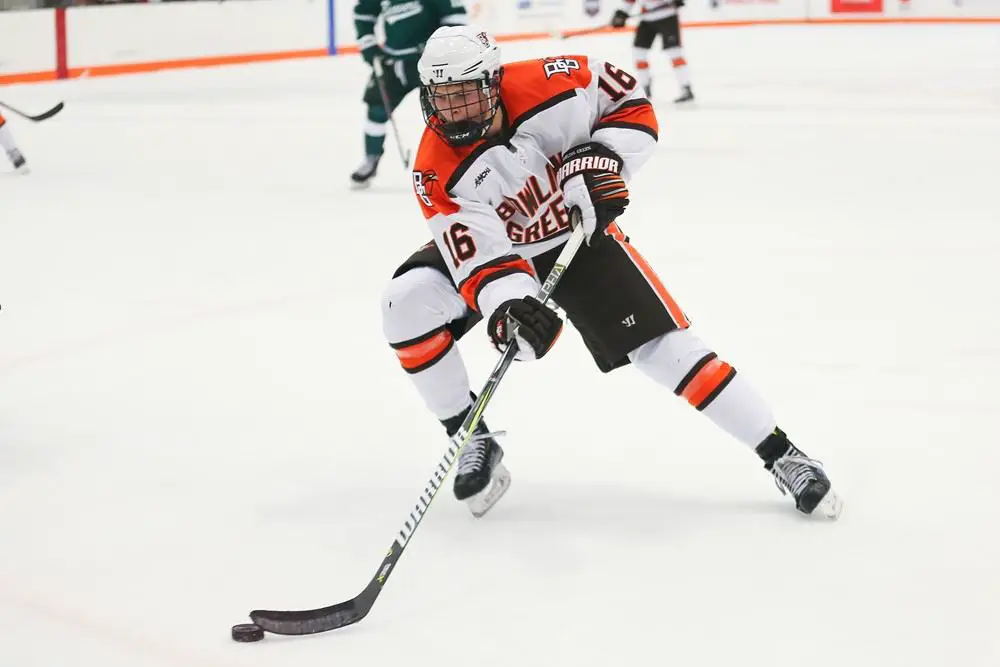 When Bowling Green was still finalizing its schedule in early April, Ty Eigner and Chris Bergeron had no idea they'd be starting the season on different benches.
But when Bergeron left Bowling Green for Miami in the offseason, it added an emotional twist to an already intense instate rivalry that is usually played early in the season.
It goes without saying that Eigner, who took over as BGSU head coach after nine seasons as an assistant to Bergeron, found the whole experience of Sunday afternoon's game in Oxford, Ohio, a little surreal.
"I'd be lying if I said I wasn't nervous leading up to the game," Eigner said Monday. "After he got that job, we knew who the opponent would be and that he's be on the other side on the other bench."
The Falcons ended up getting the better of the Red Hawks Sunday, showcasing their great offensive depth in a 7-4 victory. And although it was Eigner's first-ever win as a college head coach, he wanted to make it clear that Sunday's game wasn't in any way about "Eigner vs. Bergeron" — the college hockey world is so small that friends more often than not find themselves behind opposing benches, so it's not really a novelty.
"It's more important to me that Bowling Green won, not that I won," Eigner said.
Coming into this season as a new head coach, Eigner noted that his learning curve was perhaps a bit smaller than most first-year coaches because he's been behind the Falcon bench for nine seasons.
"I think for us we felt like we had an opportunity this year to have a good year and have a good team," Eigner said. "Everybody asked, 'Are they ready?' and my standard answer was, 'Well, we're going to find out on Sunday.'"
It was only one game but the Falcons largely showed everyone that they were, indeed, ready. The team that won 25 games a year ago returns an All-American defenseman in Alec Rauhauser, an experienced goaltender in Eric Dop and two players in Connor Ford and Max Johnson who shared the national lead in power-play goals last season.
"From an offensive perspective, we felt like we had some pieces," Eigner said. "We've always been a team that's scored by committee and played a bunch of people so it was nice to score seven. That means we were creating offensive opportunities the way we wanted to create them."
Junior forward Cameron Wright scored four times — including twice on the power play — while Rauhauser had a goal and three assists. Alsco scoring goals for the Falcons were Ford and sophomore Evan Doherty.
"We had more grade a scoring chances than they did, we won the faceoff battle, and we won the special teams battle," Eigner said. "But we also want to be a team that takes pride in defending and being hard to play against and not giving up a bunch of goals. One of our game objectives is to hold our opponents to less than three goals, and that didn't happen. You like the fact that you scored seven, but the first game of the year, there were a lot of different scenarios we got to throw guys into, so that was good."
Eigner said the game was a great one from a coaching perspective, quoting BG assistant coach Curtis Carr: "Tor the first game of the year, it was perfect. We scored a bunch of goals, we won, and we have a lot of teaching clips on the other side of it."
For a team that didn't get an exhibition game and was thrown right into the fire against one of their main rivals, the Falcons look to be in pretty good shape as they prepare to host the annual IceBreaker tournament next weekend in Toledo, Ohio. The Falcons play RIT in the first round before facing either Ohio State or Western Michigan — both former CCHA rivals — in the final round.
"It's a really cool opportunity for our program to host that tournament. It doesn't come around very often, and you look at the quality of the teams in the tournament with three teams in the top 15 or so in the country, from a competition standpoint, it's going to be outstanding," Eigner said.
Tech, LSSU earn pair of sweeps
There were a bunch of WCHA teams playing real games last weekend — a time that was in the past usually reserved for exhibitions.
Two teams that played actual games and count were in the Upper Peninsula: Lake Superior State hosted Merrimack, winning 6-2 and 4-3. Michigan Tech travelled to Robert Morris and had a slightly different experience, winning 2-1 in overtime Saturday before getting a 7-0 rout on Sunday.
Tech head coach Joe Shawhan said after Saturday's win that the Huskies were a little rusty, but that's expected for a very first game with no exhibitions.
"None of us are going to be on top of our game," Shawhan said. "I wasn't at my best behind the bench in terms of game management and the players weren't at their best, but as we get going and we play a few more weekends, we'll all get better."
The Huskies were called for right penalties over the weekend, but were perfect on the penalty kill. Saturday's game featured a late penalty on the Huskies that forced them to skate a man down in the overtime period, but Alec Broetzman scored shorthanded to give Tech the game-winner.
Nanooks fight hard in sweep by Denver
Two other WCHA teams that played real games this weekend were not so lucky. Alabama Huntsville lost 5-1 and 3-1 at UMass Lowell while Alaska, hosting No. 2 Denver, lost 4-3 and 3-0 at home in Fairbanks.
For the Nanooks it was a disappointing sweep considering how well they played. In the first game they actually kept up with the Pioneers in a back-and-forth affair. Max Newton and Kyle Marino gave Alaska a 2-1 first-period lead before Denver scored twice in the second period to take a 3-2 lead. Steven Jandric helped them tie it midway through the third but the Pioneers scored a goal with just over a minute to go to deny the Nanooks a chance to win in overtime. Denver only outshot Alaska 36-33.
In the second game the Nanooks also generated some scoring chances but couldn't find a way past Denver goaltender Magnus Chrona.
"It's disappointing that we're not finding a way to be able to finish off and be able to beat good hockey teams who are in there," Nanooks head coach Erik Langen told the school's website after Sunday's game. "Giving up a short-handed goal late in the second is deflating, and then they were obviously able to add another there in the third and that's basically the game."