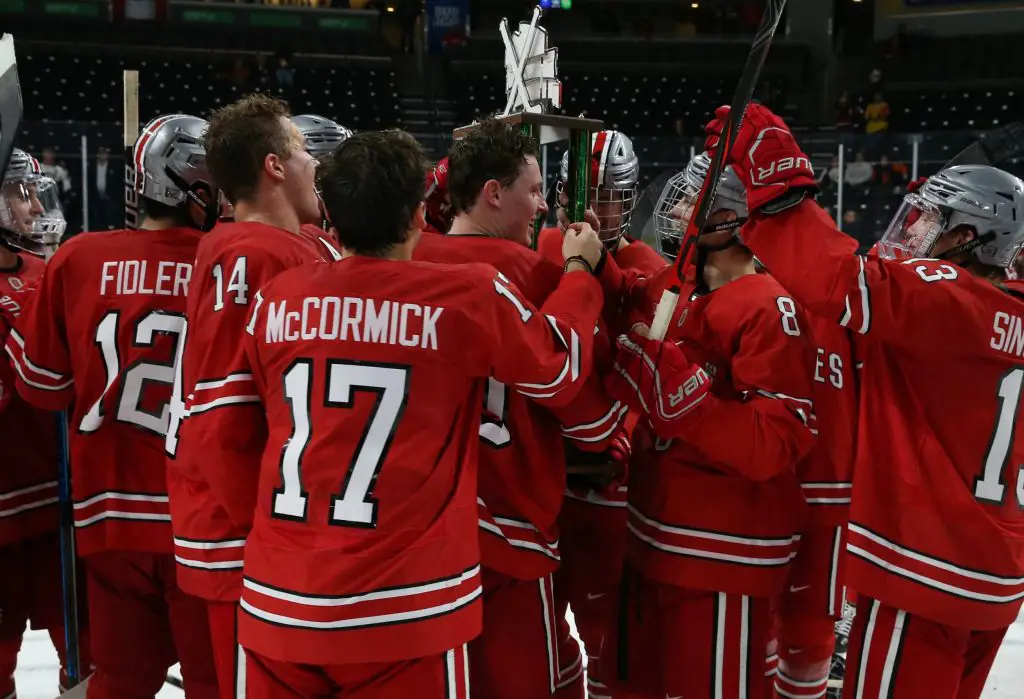 Each week, USCHO.com picks the top 10 moments from the past weekend in our Monday 10 feature.
1. Payback
Canisius' surprise sweep of North Dakota in Buffalo last season put the Fighting Hawks in a pairwise predicament from which they never recovered.
UND, despite several wins over top ten teams, missed out on an NCAA tournament bid for the second straight season, and its misstep against Canisius was the reason why.
North Dakota got a chance at redemption right off the bat, hosting the Golden Griffins to open its season this past weekend. And this time, the Fighting Hawks left no doubt. They opened the series with a 5-0 win on Friday and closed things out with a 8-1 win on Saturday.
"A lot of people were saying we owe these guys," UND forward Jordan Kawaguchi told the Grand Forks Herald after Saturday's game. "We gave it to 'em. We definitely owed them, so a little bit of revenge for us and we feel pretty good going into next weekend."
2. Marquee matchup
With plenty of interesting games to choose from this past weekend, Friday's matchup between No. 16 Wisconsin and 10th-ranked and host Boston College got the most attention. A total of five players chosen in the first round of this year's NHL draft were on the ice, three from Boston College and a pair from Wisconsin. In the end, it was a pair of seniors from BC that were the difference in the Eagles' 5-3 win over the Badgers. Julius Mattila and David Cotton scored three of BC's five goals to lead the way.
3. Breaking the Ice
The first tournament of the 2019-20 season kicked off in Toledo, Ohio, with No. 17 Bowling Green hosting the IceBreaker Tournament, also featuring No. 12 Ohio State, No. 14 Western Michigan and Rochester Institute of Technology.
The Buckeyes edged the Broncos in a shootout in the opening semifinal, which goes in the books as a 2-2 tie. The second game saw the Tigers upset the Falcons 3-2 in overtime thanks to freshman Caleb Moretz's first collegiate goal in the extra frame and a 32-save performance by RIT goaltender Logan Drackett.
The title game belonged to the Buckeyes, who broke a 1-1 tie with two third-period goals to win 3-1. Ronnie Hein had a pair of goals for OSU, including the game-winner.
"You come into a tournament, you always want to win the tournament," said Ohio State coach Steve Rohlik. "It was a hard fought game again tonight. That's college hockey at its finest. It's certainly nice to win a tournament. I challenged the team after the first period and I thought our leaders took over. I tip my cap to those guys."
4. Nice while it lasted
Friday saw Atlantic Hockey teams go 4-4 out of conference, including three overtime wins and two upsets of ranked teams. RIT defeated No. 17 Bowling Green 3-2 in OT, and Holy Cross upended sixth-ranked Providence 3-2, also in overtime.
A .500 winning percentage doesn't seem all that great, but it was a good sign considering the league was only .257 out of conference last season, and had just four wins over ranked opponents, the biggest being American International's NCAA first-round win over top-seeded St. Cloud State.
Unfortunately, the league went 0-6 on Saturday and Sunday.
Leading the way in non-conference records so far are the NCHC (11-4-4) and the Big Ten (8-4-2).
5. Kicking off the quest
This season, Minnesota Duluth will attempt to the just the second team to win three consecutive Division I national titles, equaling Michigan's run from 1951-53.
But UMass Lowell spoiled UMD's banner-raising party, knocking off the top-ranked defending champs 3-2. The River Hawks got three second period goals and 32 saves from Tyler Wall.
The Bulldogs notched their first win the following evening, knocking off Mass Lowell, 2-1. Nick Swaney's goal at 4:58 of the third stood up as the game-winner.
6. Nothing settled
Bemidji State and St. Cloud State battled to a pair of ties this weekend, 4-4 on Friday and 2-2 on Saturday. The series had plenty of drama, most notably on Friday, when the Huskies staged a furious comeback after trailing the Beavers 4-0 early in the third. St. Cloud scored four times, including a pair of short-handed tallies, in a 10-minute span in the final period to earn the tie.
The following evening, it was the Beavers' turn to stage a comeback after spotting St. Cloud a two-goal lead after two periods. Goals from Owen Sillinger and Nick Leitner in the third brought Bemidji State even.
7. Early setback
Arizona State, the lone independent Division I program, needs to establish a good enough standing in the Pairwise Rankings if it hopes to claim an at-large berth for the NCAA tournament.
The Sun Devils were able to accomplish that feat last season, and even though it's very, very early in the 2019-20 campaign, wins against top opponents like third-ranked Minnesota State would go a long way in deciding things in March.
Unfortunately, after a split with Mercyhurst last week, ASU was unable to get another win this weekend, falling both times to the Mavericks, 4-1 on Friday and 5-0 on Saturday. Minnesota State's Dryden McKay stopped all 14 shots he faced on Saturday for the shutout.
8. Unblemished
Even though this weekend saw the first full slate of games, there are only 10 teams that have played two games or more so far without a loss. Denver leads the way at 4-0. A total of 32 teams already have already suffered at least one defeat.
9. Points taken
There were two conference series this past weekend, and both were sweeps. In the WCHA, Alaska defeated host Michigan Tech in a pair of one-goal games, 3-2 on Friday and 2-1 on Saturday.
In Atlantic Hockey, host Robert Morris defeated visiting Bentley, 3-0 and 4-1. Justin Kapelmaster stopped all 35 shots he faced on Friday, as the Falcons outshot the Colonials 35-16. The shots were even more one-sided on Saturday, 46-22 Bentley. In all Kapelmaster, a graduate transfer from Ferris State, stopped 80 of 81 shots.
"(Kapelmaster) made some saves I was scratching my head at," said RMU sophomore Aidan Spellacy, who had a pair of power-play goals on Saturday. "He battles his butt off. The guy's a stud. He kept us in it a couple of times."
10. From Colonial to Knight
Kapelmaster transferred to Robert Morris to replace three-year starter Francis Marotte, who joined Clarkson's roster as a graduate transfer at the end of last season.
In his first action with the Golden Knights, Marotte led Clarkson to a win and a tie at Michigan, stopping 69 of 71 shots in a 1-1 draw on Friday and a 3-1 victory on Saturday.