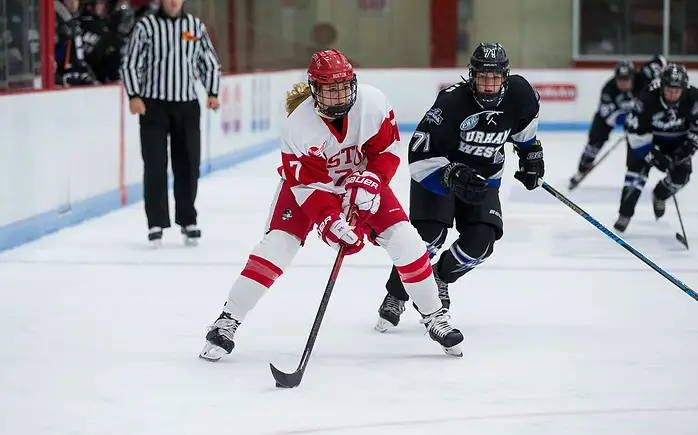 Note: We're trying something a bit different with Wednesday Women this year. Instead of focusing on just week-to-week results, Wednesday Women will be an ongoing conversation about the season, with thoughts and insights from Nicole and Arlan that publishes every other week. 
Nicole: Hey Arlan – and readers – welcome back to another women's college hockey season! The season is young, but we've already seen some interesting results and breakout performances. We're still two weeks away from the Ivy League teams starting their full schedule, so top-ten action has been somewhat limited thus far. Where should we start?
Arlan: For the first time since the season that I first shared this column with Candace Horgan, Wisconsin is our defending NCAA Champion. Wisconsin and Minnesota were nearly equal for most of last year before the Badgers separated in the postseason. It looked to me like Annie Pankowski really led her team's charge, making one huge play after another, and she was the catalyst for Wisconsin in ultimately subduing the Gophers and everyone else. How important do you think it was that the Badgers added Daryl Watts via a transfer to provide many of the same talents, such as a quick release, a sniper's aim, and the instincts to find the soft spots in a defense?
Nicole: I said in my season preview that the Badgers wouldn't struggle to replace Pankowski's scoring, but they would need to find someone to be that big moment player and I stick by that. I'm not sure yet if that Watts is that particular player, but she is certainly adding another level of dynamic play for them. She's scored in each of her first six games and has seemed to find early chemistry on their top line. She will certainly be incredibly important to any success the Badgers have, but I'm not sure she has that take-charge, step-it-up personality. 
That being said, there are other Badgers that I think have the ability to become that kind of top-tier forward that has the skill and the personality that takes charge and shows up in big spots again and again. But they're still young and a bit untested. Britta Curl and Brette Pettet are the two that have both the skills and the personality to be that player, I think. Sophie Shirley certainly has the skills to be a breakout player, but I've not seen the same brashness from her. Those that have watched them more say Grace Shirley is actually more dynamic than Sophie, so I think she has to be on the watch list. 
Arlan: Of course, Pankowski wasn't Wisconsin's only loss to graduation. They graduated other veterans up front in Emily Clark, Sam Cogan, and Sophia Shaver. On the blue line, the Badgers are now without Maddie Rolfes and Mikaela Gardner. As redshirt seniors, both Pankowski and Rolfes brought an extra dose of experience to the team. How is this year's edition adjusting in the early going?
Nicole: The results say the transition is going well. I think the best sign for them was the four unanswered third-period goals on Saturday at Ohio State. The Buckeyes had come back twice in that game and it was tied 3-3 and a tight game. But much like we talked about above, Wisconsin found another gear and just pulled away in the final frame. Their biggest question right now is who will center the second line. They've tried out a few different combinations and obviously even with line tinkering, things are going well.  
I feel like Wisconsin may be adjusting better to their new roster than Minnesota has. The Gophers have technically come out of the first few weeks unscathed, since they're still undefeated, but there certainly seem to be some things to be concerned about. What have you seen from the team so far? Is it just early season adjustments and slow starts or is there more going on there?
Arlan: Actually, I think that Minnesota has fewer adjustments to make. The only new addition in the top 15 skaters who play heavy minutes has been blueliner Madeline Wethington, who leads the team with two game-winning goals. From the blue line, it will be tough to live up to her preseason nod as WCHA Rookie of the Year, but it looks like she'll make a smooth transition.
Looking at the rest of the Gophers, the seven-member sophomore class looks to be making good progress and filling larger roles. There really weren't any concerns of note through the first two weeks.
As for the Robert Morris series, I think that the Colonials were kind of beat up when they arrived in Minneapolis in December and were outscored, 11-1. Coming off a bye week this time, I think that they wanted to give a better account of themselves in their own barn. Good for them, as they hung right with the No. 2 team in the country, and it wasn't until the final period that the visitors finally pulled away. 
I've been impressed with Jaycee Gebhard throughout. Many want to write off her production and say, "It's just the CHA," but I think that the RMU senior, who has at least a shot at reaching 200 points in her career, would find success in any league.
Nicole: Alex Gulstene has missed the last few games, leaving Sydney Scobee to take on the bulk of the playing time. The two split time last season and it looked like that was the plan this year. Do you think, should it come to that, Scobee can be the full-time goalie the Gophers need to have a successful season? 
Arlan: You know how it is with goaltenders; we have a world of confidence until the red light goes on behind them. Scobee allowed a single goal over her first four games, before yielding some second-chance goals on Friday and starting Saturday's game off by surrendering a goal that was beyond weak. She seemed to rebound fine, and I expect that the Minnesota D corps will be easier to play behind than in recent years.
What have you seen beyond the top two teams?
Nicole: An early season surprise for me has been Boston University. I expected the Terriers to be vying with Northeastern for the top spot in Hockey East. Obviously that could still happen, but they've started 1-1-1, with a loss to New Hampshire and a tie with Merrimack. Do you think the Terriers can shake this off and get back on track?
Arlan: Through the years, fast starts haven't really been BU's thing. Jesse Compher is coming off a 61-point season as a sophomore, but she hasn't been in the lineup as of yet. If the Terriers don't have her, then it puts a lot of pressure on Sammy Davis to carry the offense, because none of the other forwards reached 20 points last season. If Compher remains out, the recipe for success will necessitate some staunch defending.
Nicole: Syracuse and Robert Morris have gotten off to strong starts and been pleasantly surprising early on. The CHA hasn't been the strongest against out-of-conference opponents in recent years, but here these two are pushing teams like Minnesota and Boston College to their limit. What are your thoughts on these sometimes-overlooked teams taking another step in development recently?
Arlan: For me, the jury is out on whether or not the Orange are taking a step forward. Other than the 2-1 loss to Northeastern, they've allowed at least four goals per game. Women's college hockey is not a sport where a team can be successful if 10 percent of the opponents' shots find the net. Until Syracuse finds next-level goaltending, there is a limit on how high it can climb. 
Robert Morris is continuing the trend of CHA contenders to schedule tough out of conference to hone the squad for the conference battles ahead. The Colonials follow up the Minnesota games with series versus Clarkson and Cornell, before facing Wisconsin and either Northeastern or Colgate to start the new year.
If any of these teams, and I think that we can add in Mercyhurst and Penn State, can separate in the goal crease, then I'll like its chances come the CHA Tournament. What about in the ECAC? As you said, we've only seen half of the picture because Cornell, Princeton, and the rest of the Ivy League teams are still focused entirely on their book learning, but where should we be looking in that circuit?
Nicole: Not only are we waiting on the Ivies, but Clarkson has only played four games, so we've got a lot of incomplete information to go off of at this point. With a close game against Syracuse and a loss to Minnesota Duluth, I'm definitely hoping to gather more information before I feel like I have a handle on Clarkson this season. With their schedule, I'm not sure we'll have that until mid-November, so I guess I'm reserving judgement until I can watch some more games.
I really liked what I saw from Princeton last season, so they're the team I'm most interested in seeing once they hit the ice. There sure seem to be all the pieces there for them, but we also know that how things look on paper rarely translate directly to play on the ice. 
What have you seen from the other group of teams out East?
Arlan: In Hockey East, New Hampshire looks improved, and I'd expect Providence to at least play a spoiler role, but I think that the race will come down to Northeastern and Boston College. Maybe I'm a creature of habit, but I see the Eagles bouncing back this year. Am I wrong?
Nicole: I don't know, I'm definitely leaning more towards Northeastern. You mention the importance of the goalie earlier and I think I just have more faith in Aerin Frankel. But I've also been high on the Huskies because of their scoring capabilities, but BC rookie Hannah Bilka has showed up big time early on. She could be a big game-changer for them, so maybe you're right and it'll be back to BC. I suppose that's not an answer, but at least it should be a really interesting race all season.
Arlan: In your column last week, you offered the opinion that Watts transferring from BC to Wisconsin is the most high-profile transfer in the sport. From what I saw, much of the splash focused on the Eagles, as Watts' transfer came on the heels of former teammate Caitrin Lonergan, herself a top-three finisher in the Kazmaier voting, moving to Clarkson for her senior season. The Badgers were champions last year and were the likely favorites this year even without her. In that sense, there isn't much room left for Watts to elevate Wisconsin.
Maybe it is perspective, but there have been a couple of times in Minnesota's history where players left the Gophers and made other programs that weren't even on the radar instant contenders. The first was when Jenny Potter and Brittny Ralph jumped to Minnesota-Duluth in 1999, followed by Jocelyne and Monique Lamoureux heading home to North Dakota in 2009. Three of those players were already Olympic medalists and had three seasons of eligibility remaining, and the transfers helped to spark intense rivalries with Minnesota where none had previously existed.
In my opinion, those in-conference transfers, like Jenn Wakefield moving from New Hampshire to BU, are always going to add some extra spice. When Kassidy Sauvé opted to leave Ohio State for a senior season at Clarkson, she helped the two-time defending champs get back to the Frozen Four, while her former team fell short. However, the move didn't have the same intrigue, because the two programs didn't play each other. Watts will see her old teammates in November in Nashville, but the players I mentioned above had seasons where they collided with the Gophers six times.
As you stated, being a Kazmaier winner does make Watts' change of teams unique, and given that the other Kazmaier winners have been juniors or seniors, the opportunities for any to transfer have been limited. Perhaps it seems slightly less noteworthy in my mind because so much of Watts' bio is still unwritten. For example, I know that Jocelyne and Monique wound up with 285 and 265 points, respectively, and that they were at least three-time Olympians. Having now watched her in person, what do you think Watts might add to her resume? Another Kazmaier Award? Could she challenge Meghan Agosta's 303 career points?
Nicole: I can't imagine anyone touching Agosta's record in today's hockey landscape. But that doesn't mean that it's a stretch to think that Watts could put up some pretty significant numbers. She had 82 points as a freshman and 48 points last year. Part of me thinks averaging those might be fair to figure out what she might do this year, but Pankowski had 50 points last season and her highest total at Wisconsin was 58, so 65 points feels like it could be a stretch. The depth of scoring on the Badgers doesn't lend itself to one player racking up huge numbers. Thus far, Watts is averaging three points a game, which is a ridiculous pace that we know won't last. But she's got 18 points after just six games. That's a pretty solid start to 50 or more.

All that info makes it difficult for me to feel like I can predict what her point total might be. But if she just stays on pace of her first two years, that's 260 career points, which would be good for 8th all-time. Even a significant drop off to 220 points would still put her in the top-20 all time.
But even if she does none of that, I still think it's a landmark transfer. You're tying significance to performance, which is fair, but I also think the national MVP leaving her program is a big deal no matter what happens next. Sure, the transfer is, I suppose, more momentous if she wins a title at Wisconsin while BC does not, or if she completes a record-setting career. But it's also just something I've not been able to find any precedent for in college sports, and that makes it noteworthy to me.