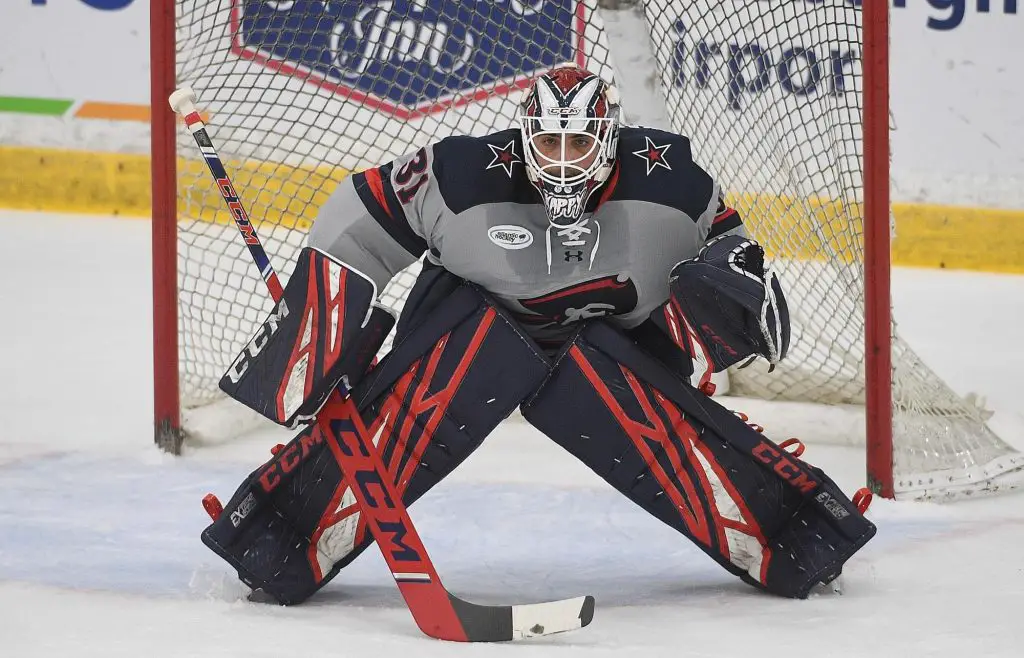 Every team starts with unknowns to open the season, and Robert Morris is no different.
The Colonials lost two of their top three scorers and their top defensemen to graduation. Returning players are in new roles and freshmen are looking to fit in.
One area that had provided continuity for three seasons at RMU was in net, where Francis Marotte started over 100 games in three years, helping to extend RMU's streak to six consecutive appearances in the Atlantic Hockey semifinals.
But Marotte finished his undergraduate work early and transferred to Clarkson for this final year of eligibility.
"It was a surprise," said Robert Morris coach Derek Schooley, in his 16th season behind the RMU bench. "Our returning goalies had played a total of 96 minutes."
Schooley was able to find a graduate transfer of his own. Coming to RMU in this season is Justin Kapelmaster, who played in 48 games over three seasons at Ferris State.
Kapelmaster made an immediate impact, especially this past weekend. He stopped 80 of 81 shots in a two game series with Bentley, leading the Colonials to a 3-0 and 4-1 sweep of the Falcons. Robert Morris was outshot in the series 81-38 but came away with a sweep.
Kapelmaster was also in net for a 2-1 overtime loss to Michigan Tech the weekend before, where he made 29 saves.
"(Kapelmaster) made a very good first impression," said Schooley. "Three games as a Colonial and a save percentage of 97 plus (.973)".
Goaltending has a been especially important while RMU finds its footing offensively. The Colonials are averaging only two goals a game so far.
"We're not scoring as much as we'd like," said Schooley. "Our power play has been getting good chances, but we've had some trouble finishing."
On the other hand, the RMU penalty kill has been outstanding. The Colonials held Bentley's power play off the scoresheet last weekend, perfect in 13 attempts including all nine on Saturday.
The Robert Morris-Bentley series was the first Atlantic Hockey conference games of the season, so the Colonials sit atop the standings, six points ahead of the rest.
It's a six point lead now that the AHA has adopted the same overtime/shootout format used by the NCHC, WCHA and Big Ten. Wins in regulation and the five-on-five overtime are now worth three points. Wins in the second three-on-three overtime and potential shootout are worth two points, with the loser awarded a single point.
"It'll get some getting used to," said Schooley. "I'm used to saying, 'Let's get the four points.'"
Schooley says that it's important for his team to get off to a fast start in conference play. The last few seasons, RMU has managed to make it back to the AHA tournament semifinals despite an average regular season campaign. RMU has been to the last six AHA final fours, tied with Air Force for the most in a row.
"We want to be better in the regular season," Schooley said. "We've ended well but during the season we've been inconsistent."
The Colonials stay in conference play this weekend with a trip to Army West Point, which has also gotten off to a good start with opening wins over Union and Connecticut.
"This is our senior's first trip to West Point," said Schooley. "So we're all excited to play there. It's a great atmosphere and Army is a good team, off to a great start."
Expect Kapelmaster to be in net for the Colonials, but Schooley says you'll see his other goalies as well this season. Things didn't go so well out of the gate for Reid Cooper and Dyllan Lubbesmeyer, who shared goaltending duties in a 7-0 loss to Michigan Tech.
But Schooley remains optimistic about their potential as well.
"I said before the season that weren't going to take a step back in goal," he said. "We've got three good goalies who are going to push each other and compete for time."
Since You've Been Gone
At the end of the 2013-14 season, Connecticut bid farewell to Atlantic Hockey for greener pastures in Hockey East.
Since leaving, results have been mixed. UConn hasn't had a winning season since departing the AHA, in part because wins against its former conference haven't been easy to come by.
A loss to Army West Point and a tie with Sacred Heart so far this season contribute to a UConn record of just 4-7-1 against its former conference foes.
The Huskies have especially struggled against in-state rival Sacred Heart. Connecticut hasn't managed a single win in six meetings with the Pioneers (0-5-1) since leaving Atlantic Hockey.
Sacred Heart and Connecticut could possibly tangle again this season. UConn, SHU, Quinnipiac and Yale will square off in the Connecticut Ice Festival in Bridgeport on Jan. 25-26.
The Century Mark and Beyond
One hundred career points is a milestone for a college hockey player. Only a handful of players achieve the century mark each season, usually during their senior campaign. The very rare player will surpass 100 points prior to their senior season.
In Atlantic Hockey, only Mercyhurst defenseman Joe Duszak came close last season, ending his junior campaign with 99 points. Duszak won't get a shot at the 100 point plateau, however. He elected to forgo this senior year in favor of a professional contract with the Toronto Maple Leafs.
At the start of this season, Duszak finds himself on the roster of the ECHL's Newfoundland Growlers alongside Atlantic Hockey standouts Brady Ferguson (Robert Morris), Scott Pooley (Holy Cross) and Todd Skirving (RIT). The Growlers won the Kelly Cup last season.
Here are the current Atlantic Hockey seniors within striking distance of the century mark:
Blake Christensen (AIC): 92 points
Luke Lynch (Robert Morris) 91
Noah Delmas (Niagara): 84
Adam Brubacher (RIT): 81
Nick Hutchison (Canisius): 81
Dominic Franco (Army West Point): 75
Jonathan Desbiens (Bentley): 73
Not expected to break this 100 mark this season, but well on their way are:
– Niagara sophomore Ludwig Stenlund: 42 points in his freshman season
– Bentley junior Luke Santerno: 66 points through two seasons
– AIC junior Brennan Kapcheck: 52 points through two seasons
Games to Watch This Week
Some intriguing matchups to follow this weekend:
– Merrimack at Rochester Institute of Technology: This is the homecoming game for RIT and typically sells out Blue Cross Arena (capacity: 10,556). Merrimack comes in 0-3 and will face Holy Cross on Thursday before coming to Rochester. RIT is 2-1 coming off a win over Bowling Green and a loss to Ohio State in the IceBreaker Tournament.
– Arizona State at Air Force (two-game series): Both teams got swept by ranked opponents last weekend. The Sun Devils lost a pair to No. 3 Minnesota State, while the Falcons were swept by No. 8 Notre Dame.
– Holy Cross at Northeastern: The Crusaders knocked off a ranked team last weekend (a 3-2 overtime win at No. 6 Providence). Can they do it again over the 15th-ranked Huskies?