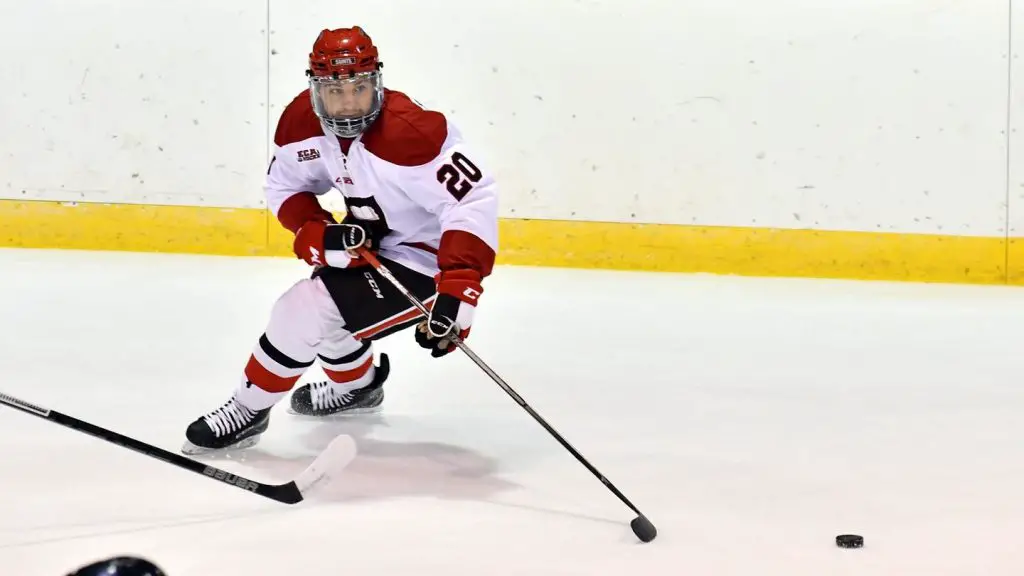 A series split on the road is never a bad way to start a season, but it's especially positive for St. Lawrence.
The Saints were just 2-18 on the road last year, part of a disastrous 6-29-2 overall record that cost coach Mark Morris his job.
Former Clarkson assistant Brent Brekke was hired in May to replace Morris and will have his hands full trying to turn around a program that has really struggled over the last few seasons.
"Our mentality is excellent," Brekke said prior to the start of the season. "The cultural piece is something that you are always trying to instill when you take over a program as a new staff and that's something that I think we're in a real good place with our leadership."
Brekke credited the Saints upperclassmen will helping make the newcomers feel welcome. But one of those upperclassmen played a big role in his first win as a head coach. Senior goalie Daniel Mannella made 40 saves in Saturday's 3-2 win at Mercyhurst, giving the Saints a season-opening split with the Lakers.
This season has not only been a new start for Brekke, but for the returning Saints players as well.
"I think it's been more of a reset button and a fresh start for a lot of the guys," Brekke said. "We told them right from the start, we have no preconceived notions for any players coming in. Your opportunity is there. Go earn it."
Part of that has been teaching the players to not only play fast, but think fast as well.
"You've got to think the game at a high level," Brekke said. "It's not just as skating as fast as you can. That's not playing game the game with pace. You want to think the game with pace and your mind has to be the catalyst for that. That's something we tried to instill; be relentless but be confident to make plays."
Thinking fast and making plays should be beneficial for a team that wasn't able to sustain consistent offensive pressure last season. That lack of puck possession resulted in extra stress on the defense, as St. Lawrence was outshot by an average of 39-23 per game last year.
"We want to get up and go," Brekke said. "The reality is we don't want to be defending. We want puck possession, that's a big piece of some of the steps we want to take moving forward. But with that, you're still responsibility defensively."
St. Lawrence not only has a new coach, but its home rink is getting an upgrade as well. Appleton Arena is currently in the midst of being renovated, as the building's lobby, men's and women's locker rooms, training facility, media room, and event spaces will all be upgraded thanks to a completely funded donor project that raised over $18 million dollars thus far.
"When you look in our conference, there are a lot of buildings that have been around a long time, but many of them have had renovations and still kept the tradition," Brekke said. "For us to to have the upgrades will be tremendous from a recruiting standpoint."
However, the school announced last month that the renovation is behind schedule, meaning that St. Lawrence will play its first four home games at nearby Canton, as well as shift the Nov. 1 game against Clarkson to Cheel Arena. The first game at Appleton Arena is scheduled for Nov. 29.
Marotte shines for Clarkson
In the past, Clarkson had several talented teams held by subpar goaltending. That changed three years ago with the arrival of Jake Kielly, who quickly became one of ECAC Hockey's top goalies.
Then Kielly gave up his final season of college eligibility to sign with Vancouver last spring, leaving the Golden Knights with a gaping hole in net entering this season.
But if last weekend is any indication, Clarkson should be just fine.
Graduate transfer Frank Marotte stopped 70 of 72 shots in a 1-0-1 weekend for Clarkson at Michigan, earning the ECAC Hockey goalie of the week award.
"Frank was real good in net," Clarkson coach Casey Jones said. "He gave us a chance with his composure back there."
Marotte, who comes to the Golden Knights after four seasons at Robert Morris, has the chance to take on a heavy load for Clarkson. He played 95 percent of the minutes last season for the Colonials, and appeared in 107 games in his career at Robert Morris.
Homecoming game for Zieky
Coming home has been productive for RPI's Chase Zieky. The Engineers senior scored twice and added an assist in a 5-3 win at Connecticut Saturday in Hartford. Zieky, who is from nearby Avon, posted an identical stat line in a win over the Huskies at the XL Center last year.
It's been a productive start to his RPI career for Zieky, who lead the team with eight goals in 21 games last season despite not playing in the first half after transferring from Providence. Overall, he has 10 goals in 23 games with RPI after not scoring in eight games over two seasons with the Friars.
Zieky, along with Shane Bear and Mike Gornall, all gave the Engineers a boost as transfers last season and helped give RPI some needed veterans for this season.
"We feel really good about our team chemistry and have a lot to prove," Engineers coach Dave Smith said prior to the start of the season. "Approaching the top half of the standings is a reasonable goal."
Yale building from the back
The Ivy League schools haven't started games yet, but when they do, Yale will be looking to finish above .500 for the first time in four seasons.
"We've been mired in .500 seasons that's not a place where we want to be," said Yale coach Keith Allain, whose Bulldogs have finished at exactly .500 the last two seasons. "Our guys are focused and committed to breaking out of that mold."
If Yale does end that streak, it could do so on the back of its defense, which Allain said is one of the strongest groups at Yale in a long time. That group will be lead by junior Phil Kemp and sophomore Jack St. Ivany, who was a member of the U.S. National Team at the 2019 IIHF World Junior Championship.
Freshman Brandon Tabakin, who Allain said is good with the puck and could be a key part of the power play, is also poised to be an important part of the Bulldog defense this season.