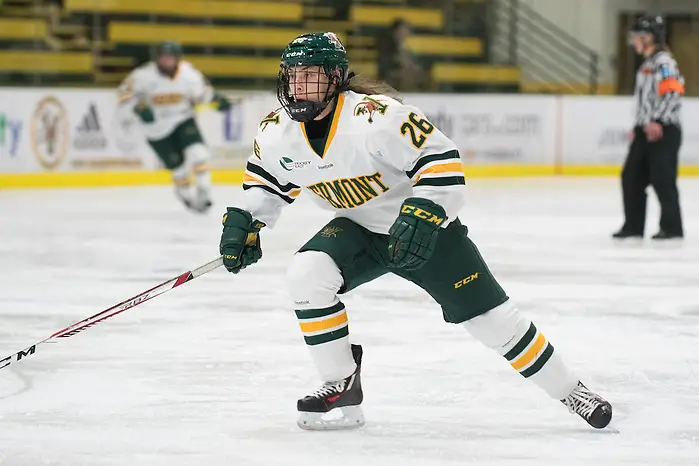 (1) Wisconsin at LIU Brooklyn
This is LIU's Homecoming weekend and Saturday's game will be played at the Nassau Coliseum, home of NHL's New York Islanders. The Sharks are 0-2 to start the season, having been swept by UConn two weeks ago. This unfortunately won't be an easy matchup for the Sharks, as the Badgers come in undefeated, with four of the nation's five top scorers and averaging five goals per game while allowing. 0.83 goals per game. The Badgers will sweep.
St. Cloud State at (2) Minnesota
The Gophers swept Robert Morris last weekend while St. Cloud State swept RIT. Minnesota beat St. Cloud State four times last season. The Gophers have the advantage here, especially playing at home. They lead the WCHA, averaging 5.50 goals per game. They have played closer games in the first game of their series, before pulling away in game two. SCSU rookie Klara Hymlárová has been fun to watch so far and leads the team with five points. I expect Minnesota to sweep.
(3) Northeastern at Maine
Maine played two close games last weekend and came out with a loss and a tie against Quinnipiac. They were 0-2-1 against Northeastern last season and I'm not sure it's going to get any better for them this season. Northeastern is off to a 3-0 start and Alina Mueller continues to lead them on offense and was named Hockey East Player of the Week last week. This should be a Northeastern win.
(3) Northeastern at New Hampshire
The Huskies swept UNH last season in three games, but this isn't the same Wildcat team they faced. Having Ava Boutilier in net makes a big different for New Hampshire. She has two shutouts already this season and is a leader for them on the ice, lending confidence to the defense and letting them get more involved in the offense. I have high hopes for UNH this season, but I think this one goes to Northeastern.
(4) Clarkson at (10) Robert Morris
This is an interesting matchup as the Colonials showed they could play with Minnesota for five periods last weekend before the Gophers pulled away in the third period of game two. Robert Morris is a strong team with very good scorers. Clarkson has had a week off since they split a series with Minnesota Duluth two weekends ago. I don't feel like I have a good read on the Golden Knights yet this season, but they have a number of offensive threats and that alone makes them scary. I'm hoping this is a close series and I'm hoping for a split.
Merrimack at (7) Boston College
Boston College already took two games from Merrimack this season, allowing the Warriors just one goal. They'll be looking for a bit of revenge, but will have to generate more offense and find a way to stymie the Eagles, who have been getting scoring from a number of players. Freshman Hannah Bilka leads the team with 8 points and BC has started the year 4-0. I don't see their winning streak ending here.
(7) Boston College at Vermont
Vermont has had a strong start to the season, including a win and tie against St. Lawrence last weekend. They lost all three games they played against BC last season, getting outscored 12-4. I think this is a closer game than that, but I do think BC ends up with the win.
(8) Minnesota Duluth at Bemidji State
It has not been the start to the season Bemidji State wanted and I don't think it gets any better for them this weekend. The Bulldogs have been strong so far and they simply have too much offense for the Beavers. Not to mention, they have Maddie Rooney in net. That doesn't bode well for BSU's ability to put points on the board. I expect UMD to sweep.
(9) Ohio State at Minnesota State
This is an underrated intriguing matchup between the Mavericks seem to be able to give Ohio State problems. They've beaten the Buckeyes twice in the past two years and pushed OSU to overtime last season, as well. Minnesota State seems to have what it takes to trip up Ohio State, who are coming off a sweep by Wisconsin and looking to get back on track. I'll call for a split here.