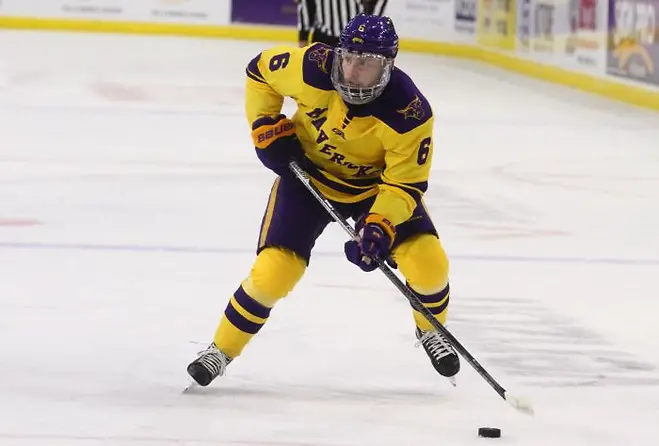 Don't worry, Americans. Although Oktoberfest is over, look no further than Mankato, Minn., where the celebration of German culture on the ice lasts all season.
Minnesota State forwards Marc Michaelis and Parker Tuomie, two of the most prolific scorers in the nation last season, both decided to return to Mankato for their senior years.
"It's funny, they get lumped in together because of where they're from, but they're two completely different personalities," MSU coach Mike Hastings said. "But when put together they've got a chemistry that's pretty special."
Michaelis, Tuomie and sophomore forward Julian Napravnik form Minnesota State's virtual German consulate — a place where hard work and high skill go hand-in-hand to help the Mavericks score a lot of goals. Tuomie, Michalis and linemate Charlie Gerard scored a combined 45 goals playing on the top line last season.
"I think we just really compliment each other well," Tuomie said of he and his countryman's chemistry. "I think we're both really hard workers. We both get after the puck. And I think our creativity is at the same level. It's just one of those things where we know where we're going to be on the ice so it's very comfortable."
This weekend, the Mavericks host North Dakota for a pair of nonconference contests at Verizon Wireless Center.
What is it about Germany that helped these players get so good and putting the puck in the net? According to Michaelis, it's about focusing less on the goals and doing whatever it takes to win the puck.
"I think the players Germany produces, the culture is a hardworking mentality. America, Finland, Russia, they all produce more raw talent so for us Germans, it's more about working hard and outworking somebody else to be better instead of just relying on beating someone talent-wise," Michaelis said of the German hockey style and mindset. "I think that competitiveness is in our DNA, it's what they try to teach young German kids and it's what we do well."
Although hockey isn't the No. 1 sport in Germany (not surprisingly, it's soccer by a landslide), it's a big deal on some parts of the country — specifically Mannheim in southwest Germany where Michaelis grew up.
"In Mannheim, the soccer team is in the third division so everything is really about hockey," Michaelis said. "They call it 'hockeytown' just like Detroit. It's probably the biggest hockey city there is in Germany."
It's where he and Tuomie, originally from Bremerhaven in northwest Germany, originally met, playing for the Jungadler Mannheim U18 junior team. Both players wanted to come to the United States and play college hockey.
Tuomie, whose father Trey is American and played with Hastings at St. Cloud State, came over a year earlier and had decided to attend Minnesota State before Michaelis.
"He and I had a pretty long past together playing with and against each other in Germany," Tuomie said. "Both of us always wanted to go the college route. He came over here a year after me and fortunately enough I was able to kind of get him over here."
Hastings said Tuomie told MSU associate head coach Darren Blue about "another German" who was playing in junior hockey at the time.
"He said, 'If you're looking for players, there's another German playing for the Minnesota Magicians (of the NAHL) that's better than all the guys I'm playing with now,'" Hastings said. "And that wasn't a shot at the guys he was playing with, it's just a compliment to Marc about his abilities. And Todd followed up on it, went and watching him play and it wasn't long after that that he committed."
Michaelis knew he wanted to play college hockey but didn't know much beyond that.
"I really had no clue about the teams or where they were at location-wise," he said. "I didn't really know anything about college. But Mankato started talking to me and Parker was committed there and I knew his dad, I really respect him and what he's done over the years, and I knew he trusted Mankato and coach Hastings, so it ended up being a no-brainer."
In his first year in Mankato in 2016-17, Michaelis netted 14 goals and 36 points in 39 games and was voted the WCHA's Rookie of the Year. He followed that up with 40 points the next season and 41 in 2018-19. Tuomie had eight goals and 18 points 2016-17 but doubled that tally his sophomore season with 37 points before netting 39 points as a junior.
Perhaps it's not a coincidence that both players started producing more when they started playing on the same line more regularly.
"I think as they have stayed longer I think they've become more comfortable in being vocal about wanting to play on each other's line," Hastings said. "As a coach, it's great having guys that want to be held accountable because, OK, you want to play together then go play well. And I think they've taken that seriously."
"We're played together for so long and we're both pretty competitive, so it's always a battle between us," Michaelis added of he and Tuomie's dynamic. "Whoever gets more ice time, more points, more goals. We're really good friends off the ice but on the ice we try and do better than each other in just about every aspect."
The Mavericks have a plethora of scoring depth back from the team that won the WCHA title last season. They will be looking for a historic three-peat for the MacNaughton Cup this year — something that hasn't been done since North Dakota in the late 1990s. But winning the MacNaughton Cup isn't the only thing the Mavericks are after. They want to make a Frozen Four run.
That is one of the main reasons why both Tuomie and Michaelis decided to return to Mankato.
"Our entire senior class had a feeling of unfinished business," Tuomie said. "We all felt that if we come back together it's one more opportunity for us to play with each other, get our degrees done and continue to bring this program to a spot we've never been before."