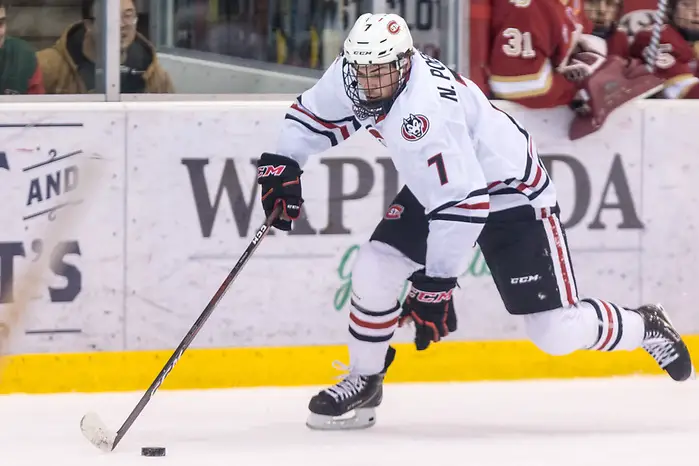 With 10 freshmen on its roster, St. Cloud State has had a lot of introductions to make early on this season.
That process is still ongoing two counter games into the Huskies' new campaign. Already, following two ties last weekend at Bemidji State, 14th-ranked SCSU is off the scorching pace with which the Huskies opened last season, winning their first five games and going 13-1-2 in their first 16. They went on to become the No. 1 overall seed for the NCAA tournament but were upset right away by American International.
There's a lot of promise among St. Cloud's newcomers, and that's needed considering the Huskies lost three 40-point forwards plus several other key players from last season's team, either to graduation or pro contracts. While the new boys get their feet wet, though, veterans have been leading the way.
Nine SCSU players, all sophomores and up, provided the Huskies' points last weekend at Bemidji's Sanford Center. Four different St. Cloud players scored in just under 11 minutes during Friday's third period to help the Huskies salvage a 4-4 tie. On Saturday, Nick Poehling and Easton Brodzinski gave SCSU a 2-0 second period lead, but Bemidji State drew level in the third and helped finish the game at 2-2.
Six different SCSU players have one goal apiece to their names ahead of this weekend's home series against No. 11 Northeastern. Spreading out the scoring like that is no bad thing in second-year coach Brett Larson's eyes, but he'll expect more going forward from his freshmen, five of which played in the Bemidji State series.
"Bemidji might be one of the tougher teams defensively in the country, and I knew it was going to be hard to create a lot of offense against them, so I'm really not looking at points per se as far as our offensive production right now, or not for the first weekend, anyway," Larson said.
"I thought our young guys, to be honest, just did a good job of surviving a really tough weekend, and that'll give them some confidence going into a few weekends at home here, feeling like they at least know they can play at this level.
"I thought it was a really good series," Larson concluded. "Obviously Bemidji is a really tough place to go in and play, and I thought it was a great learning experience for our guys to see how hard you have to play to be successful in college hockey."
Six St. Cloud upperclassmen got onto the score sheets last weekend in Bemidji, but what stands out is the name at the top of the Huskies' scoring chart.
Sophomore forward Sam Hentges, who played high school hockey an hour down the road at Totino-Grace and went on to become a Minnesota Wild draft pick, had 10 goals and 10 assists in 37 games last season. He scored the equalizer in last Friday's goalfest and had two assists on the weekend.
Hentges centered SCSU's top line Friday, flanked by Brodzinski and freshman winger Zach Okabe. On Saturday, Hentges and Brodzinski were on the Huskies' second line alongside sophomore Micah Miller.
"I really think Sam's off to a great start," Larson said. "He's been so committed in practice to getting better and doing things the right way and he's really been working hard, and I think it's paying off for him. Right now, he's really earning one of those top two spots as far as a center that we can count on, and he's pushing guys around him to be better.
"It's always a big step going from the expectations of being a support guy to being the guy, if that makes sense. Now, he has to be a guy that's going to drive the way our team plays, and he's a fast, skilled, hard player and when he plays that way, he drives the players around him to play that way as well."
The Huskies' defensive corps was a perceived strength entering the new season, thanks in part to senior captain Jack Ahcan and alternate Clark Kuster. Don't forget junior goaltender David Hrenak, a second-team all-NCHC pick last season. Still, just like up top, there's a lot of newness at the blue line and behind SCSU's Slovak starting goalie.
"For a lot of them (on the blue line), other than Jack Ahcan really, it's the same thing: they're stepping from support roles into roles where they need to drive how we play, and that's a bit of a transition for anybody, but especially for a defenseman," Larson said.
"They're going to be counted on to play against higher lines this year, they're going to be counted on to play in more specific special team roles and they're going to be counted on to play big minutes."
Given the context, Larson isn't concerned about two season-opening ties as compared to last year's hot start.
"It's such a different team," Larson said. "Last year, the expectations were that we would be on a roll like that, and this year, the expectations are that there could be some ups and downs with a really young group.
"We've got 16 sophomores and freshmen combined, and a lot are in big roles, and our goal as a staff is just to keep getting better every weekend and handle different challenges. You go into a tight space, hard, no room-type area game in Bemidji and now you go back to a home game against a really skilled, fast Northeastern team on a bigger sheet, which is a totally different challenge.
"They're both tough challenges but different challenges, so I think each weekend, we're going to have learning lessons that are going to help us grow."
More lessons will come this weekend as SCSU plays in what was always bound to be a memorable weekend. A banner heralding last season's NCHC regular-season champions will be unveiled, as will a statue memorializing Herb Brooks, for whom the National Hockey Center is named.
Northeastern will do its best on the ice to spoil the party. NU (3-0-1) opened its season with a two-game sweep at Union, then beat No. 4 Massachusetts on Oct. 15 and tied with Holy Cross four days later. Northeastern outscored its opponents 9-5 in those four games.
"Fast and skilled," Larson said of what he has seen of Northeastern on video. "They attack off the rush, they're really creative and skilled in the offensive zone.
"Heck, they're only giving up one even-strength goal a game right now as well defensively, so they've got a skilled team that plays hard, and it's going to be a big challenge for us."