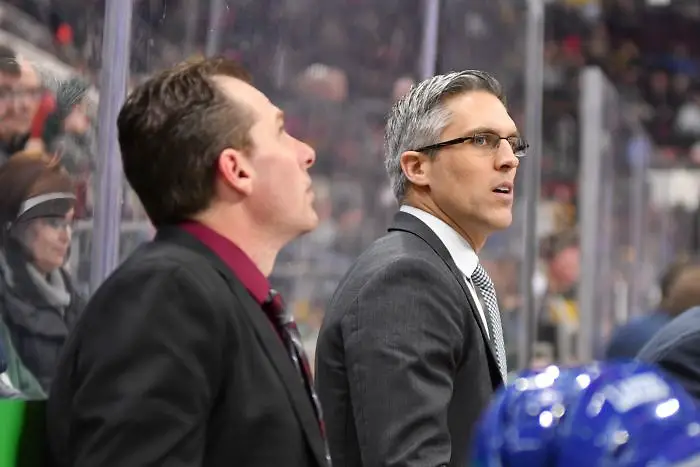 A quick scan of records shows that Lake Superior State is 2-6-0 on the young college hockey season.
However, if one looks a little deeper, those six losses come with a big caveat, coming to No. 1 Denver, Michigan and No. 5 Notre Dame, with the last four also coming on the road.
For coach Damon Whitten's squad, the losses, while difficult to swallow, should be part of a bigger push once the Lakers open the WCHA portion of their schedule this weekend at home against Ferris State.
"We've talked for years that, obviously, we're very proud program and we've got those national championships, great history and tradition," said Whitten. "Our challenge, our goal, is to get back to that level. You can't get back to that level without playing with and beating the best in the country.
"Part of our focus is to play a great schedule and great competition. Certainly, when you have No. 1 ranked Denver and No. 4 Notre Dame, and you go down to (Ann Arbor) to play Michigan, you're getting some real powerhouse programs and strong programs."
Despite playing top competition, Whitten feels there is still plenty of room for growth in the Lakers' game.
"We're not happy with where we're at," he said. "We want to do win every single one of those. (It's) a little bit frustrating and challenging.
"I think on the other side of that, we've learned a heck of a lot about our team, some of the areas that are strong and that we really liked and certainly some areas that we've got to pay a lot of attention to and improve really quickly as WCHA play starts off. So, yeah, a little frustrated, a little disappointed, but a lot wiser about our team and where we want to be and how we need to get there."
In their first loss to the Pioneers, the Lakers held a 1-0 lead into the latter stages of the second period before giving up three goals over the game's final 21:40. In their second loss, they fought back from a 3-1 deficit with two goals in a two-minute span in the third to even things before the Pioneers struck with just 20 seconds left to steal the sweep.
"I think it speaks volumes about our locker room, our ability to play a full 60-minute game, and where we can be, Whitten said. "We're not there today, and that was over the talking point after the Notre Dame series. We just got used to best in the country to measure ourselves. We fell a little bit short, but the good new is that it is October with a lot of time to get there.
"We know what that looks like in the way we have to play for 60 minutes to have a chance to be successful."
The Lakers have six seniors and seven freshmen on their roster. Among those veteran faces are Max Humitz up front and Collin Saccoman as the lone senior defenseman. Both have been instrumental in helping the younger skaters learn what it means to play at the Division I level and be successful.
Humitz, a Livonia, Mich., native, is off to a great start for the Lakers, with a team-high four goals and seven points through eight games.
"(He's a) very intelligent player very poised and that's really showing this year," said Whitten. "There's no panic to his game. He's an elite playmaker and can also finish show us that, you know, arguably the best sport on the ice every night and every series."
Saccoman learned to play with poise in own end as a sophomore. As a junior, he led the blue line with a 10-goal, 25-point campaign. He has continued to make things happen offensively in 2019-20 with three goals and five points.
"He plays a very complete game that can get it done at both ends of the ice," Whitten said. "I think our young guys can look at that and know that we're a team and a style of play that wants to be involved at both ends of the ice. So I think he's done a great job. He's a role model for our back end. He's our only senior on the back end, but our sophomores are pretty experienced group."
As the Lakers prep to host the Bulldogs this weekend, Whitten and his staff want to see improvement in their team's defensive approach.
"It's about being much better defensively as a team," he said. "We've given up way too much. It's spread out there, there's been fault with each position group on certain nights. So (we need) a consistency to our game, getting all position groups on the same page on a given night. You're not going to win a lot of games at our level of you're giving up as much as we've given up."
Beydoun-ing it
Michigan Tech turned to junior Robbie Beydoun for his first start of the season Saturday night on the road at Bowling Green.
All the third-year goaltender did was make 25 saves, including 21 in the final 40 minutes, to earn his first win, and the team's first WCHA win, of the season.
Beydoun had some help. Sophomore winger Tommy Parrottino picked up his first career hat trick in the contest, scoring twice in the second and adding one more in the third.
Governor's split
After two games, the Governor's Cup is still up for grabs.
On Friday night, Alaska Anchorage took 1-0 lead late in the first period before Max Newton evened things in the final minute of the opening frame for Alaska.
Tristan Thompson put the Nanooks ahead for good midway through the second. From there, Anton Martinsson shut the door.
In Saturday's contest, Nick Wicks struck twice in the second to sandwich a goal by Tanner Schachle as the Seawolves used a three-goal second period to their advantage in earning a 4-0 win.
A run of fours
In a pair of wins on the road at Ferris State, the Northern Michigan Wildcats scored at least four goals in both contests, giving them four straight games where they have scored at least that many times. In Friday's 4-3 win, Griffin Loughran's tally 13:15 into the third was the difference in the contest.
Saturday, Loughran scored three times as part of a six-goal night by the Wildcats.