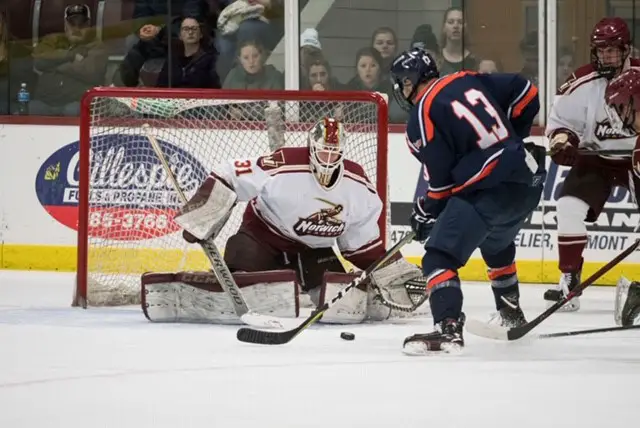 The conference has already made news with the announcement of Elmira joining the NEHC in a couple of seasons matching the move made by Hobart a couple of seasons ago. For this year, the competition is again expected to be at a high level as four teams are included in the pre-season rankings.
Last year's conference champions from Norwich, who saw their 19-game unbeaten streak come to an end in the national championship game at Wisconsin – Stevens Point will expect hard fought battles from across the NEHC including the growing rivalry battles with Hobart, Massachusetts-Boston and Babson.
The Favorite
Coach Cam Ellsworth enters his second season with a mostly intact roster from last season including the all-conference goaltender, Tom Aubrun. Their top eight scorers return led by Felix Brassard, Coby Downs
and Brett Ouderkirk. Mobile defensemen Gabriel Chicoine and Matt Burchill also contribute at both ends of the ice for a team that knows how to win close hockey games.
The Contenders
Hobart has been in instant competitor for the league title since arriving in the NEHC from the former ECAC West and reached the Frozen Four last year where they fell to Wisconsin- Stevens Point in the semifinal round. Sophomore Liam Lascelle emerged as the number one goaltender last season and has great support in front led by seniors Travis Schneider, Zach Sternbach, Lawson MacDougall and Julien Denicourt. The Statesmen have split the last two conference championships with the Cadets.
The Beacons of UMass-Boston have an all-star group that includes goaltender Bailey MacBurnie, defenseman Nick Albano and forward Nolan Redler who enters his senior season with exactly 100 points in his career with the Beacons. The Beacons also qualified for the NCAA tournament last season and will look to build on a 19-win season for head coach Peter Belisle.
Players to watch
Babson: Mike Egan – forward; Nick Rosa – forward
Castleton: Glen Wiswell – forward; Troy Taylor – defenseman
Hobart: Travis Schneider – forward; Liam Lascelle – goaltender
Johnson & Wales: Mike Rockwell – goaltender; Connor Bechtel – forward
UMass-Boston: Nick Albano – defense; Nolan Redler – forward
New England College: Carlos Fornaris – forward; Anthony Pupplo – goaltender
Norwich: Tom Aubrun – goaltender; Felix Brassard – forward
Skidmore: Brandon Kasel – goaltender; Matt Muzyka – forward
Southern Maine: Adam Withers – forward; Cody Braga – forward
Suffolk: Joe Vingi – defenseman; Jack Kelly – forward
USCHO predicted finish
1. Norwich
2. Hobart
3. UMass-Boston
4. Babson
5. New England College
6. Skidmore
7. Johnson & Wales
8. Southern Maine
9. Castleton
10. Suffolk
Exhibition games are always a helpful tune-up, but this weekend sees real action among ranked teams including Norwich hosting the University of New England, Hobart playing two games with Elmira and Massachusetts-Boston opening with Curry and Wentworth.