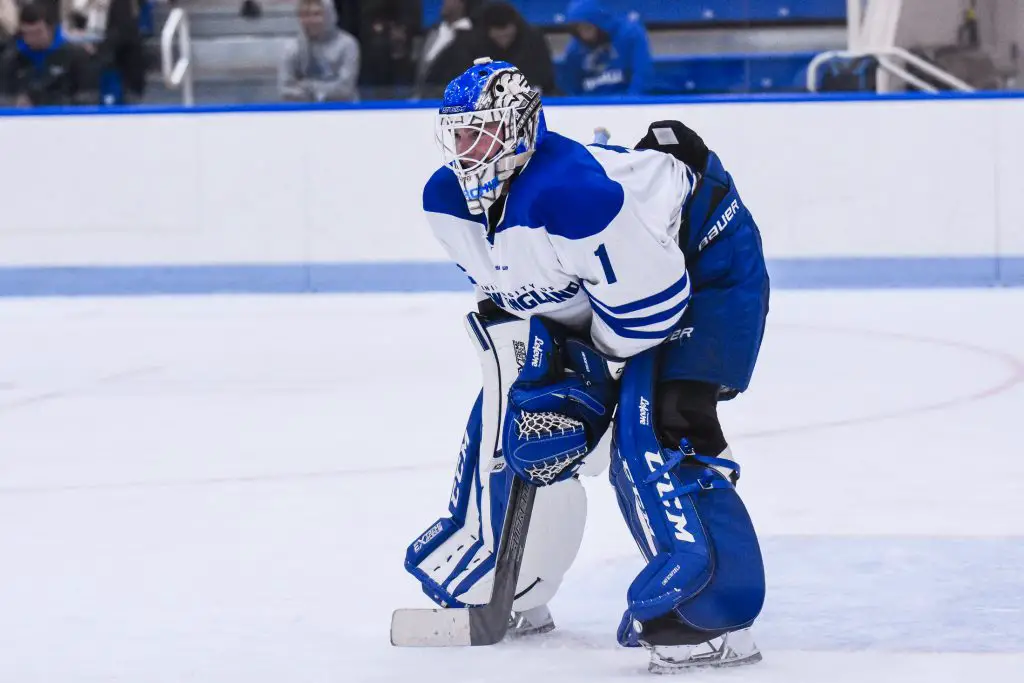 The CCC will be creating more excitement in conference games this year as they adopt new overtime rules for conference standings purposes only during the regular season. Games will still go through a five-minute overtime period if game is tied after regulation time and that result at the end of overtime will be the official result for NCAA purposes. A five-minute 3-on-3 overtime will be played and if still tied a shootout will take place to determine a winner. For league purposes, regulation wins are worth three points, wins in overtime or shootout are worth two points and overtime or shootout losses are worth a single point in the conference standings. That should spice up the regular season race among a host of competitive teams nicely!!
The Favorite
After the tenures of Trevor and Brady Fleurent and their combined 297 accumulated points, the University of New England embarks on the post-Fleurent era with a host of talent looking to defend last season's conference title and first NCAA win. The team is deep and talented with the likes of Ryan Bloom, Derek Mecrones and Tyler Seltenreich up front and can rely heavily on defenseman Dimitris Jones and goaltender Ben Churchfield.
The Contenders
Salve Regina moves on from All-American Blake Wojtala in goal but returns a host of talented players that will be expected to produce more offensively as they find stability in the crease from Ulysses Lalor or Louis-Felix St. Jean. Look for Danny Eruzione and Paul Boutoussov to build on their 38 and 26-point seasons from last year.
The Curry Colonels graduated the leadership and production of Zachery White but have a strong nucleus to compete for the top spot in the league. Forwards Michael Snow and Billy Rizzo return having accounted for 22 goals last season. Justin Ketola proved to be a reliable netminder last season and as important as a leader for the Colonels as one of the assistant captains this season.
Players to watch
Becker: Romain Wild – forward; Charles Costello – forward
Curry: Jordan Williamson – defense; Billy Vizzo – forward
Endicott: Jason Kalinowski – forward; Conor O'Brien – goaltender
Nichols: JB Baker – forward; Vincent Crivello – forward
Salve Regina: Vincenzo Renda – defense; Danny Eruzione – forward
University of New England: Dimitris Jones – defense; Ryan Bloom – forward
Wentworth: Georgy Gorodetsky – forward; Jake McKenelley – forward
Western New England: Corey Kennedy – forward; John O'Brien – defense
USCHO Predicted finish
1. University of New England
2. Salve Regina
3. Curry
4. Nichols
5. Endicott
6. Wentworth
7. Western New England
8. Becker
Early November does not see an easing into the season as UNE opens on the road at Norwich. Salve Regina opens with MASCAC champion Plymouth State followed by a home-and-home series with league rival Nichols. Curry travels to face the ranked Beacons from Massachusetts-Boston so all the CCC elite will be tested early to start the campaign.