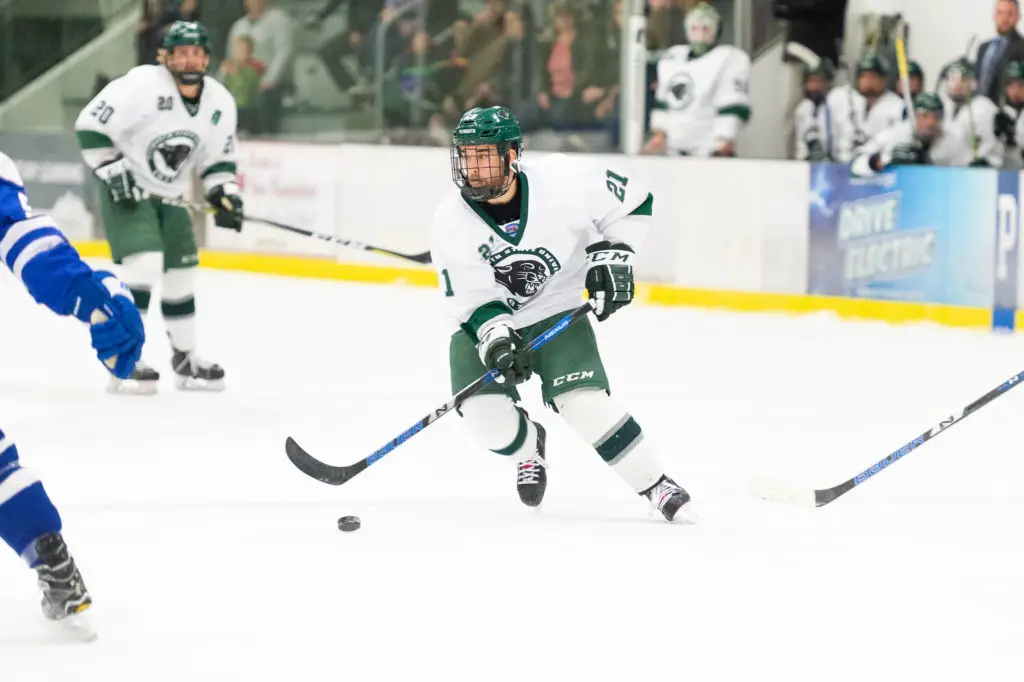 Plymouth State won the conference last year winning both the regular season and conference tournament to punch their ticket into the NCAA tournament. The path was not an easy one as teams like Massachusetts-Dartmouth and Westfield State made end of season runs to challenge for the championship.
If there is a conference where last year's positive momentum may influence this year's race, it's the MASCAC. So look for a tight race and a furious finish to the second half where the Panthers hope to be on top.
The Favorites
Plymouth State has a pair of book-end defenders in Victor Bergstrom and Drake Longaker that can play a lot of minutes and a 200-foot game for the Panthers. Forward JR Barone returns as the leading point getter from last season and he will be looking for more production from fellow junior Peter Laviolette to get the offense going. Goaltender Evan Morelli has graduated so senior Andreas Pettersson and Elmira transfer Jake Sabourin appear to be the front runners for time in the crease.
The Contenders
Massachusetts-Dartmouth finished 10-6-2 last season in conference play and look to the Leonard brothers for leadership and productivity on the ice. Junior Parker Butler took over the number one role in goal last season and will look to improve on his .909 save percentage and 2.63 goals-against average.
Westfield State has a nice blend of youth in experience starting in goal with senior Thierry Messervier and forward Francois-Xavier Girard. Last year's conference rookie of the year, Jake Ratcliffe will be expected to make the step and add to his freshman output of 12 goals and 22 points.
Players to watch
Fitchburg State: Christopher Vicario – forward; Brian McGrath – goaltender
Framingham State: Ryan Paul – forward; Walker Hamilton – defenseman
UMass – Dartmouth: Steven Leonard – forward; Sean Leonard – defenseman
Plymouth State: JR Barone – forward; Victor Bergstrom – defense
Salem State: Callum Hofford – defense; Ryan Tierney – forward
Westfield State: Therry Messervier – goaltender; Jake Ratcliffe – forward
Worcester State: Matthew Manning – forward; Josh Reinstein – goaltender
USCHO Predicted finish
1. Plymouth State
2. Westfield State
3. UMass-Dartmouth
4. Salem State
5. Fitchburg State
6. Worcester State
7. Framingham State
The second half of the season showcased some great hockey and significant moves in the standings as teams gelled and got hot at the right time of the year. Expect more of the same from teams that can win at home or on the road to create a battle right to the end of the regular season.