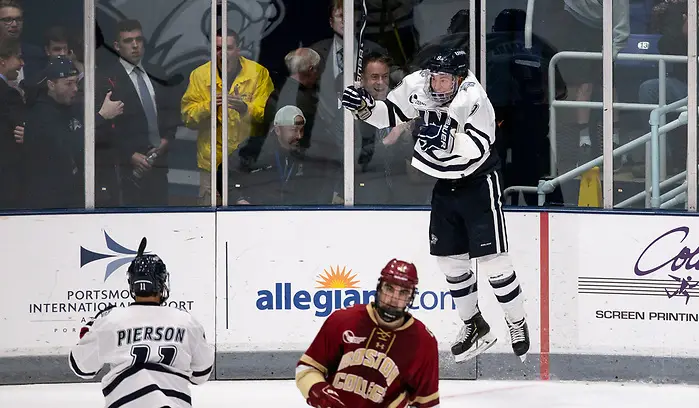 For more than 62 minutes on Friday, neither New Hampshire or No. 15 Boston College could find the back of either net.
That was until Angus Crookshank redirected a Max Gildon shot past Boston College netminder Spencer Knight with 2:45 remaining in the extra session to give the host Wildcats a 1-0 victory in their home opener.
Crookshank led New Hampshire in shots on Friday with five, while goaltender Mike Robinson made 28 saves to earn the shutout for the Wildcats.
Around the Nation
Bowling Green 3, No. 2 Minnesota State 2 (OT)
After falling behind, 2-0, in the first 8:37 of the game, Bowling Green scored the game's final three goals including Connor Ford's power play overtime game winner as the visiting Falcons upset No. 2 Minnesota State, 3-2.
Charlie Gerard and Reggie Lutz gave the host Mavericks a two-goal cushion with goals at 3:07 and 8:37 of the first, respectively. Alec Rauhauser cut that lead in half before the end of the first with his fourth goal of the season.
At 5:02 of the second Cameron Wright's sixth goal of the season evened the score and was the end of the scoring until the overtime period.
In a game that featured 11 power plays, a tripping penalty to MSU's Connor Mackey gave Bowling Green its fifth man advantage that resulted in Ford's game winner.
No. 3 Massachusetts 6, No. 10 Northeastern 3
After falling behind 2-0, the third-ranked Minutemen exploded for five straight goals to turn Friday's contest against No. 10 Northeastern into a runaway as UMass skated to a 6-3 road win at Matthews Arena.
John Leonard scored twice for UMass while Mitchell Chaffee notched a goal and two assists. Filip Lindberg stopped 27 shots to earn the win.
And here's a freshman to freshman connection with @jojo_2333 setting up @reedlebster23's fourth of the season.#NewMass | #Flagship 🚩 pic.twitter.com/DEEqJSuYR8

— UMass Hockey (@UMassHockey) November 2, 2019
Northeastern exploded out of the gate with goals from Brenden van Riemsdyk at 3:05 of the first and Grant Josefek at 6:31.
After UMass pulled within one late in the first, the offense exploded in the second scoring four times.
No. 12 Penn State 4, No. 7 Wisconsin 2
Sam Sternschein broke a 2-2 tie with 8:10 remaining in regulation and Nick Sucese added an empty-net goal with 1:32 left as No. 12 Penn State skated past Wisconsin, 4-2.
Combined with Thursday's 6-1 victory, the Nittany Lions completed the weekend sweep of the Badgers to open Big Ten play.
🚨 STERNYYYYYYYYY 🚨

From Pavlychev and Jones and Penn State leads 3-2 at 11:50 of the third period!! #WeAre #HockeyValley pic.twitter.com/9CxfgXaQ5W

— Penn State Men's Hockey (@PennStateMHKY) November 2, 2019
Wisconsin opened the scoring on a Jack Gorniak goal at 10:07 of the first. Penn State then grabbed the lead in the second on goals by Brandon Biro and Alex Limoges. Wyatt Kalynuk's tally late in the second sent the game to the final frame tied at 2.
Princeton 5, No. 16 St. Cloud State 3
In its season opener, Princeton's offense exploded for three goals to grab three-goal lead en route to a 5-3 upset of No. 16 St. Cloud State.
Goals by Liam Grande, Jackson Creesey and Luke Keenen gave the Tigers a 4-1 lead by the 12:45 mark of the second.
The Huskies made Princeton sweat when Spencer Meier and Jack Ahcan each scored late in the second to return the lead to a single goal.
But Spencer Kersten's goal with 5:46 was the needed insurance tally to give Princeton a season-opening win.
Arizona State 5, No. 9 Quinnipiac 3
Logan Jenuwine scored two goals and Evan DeBrouwer made 35 saves as Arizona State upended No. 9 Quinnipiac, 5-3.
The host Sun Devils blew open the game scoring five of six goals over a span to turn a 1-0 deficit into a 5-2 lead. Included over that period was the ability to kill a five-minute major after a major penalty was assessed to Demetrios Koumontizis for checking from behind at 19:00 of the first.
.@loganjenuwine with a move in front for his 2nd of the night. 👀 #SCTop10 pic.twitter.com/E6tYV8g3zu

— Sun Devil Hockey (@SunDevilHockey) November 2, 2019