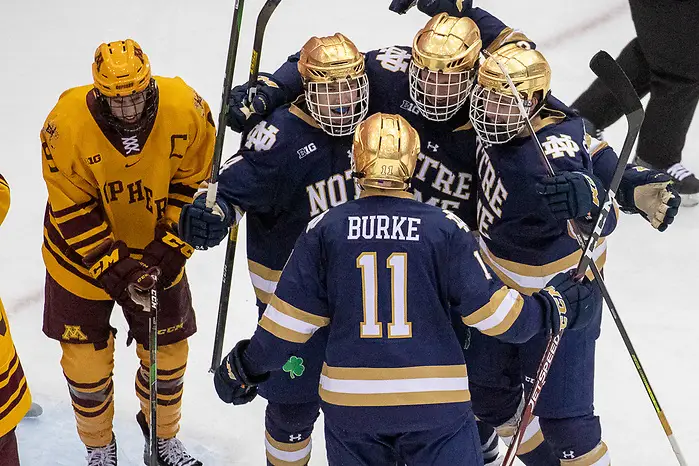 Defenseman Nick Lievermann scored twice and Charlie Raith's goal at 1:25 of the third period broke a 3-3 tie as No. 5 Notre Dame rallied past Minnesota, 5-3.
The win avenged a 3-on-3 overtime loss for the Irish on Friday and gave them four-of-six points in their opening weekend of Big Ten play.
Took 4⃣ out of 6️⃣ @B1GHockey points this weekend against the Gophers.

Recap: https://t.co/KYe6xfEpf9#GoIrish☘️ pic.twitter.com/RU8XmsGGGK

— Notre Dame Hockey (@NDHockey) November 3, 2019
The host Golden Gophers jumped out to a quick 2-0 lead on first-period goals by Brandon McManus and Jacob Perbix. But Notre Dame answered back on Leivermann's first of the night at 5:20 and a Spencer Skastney tally at 13:46.
That hardly ended the offense in the middle frame, though. Garrett Wait gave the lead back to Minnesota just 42 seconds later before Lievermann scored his second with 2:07 remaining in the second.
The third period was all Irish. They held a 17-2 advantage in shots with Raith's goal beating goaltender Jared Moe before Trevor Janicke's empty netter put the game on ice in the closing seconds.
Around the Nation
No. 15 Boston College 3, No. 8 Providence 2
Three second period goals from Alex Newhook, David Cotton and Julius Mattila was all the offense 15th-ranked Boston College needed as they skated past host Providence, 3-2, on Saturday for its first Hockey East win of the season.
Rookie goaltender Spencer Knight was the story for the Eagles as he stopped 29 shots including 14-of-15 in the third period.
Jack Dugan gave Providence the lead at 5:00 of the second period. But a major penalty to Providence's Greg Printz for contact to the head at 10:30 of the frame led to two Boston College goals with the man advantage. Mattila's goal with 12 seconds left in the second proved to be the game winner.
Another major penalty, this one to BC's David Cotton, led to a Tyce Thompson goal with 1:05 remaining. But that was all they would muster.
Highlights from tonight's 3-2 setback to BC.https://t.co/0Ze98YR31I

— PC Men's Hockey (@FriarsHockey) November 3, 2019
No. 2 Minnesota State 5, No. 18 Bowling Green 1
On Friday night, Minnesota State let slip a two-goal lead and fell, 3-2, to Bowling Green. One night that, the Mavericks made sure that wouldn't happen again.
Marc Michaelis's goal at 18:29 of the first gave Minnesota State a lead it wouldn't relinquish as three third-period goals blew open a tight game giving the Mavericks a 5-1 victory.
🎥BABY SPOONS! Spooner scores his first goal this season to add to the Mavericks lead earlier in the period. #HornsUp😈 pic.twitter.com/2l3UzuMseg

— Minnesota State Hockey (@MavHockey) November 3, 2019
Four players record multi-point games Dallas Gerards three assists. Dryden McKay earned his fifth win of the season making 23 saves.
No. 3 Massachusetts 4, No. 10 Northeastern 2
The host Minutemen completed their weekend sweep of a home-and-home series with No. 10 Northeastern, 4-2, on Saturday.
For the second straight night, John Leonard scored twice to pace the UMass offense. Saturday, his second goal of the game broke a 2-2 tie at 1:54 of the third period. Mitchell Chaffee's empty-net tally sealed the Huskies fate.
My goodness @jleno09 😱@Buccigross #NewMass | #Flagship 🚩 pic.twitter.com/6Y49H4Q2cM

— UMass Hockey (@UMassHockey) November 3, 2019
Matt Murray needed to make just 16 saves – including just three saves in the third – for the victory. He also assisted on Chaffee's empty-netter.
Arizona State 4, No. 9 Quinnipiac 1
The host Sun Devils completed the weekend sweep of ninth-ranked Quinnipiac, 4-1, scoring the game's first three goals and then never looking back.
Austin Lemieux and Jacob Wilson each tallied in the first period before Johnny Walker extended the lead to three with his fifth of the season at 8:41.
Hey batter, batter. SA-WING BATTER! pic.twitter.com/6r0MgR27pk

— Sun Devil Hockey (@SunDevilHockey) November 3, 2019
Michael Lombardi pulled the Bobcats within two at 11:48 of the frame, but PJ Marrocco's shorthanded goal just 1:57 later proved a dagger.