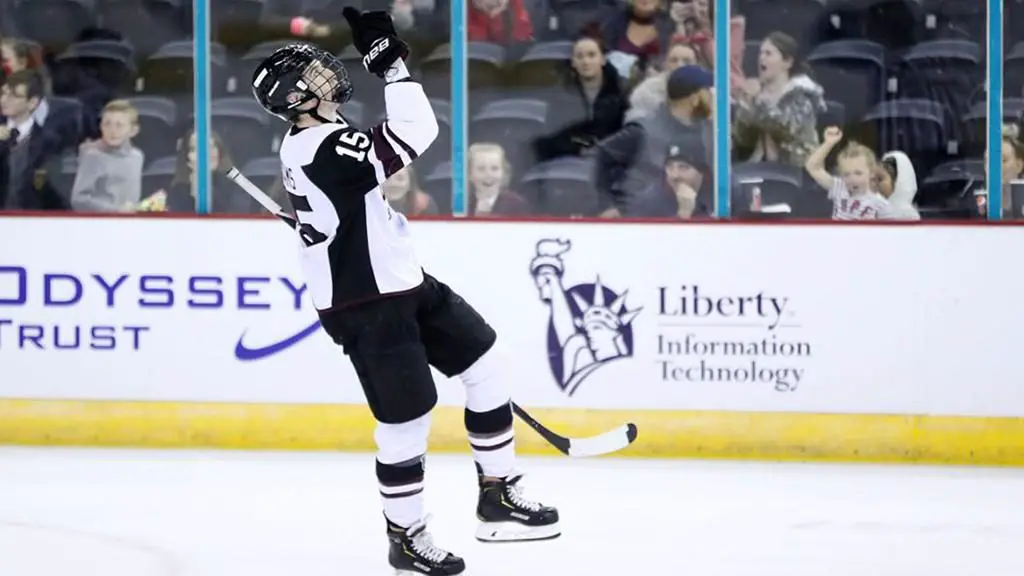 Union winger Jack Adams has experienced more heartbreak and hard luck in the last 14 months than any 22-year-old should have to endure.
In September 2018, he lost his brother Mark – his mentor and best friend — to a heart attack at age 27. Six months later, his paternal grandfather passed away. Then Adams tore the anterior cruciate ligament and medial collateral ligament in his right knee on the last day of Detroit Red Wings development camp in June.
Instead of sailing into his junior year as Union's top returning goal scorer with 10, Adams' future on the ice suddenly was in question.
However, four months into his rehab after surgery, there is light at the end of the tunnel.
"I start skating in three or four weeks, which I'm ecstatic about. I'm feeling great," he said.
Mark Adams, known by his nickname, Roo, missed the better part of two seasons at Providence because of injuries. But he persevered and was in the lineup the night the Friars won the national championship in Boston in 2015.
Inspired by his late brother, Jack has put hour after hour into his rehab.
"One of the things I've been blessed with, that Roo taught me, was work ethic. I take pride in that," he said.
He also took to heart some advice from New England Patriots star Julien Edelman, who came back from an ACL tear in 2017 to be the Super Bowl MVP last February.
"He told me, 'Listen, everyone tells you it's 9-12 months, but it's all about the work you put into it,'" said Adams, Detroit's sixth-round draft pick in 2017.
Red Wings general manager Steve Yzerman weighed in, too.
"I was obviously devastated hearing the news (about the extent of the injury). I came back from the hospital and walked into the lobby at Little Caesars Arena and Yzerman's waiting for me there by himself. I was like, 'Oh, my God.' It was my first time really talking to him one on one," Adams said.
"He said, 'Listen, you really opened my eyes this week. I didn't really know who you were. I had the same kind of injury when I was 22 years old with my (posterior cruciate ligament). We didn't have surgery back then. I played 20 years after that and it was all because of my work ethic to get back. It's basically all about what you put into it.' That's really stuck with me and why I'm trying to take that relentless attitude."
Adams opted to rehab at home in Boxford, Mass., this fall, while continuing to take classes. He talks with his teachers at Union over the phone a couple of times a week, keeping up with his schoolwork from a couple of hundred miles away. He expects to be back in class in Schenectady in January.
Rehab is a full-time job. Adams spends a couple of hours every weekday morning at physical therapy, then heads into Boston to work with his trainer.
"First, hourlong soft tissue massage, on knee, ACL and MCL, my hip, my whole entire leg. Then an upper body workout and left leg stuff from 1-3. Horrendous traffic going home," he said.
Besides the physical toll, it's been a mental challenge.
"I'm away from my teammates and all my friends. You're a part of the team, but you're really not. The team practices and goes to meetings, bus rides and dinners and social events. You're going the other way," said Adams, who attended Union's games at Northeastern and UMass and plans to be on campus this weekend for games against St. Lawrence and Clarkson.
Adams said he expects to be a better player after investing so much time working on his body.
"With the resources I have, my upper body and the rest of my body feels the best I've ever felt in my life. I've used this opportunity to transform my body. I've put on 10 pounds of muscle," he said. "I'm getting ready for December to start skating and once I get on the ice, see what happens. I'm definitely planning on trying to get back for later in the second half and playoffs. That's my goal."
No. 1 with a bullet
There's no sugarcoating it: Brown's power play stunk last season. They were 57th in the country at 12.4 percent.
But it's a new year and the Bears were a sizzling 5 for 9 with the man advantage in splitting with Yale last weekend. For now, they are No. 1 in the country at 55.6 percent.
Their 4-for-5 performance on Saturday reminded observers of a certain age of the days when the dynamic duo of Bill Gilligan and Bob McIntosh roamed the Meehan Auditorium ice.
"I said to (associate head coach) Jason (Guerriero), I've never seen us score four power-play goals," head coach Brendan Whittet said.
Brown's top PP unit is Tristan Crozier, Bradley Cocca and Chris Berger up front, with Zach Giuttari and Tony Stillwell on the points. They scored three goals.
The second unit is Michael Maloney, Brent Beaudoin and Nathan Plessis, with Luke Krys and Justin Jallen up top. They scored twice on the PP.
"There's some different people (from last year) that are on that top unit. The set we were using caused (Yale) some issues," said Whittet. "We were just confident in it tonight. Five for nine for the weekend? We'll take that."
Guerriero, whose responsibilities include the PP, switched a few things around after talking with some of his former pro coaches over the summer. And he said the perspective offered by new assistant Jason Smith, who ran Northeastern's penalty kill, has been huge.
"You've got to give them credit," said Yale coach Keith Allain. "They got the job done. We weren't very good, either."
Red zone
Cornell was swept by Michigan State at home to open the season a year ago, but the Big Red turned the tables last weekend on the road. Cornell took both games, 3-2 and 6-2.
"I think one of our guys' biggest concerns going into this season (was were) we going to get off to a slow start because we have so many freshmen in the lineup? It was definitely a concern," said coach Mike Schafer.
"I think those guys answered that concern. So it's not so much revenge or extra sweet – I think the guys are really happy that we answered the bell with one of our first concerns of the year."
Crimson come up big
Harvard limited Dartmouth's powerful top line to a single goal in Friday's 7-3 win in the season opener for both teams.
The trio of 6-foot-3 Drew O'Connor, 6-foot-5 Will Graber and 6-foot-3 Quin Foreman is a load for opponents to handle. They combined for 11 shots and Foreman scored the line's only goal.
"They're big guys with long reaches. They all can score. There just wasn't a lot of room out there. Harvard did a nice job against them. They're definitely go-to players for us," said Dartmouth coach Bob Gaudet.
Rather than match a line against them, Harvard coach Ted Donato preached awareness.
"Physically, we don't have a guy that's 6-foot-4," he said, but in Jack Drury and Jack Badini they have two centers that are good defensively. "We feel like we have a lot of good depth in the middle of the ice. We talked about it before the game, that we're going to have to be able to handle some top players and top lines. Guys are going to have to recognize who they're playing against."
That strategy worked.
"They're not small guys. We're not an overly big 'D' corps, but positionally we're pretty sound. If we make simple plays and have an awareness of when they're out there, it makes it a little bit easier,'' said Harvard freshman defenseman Henry Thrun.