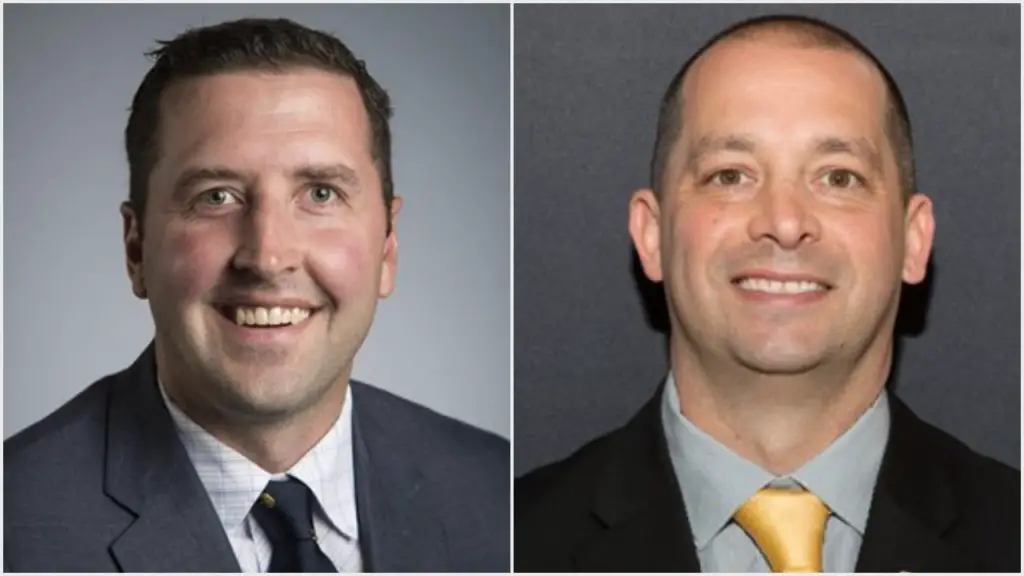 The greater hockey community is known for its commitment to service.
Players and coaches battle between the boards on any given night, but they provide a familial warmth to humanity outside of the rink. It fosters tight-knit bonds, linking people forever, and there's a rush to action whenever something happens.
This past month, that was on clear display at both Canisius and American International, where head coaches Trevor Large and Eric Lang took part in the American Cancer Society's "Real Men Wear Pink" campaign.
"You have a focus that you think people want to see," Large said. "You get that feeling when you put up a funny picture of wearing pink high-top sneakers in the office, and then some donations come in. You're proud because you know your efforts are raising money for a good effort."
The campaign is a month-long initiative designed to raise both funds and awareness in the fight against breast cancer. Campaign leaders wear something pink every day and post pictures throughout their social media networks. Each day is part of a larger commitment to raise at least $2,500 to help the American Cancer Society.
"Cancer doesn't discriminate," Lang said. "It doesn't care about gender or race, and it's impacted everybody. So it was the right timing for us to do something above and beyond hockey."
It's both a collaborative and competitive effort that started with the emotional impact of cancer. At Canisius, former head coach Dave Smith began a campaign after a friend of his, who was a professor at the college, was diagnosed. When Smith left to take the head coaching job at RPI, Large assumed control of his predecessor's efforts. He hit his goal the first year and shattered it in the second before returning this season. Over his entire cumulative effort, Large has now raised over $10,000.
"I was asked over the summer (of that first year) if I would continue the campaign because Dave was very successful," Large said. "I was honored. Breast cancer hadn't touched my life directly, but cancer, in general, had with family members. It's really hard to find somebody that hasn't been impacted by cancer in some major way, whether it's themselves or loved ones or friends and family."
Lang, meanwhile, started a campaign this year as part of a larger effort at AIC. At AIC, Lang was approached as part of a larger recruitment to get involved. It the hockey team to engage with baseball coach Nick Callini in a friendly competition on campus that resulted in the two teams raising over $7,000.
"I always knew Trevor has done it, and he did an amazing job with it," Lang said. "From a distance, I wanted to use our social media platforms, as well as some of the momentum that our hockey team generated, to donate to a good cause. I had a fun challenge, going head-to-head with baseball. I wanted to make sure that we hit our number, and we wound up finishing No. 1 and No. 2 in Western Massachusetts. The baseball program nipped us at the end, but the competition was all in good fun for a great cause."
Throughout the campaign, the players and their families remained actively involved. Canisius organized a week-long initiative to battle breast cancer that ended with the Golden Griffins' exhibition game against the United States National Development U-18 Team., while AIC recalled its engaging battle last year for Eric Otto, who overcame Hodgkin's Lymphoma last season. His story became a movement within the larger hockey community, and the Yellow Jackets recalled that energy to embrace their head coach's October mission.
"The players have been terrific," Large said. "We do a pink game every year, and it creates a connection on campus. There's a club on campus that helped fundraise for the American Cancer Society, and it created a bond between the club and our team. The school did a campus-wide pink (initiative) all week, and our game was on the Sunday at the end of the week. They decorated the rink on game day, and we had two players' moms, who are survivors, drop a ceremonial puck."
"When we got initially behind it this year, it hit closer to home because of what happened with Eric Otto (last year)," Lang said. "There's lots of ways to get involved. If you post something on your Instagram or Twitter, that's a contribution. It was neat to look down and see some of the people who donated, and I saw 10 or 12 of our hockey players spending some of their money."
"(Lang) is a good friend of mine, and what they've gone through with Eric Otto there, we all agree with his motto (in the fight against cancer)," Large said. "Wearing pink every day in October isn't that difficult when you think about what people go through. I have no problem asking if anyone wants to help with the campaign, especially with our players who have had their moms that went through it."
Though the campaign is currently closed, there is still opportunity to donate to the ACS through its website at www.cancer.org.
Challenge accepted
In true hockey fashion, though, the coaches couldn't resist giving themselves a little bit of competition. Trevor Large joked that he wanted to compete with Lang, especially since they were both assistant coaches at AIC together, with the hopes of setting up an east/west rivalry for donations. For his part, Eric Lang is already competing on campus but issued a further challenge to other members of the hockey rivalry, including a certain Atlantic Hockey reporter for USCHO.com.
That really struck home with me because my mother is a survivor of breast cancer multiple times over. Her birthday is in October, so the month is always super emotional, and everyone in my family always goes through a rollercoaster whenever we see the pink ribbons. Given my somewhat-public perspective of college hockey (and college sports as a greater hole), Coach Lang hit me in the right area when he issued that challenge.
I'm not sure how this is going to work yet, but I know I'm going to be on board next year. As a larger initiative, we talked about getting other coaches involved. So expect some more news from me on this as the months carry on.
And a word to my wife – I'm leaving you in charge of dressing me in pink every day next October. You can start scheming now.
On with the hockey
Every year, Atlantic Hockey's quest for an at-large bid in the NCAA tournament becomes an early-season storyline that usually gets sidelined by mid-November. It's a well-publicized struggle, and it almost always ends with the league searching for ways to consistently beat other conferences.
This year will likely be more of the same because of Atlantic Hockey's .288 winning percentage in nonconference games. Army West Point, RIT and Mercyhurst are the only teams with multiple wins over non-AHA teams as part of a 10-win slate where four teams currently don't have a victory.
There's plenty of time left, but Atlantic Hockey teams need to start winning against the right programs. The WCHA only has five more wins in three more games but holds wins over the right teams. Both Alaska and Bowling Green have wins over teams ranked inside the top 20, and the Nanooks' win over Penn State, as well as Northern Michigan's wins over both Michigan State and Boston University, help the league remain on the bubble. It increases the level of importance on simply holding serve consistently against teams ranked lower because it helps buoy the entire league's record.
RIT, meanwhile, is ranked seventh, but a good chunk of teams remain down below No. 40.
I'm a PairWise critic for a number of reasons, but I also understand that it removes emotional components because it's mathematically based. There are still non-league games on the docket for Atlantic Hockey, and the only way to get a second team into the tournament is to keep winning.
Games to watch this week
For all the talk of non-league games, this week is actually the first time there are no games outside Atlantic Hockey play. There are four series going on this weekend, all of which will put points at a premium:
— Holy Cross plays Sacred Heart in a home-and-home that could determine playoff positioning later in March. The Crusaders and Pioneers are both off to hot starts, and after last weekend, this is potential preview of teams that are on my early-season shortlist.
— Air Force got off the schneid by beating Sacred Heart on Saturday last week, but the Falcons return home to face the one team that's enjoyed success in the altitude over the past decade: Bentley.
— Canisius broke out in a big way by beating Union for its first win on Saturday. Now it plays a Robert Morris team that's 3-1 in league play to start the season.
— Niagara and RIT play a home-and-home that starts at the Polisseni Center on Friday night. The Tigers are first in the clubhouse coming out of the gate, but Niagara was my preseason favorite to win the regular season championship. I guess the jinx still lives.