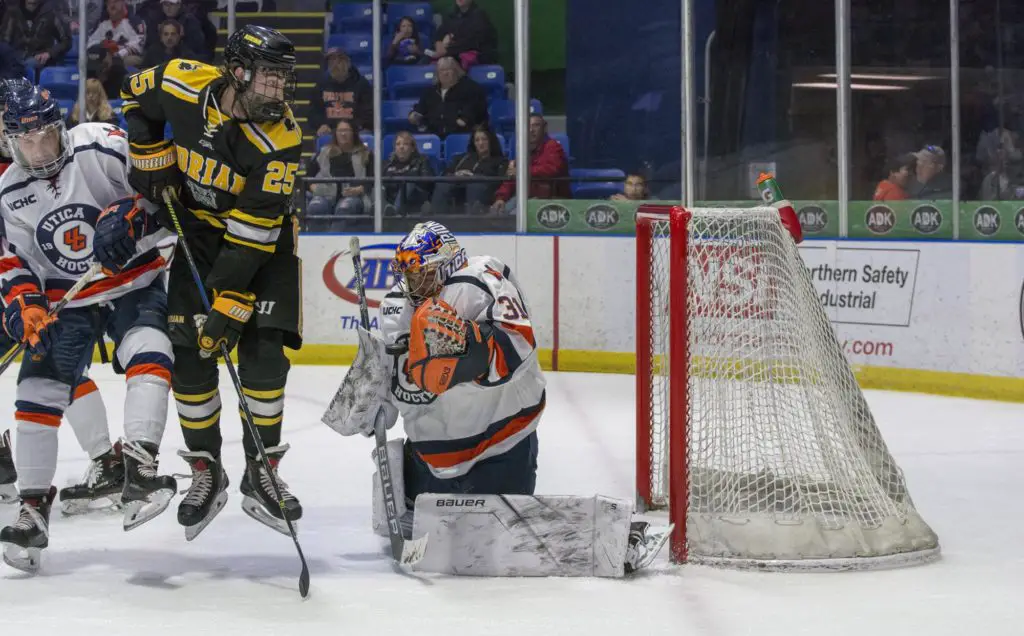 Last year's surprise team from Wilkes saw head coach Brett Riley step down to take and assistant coach position with Colgate from the ECAC. New head coach Tyler Hynes inherits a solid team that knows how much of a battle every game is in the UCHC. The pre-season coaches' poll showed some of the usual suspects expected to win the league, but this conference has been filled with surprises early and often so don't assume anything will go according to general consensus.
Utica is the early favorite and has an experienced roster augmented by a pair for transfers to bolster the offense. Kasper Kjellkvist from Curry and Donovan Ott from RPI will add balance to returners Brett Everson and Conor Landrigan. The Pioneers are in very good shape in goal where returning starter Gianluca Baggetta has proven to be a bi8g-game goaltender for head coach Gary Heenan. Early road games at Manhattanville and Neumann should give an indication to the Pioneers pedigree.
The Contenders
Aaron Saul's Elmira squad boasts some great senior forwards including Connor Powell, Matthew Cuce and Nick Ford. Ford recorded 39 points last season and is an offensive catalyst for the Soaring Eagles. Ben Fleischman is the only returning goaltender for Elmira who will be looking for a number one among a group of four that includes Clarkson transfer, Chris Janzen. An opening home-and-home series with Hobart will need Elmira to bring their "A" game early.
Last year's conference champions took the two-game format to the maximum needing a second game win at Utica to stay alive and a mini-game win to claim the title. Head coach Arlen Marshall's team always plays hard and physical hockey and their significant losses to graduation may take some time to take shape, but no one should take the Valiants lightly.
Players to watch
Chatham: Michael Lamison – forward; Chris Lutz – forward
Elmira: Matthew Cuce – forward; Nick Ford – forward
King's: Tyler Wilding – defenseman; Tanner Wilding – forward
Lebanon Valley: Cole Hepler – forward; Tyler Romel – defenseman
Manhattanville: Ken McLean – forward; Joel Knight – defenseman
Nazareth: Brian Miller – forward; James McDonald – forward
Neumann: Zac Boyle – forward; Richie Brusco – defenseman
Stevenson: Aaron Murray – defenseman; Domenic Brenza– forward
Utica: Brett Everson – forward; Gianluca Baggetta – goalie
Wilkes: Tyler Barrow – forward; Donald Flynn – forward
USCHO predicted finish
1. Utica
2. Elmira
3. Manhattanville
4. Wilkes
5. Nazareth
6. Stevenson
7. Neumann
8. Lebanon Valley
9. Chatham
10. King's
The MAC title chase emanating from a subset of UCHC teams looks to be a hotly contested battle among Manhattanville, Wilkes and Lebanon Valley. While the hardware and championship designation are an important goal for all these teams, they all clearly know that the points count in both conference standings and the UCHC is the one with the auto-bid to the NCAA tournament.