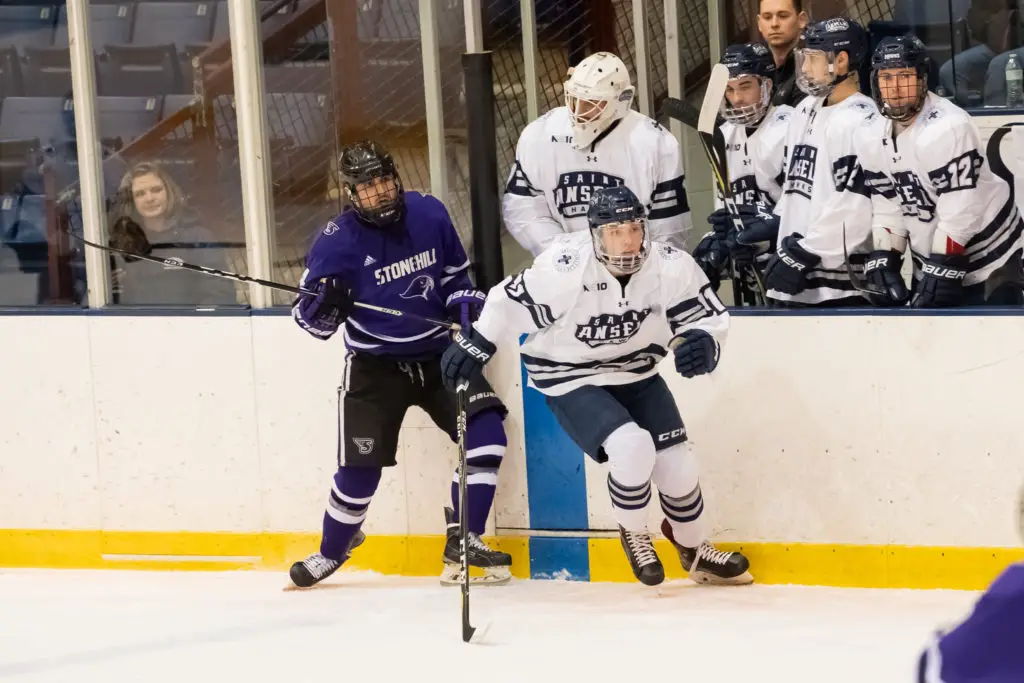 The sole D-II conference in college hockey is now a seven-team league with Post University officially joining the NE-10 hockey conference. That addition sets up an 18-game conference schedule with each team playing league opponents three times. The addition of Post does not change the playoff structure where only the top four teams will qualify for the championship tournament.
Last season's champions from Southern New Hampshire and finalist St. Anselm appear to be the favorites to continue their backyard brawl in Manchester, NH for the league title again this season.
The Favorites
The Penmen defeated their cross-town rivals last season, 4-3 in the title game and return a solid group in front of senior goaltender Kurt Gutting who made 37 saves in the championship game. Gutting was among the best in the country last year with a .935 save percentage and 2.17 goals-against average in 21 games played for SNHU. Senior forward Brett Strawn will be a key contributor on offense as the sophomore heavy line-up will look to repeat and build on their championship formula for head coach Sean Walsh.
St. Anselm returns much of their offensive firepower from a year ago including the league's leading goal scorer, Mike Ferraro. Eight of the top nine scorers are back including Sean Verrier who proved to be a reliable offensive weapon for the Hawks. The offense will be expected to help a young group of goaltenders that has just five games of collegiate experience from Michal Soustal.
The Contender
Assumption which lost in the semifinal round last season in triple overtime returns a solid team coming off a 15-win season. Goaltender David Zulauf returns for his senior season with a strong group of defensemen returning led by Robert Roche and John McDonagh. Offensively Colin Phillipon and Devan Sheth will look to surpass the 20-point plateau for the season and help the Greyhounds contend for the NE-10 title.
Players to watch
Assumption: Dante Maribito – forward; John McDonagh – defense
Franklin Pierce: Mark Indelicato – defense; Alex Lester – forward
Post: Evan Lugo – forward; Jake Raleigh – forward
Southern New Hampshire: Kurt Gutting – goaltender; Brett Strawn – forward
Stonehill: Jack Hall – forward; Cameron Wright – forward
St. Anselm: Sean Verrier – forward; Mike Ferraro – forward
St. Michael's: Brandon Mitchell – forward; Sel Narby – defense
USCHO Predicted finish
1. St. Anselm
2. Southern New Hampshire
3. St. Michael's
4. Assumption
5. Post
6. Franklin Pierce
7. Stonehill
Expect this league to be very competitive especially with the addition of a Post team that garnered half of their ten wins in the final seven games of the season over quality opponents like St. Michael's, SNHU and Assumption.