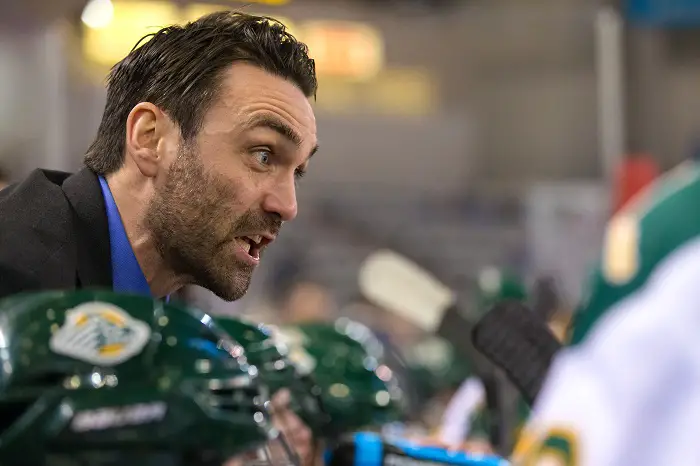 At a time where most coaches are just figuring out what kind of team they have and whether or not they can make a run at their respective conference titles, one coach in the WCHA has a lot more on his plate than just coaxing out some wins.
Matt Curley, who is in his second season at Alaska Anchorage, has to deal with improving his team, making a push in the conference, deal with a program anniversary and with the uncertainty that his program's future holds, both in the WCHA and also in existence.
It is a tough line to tread in the early going.
However, Curley would not have it any other way.
"It's certainly, to say the least, it's not what I expected coming in into it," he said. "I will say this, I wouldn't want to be anywhere else. I love Alaska. I love being at the helm of the Seawolf program, and I'm very proud and grateful for this opportunity.
"For us and our staff, Mark Phalon, Matt Bruneteau and Nick Walters, who's been with me here for these two years, it's been an extremely rewarding process in terms of finding kids that want to be here, sticking with this process despite all the outside noise and really in terms of learning experience and challenges."
For their part, the Seawolves players have, save for their first game of the season, done their best to put all the distractions aside and focus on their job on the ice, winning hockey games. After dropping a 7-1 decision to Maine back on Oct. 11, the Seawolves have gone 2-3-2 since, including taking five of a possible six points on the road from Alabama Huntsville last weekend.
Curley admitted that the season opener was not the effort he was looking for from his team.
However, he is pleased to see his team turn things around quickly, starting with the 2-1 loss in overtime the next night.
"I think the first night, the score was probably, I don't think was indicative of how the game went," he said. "I thought night two, we kept it really tight and it was a coin flip and I was really happy with our effort there."
In splitting with Alaska two weeks later, losing 4-3 and then tying Omaha, things have started to take a positive turn. The Seawolves then followed that up with a shootout win against the Chargers on Friday and a 3-1 win on Saturday.
The reason for the turnaround starts with the confidence of a talented group of freshmen that includes Nick Wicks and Taylor Lantz, and the efforts of a group of veterans that starts with senior defenseman Tomi Hiekkavirta and includes juniors Trey deGraaf and Drake Glover and sophomore Jared Nash.
deGraaf, who had just 13 career points coming into the 2019-20 season, struck twice in Saturday's win, stepping forward in a big way for Curley's squad. He has three goals in his last four games.
"Our upperclassmen really stepped up, guys that found a way to find the back of the net," said Curley. "Trey deGraaf had two on Saturday. Drake Glover had one (goal) and one (assist) on Friday night. Jared Nash had an outstanding weekend.
"Those are some of the older guys that really stepped up for us and allowed for us to get a job done, which was great to see."
Solid goaltending from sophomore Kristian Stead also helped. Stead made 58 saves on the weekend against the Chargers.
The big weekend came on the heels of the announcement by WCHA commissioner Bill Robertson on Friday that both Alaska Anchorage and Alaska will continue to have hockey for the 2020-21 season, keeping the WCHA in its current 10-team format for another season.
While he was happy to get the good news, Curley remains committed to making sure the 2019-20 Seawolves get as much out of the season as they can.
"It's always nice to know that, certainly, but at the same time, college is a four-year deal," he said. "It'd be nice to have a little more of a long-term plan solution here.
"I felt very confident in the fact that things are going to be okay here for the immediate future, which turns out to be true. Of course, we're very happy about that. But where we're at, in fairness, and out of respect to the kids that are here, we're hoping that things can be resolved at the state level here to give us an opportunity to stand by what we're preaching and to stand by these kids that are showing good faith in us and get something long term so we don't have to worry about these things that quite frankly, the rest of the country doesn't have to worry about."
The Seawolves, who currently sit fifth in the WCHA with a 2-1-1-1 record, good for eight points, do not know whether things will change in two seasons when seven of the 10 WCHA member schools plan to split from the conference as it currently stands, but they cannot focus on that right now, nor can they focus on what Gov. Mike Dunleavy might cut from the state budget next.
On top of all of this, the Seawolves hit the WCHA gauntlet in full starting this weekend as they host Bowling Green. Next weekend, they travel to current No. 1 Minnesota State.
Curley admits his team has its work cut out for themselves. They will see both teams again later in the season as well.
"I think as happy as we've been with our start, and where we're at right now, these next two weekends, these next four games, are really going to be benchmarks for us," Curley said. "You want to get a real sense of how far you've come along from where you've been, playing two tournament teams, the two top teams in our league, I think there's no better way to do that. So it will be a real interesting challenge for us, and I'm curious to see what the boys can do."
One bit of happy distraction for the Seawolves is that the team is in the process of celebrating 40 years as a hockey program.
Curley said he cannot say enough about what it means to him to have former coach Brush Christiansen around.
Christiansen was the first coach in program history in 1979-80 as a Division II independent and stuck with the team as it transitioned first to Division I and then to the WCHA in 1993.
"I think that's what gets lost in all this, unfortunately," Curley said. "I wish we could have a little more emphasis on that. Coach Brush Christiansen has been a great mentor for me and a really good friend through my transition here and someone I speak to regularly.
"The work that Brush put in to get this program going and the support from our boosters, and the supporters in the early 80s … [we are] very grateful for those folks and the work that they've put in. Certainly with everything going on right now, I don't want to lose sight of the value of that."
No fear in Pietila
Michigan Tech started freshman goaltender Blake Pietila at home Saturday against then-No. 2 Minnesota State, who won the game 2-1.
Despite giving up a goal 4:55 in, all the youngster did was stop 18 of 20 shots thrown his way, including two key saves on Mavericks seniors Marc Michaelis and Parker Tuomie in the final 20 minutes of action.
He also stopped all six shots he saw in his debut in the third period of Friday's contest.
Getting offensive
Bemidji State rocked the Lake Superior State goaltending duo of juniors Mareks Mitens and Roman Bengert for 12 goals in a weekend sweep, winning 7-1 and 5-1.
Adam Brady struck twice in the first period Friday. He added another on the power play Saturday night to open the scoring. Charlie Combs also had two goals, one in the first and another in the third.