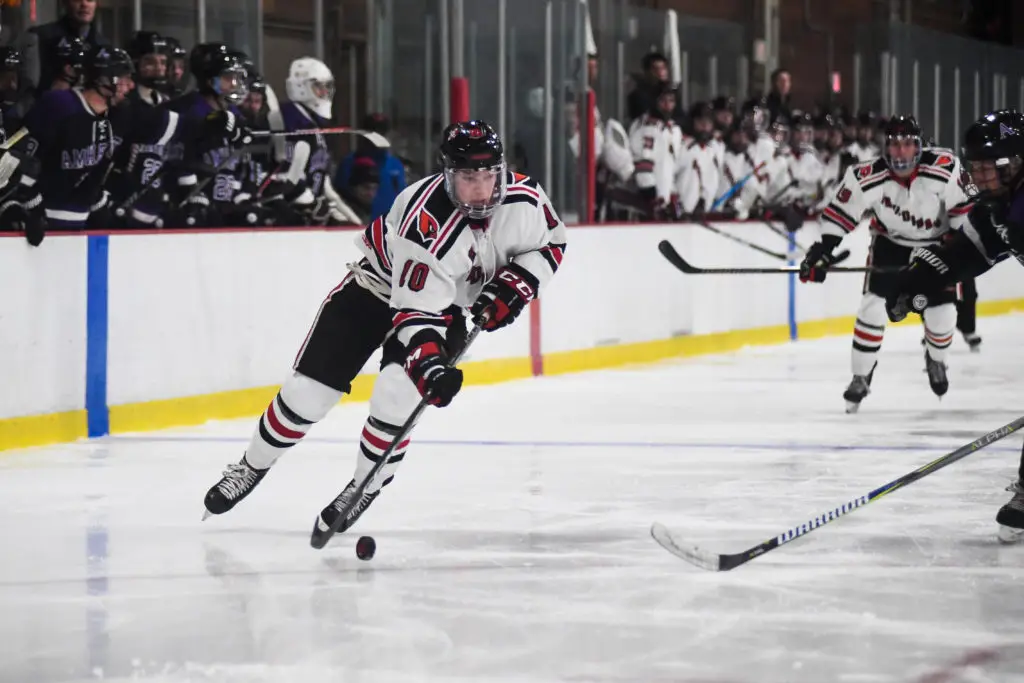 The road to the championship in recent years has often traveled through Hartford, Connecticut and the Trinity Bantams. This year there is maybe reason to believe that the overall depth and talent across the conference will lead to yet another dynamic race right into February where several teams could lay claim to the title come playoff time. The league continuously showcases the best balance top to bottom so there are no nights off on any weekend of conference play.
NESCAC opens the season with conference play so early points will be important and points in every weekend a must if you want to stay in the race.
The Favorites
The defending champions from Trinity always have a goal for the NESCAC title and bring back a deep roster in pursuit of the repeat. Coach Matt Greason will look to his veterans like goaltender Tedy Loughborough and defenseman Liam Feeney to ground a solid core of defenders while the offense finds its way to steady production. It's a long way to February but the last two games of the regular season against travel partner Wesleyan may go a long way in determining the top seed for the conference tournament.
Wesleyan is stacked and poised to challenge for the title behind last year's conference player and goalie of the year Tim Sestak and All-Everything forward Walker Harris. The team built good depth over last season and looks to make that next step towards a conference title.
The Contenders
There is not a season in recent years that Bill Kangas' Williams squad is not in the championship discussion. This year is no exception as the Ephs will bring their speed and pressure game to challenge among the conference's best led by forward Niko Karamanis and defenseman Jack McCool.
Amherst progressed to the NESCAC title game last season where they fell in overtime to Trinity, 3-2. The roster is deep and has great leadership form the likes of forwards Joey Lupo and Patrick Daly as well as defenseman Noah Gilreath. The key for the Mammoths will be how fast eight freshmen adapt to the college game in coach Jack Arena's system.
Players to watch
Amherst: Noah Gilreath – defense; PJ Conlon – forward
Bowdoin: Bradley Ingersoll – forward; Albert Washco – forward
Colby: Justin Grillo – forward; Andrew Tucci – goaltender
Connecticut College: Jacob Moreau – forward; Connor Rodericks – goaltender
Hamilton: Nick Ursitti – forward; Stephen Cochrane – defense
Middlebury: Michael Fahey – forward; Zack Shapiro – forward
Trinity: Liam Feeney – defense; Tedy Loughborough – goaltender
Tufts: Anthony Farinacci – forward; Cooper Stahl – defense
Wesleyan: Tim Sestak – goaltender; Walker Harris – forward
Williams: Jack McCool – defense; Niko Karamanis – forward
USCHO Predicted finish
1. Trinity
2. Wesleyan
3. Williams
4. Amherst
5. Colby
6. Hamilton
7. Middlebury
8. Bowdoin
9. Connecticut College
10. Tufts
It is finally time to play some players wearing another colored sweater after almost three weeks of practice time since November 1. League play to start things off including some key games like Colby at Williams, Hamilton at Amherst and Conn College at Trinity. It should be a roller coaster ride right to the last game of the regular season.