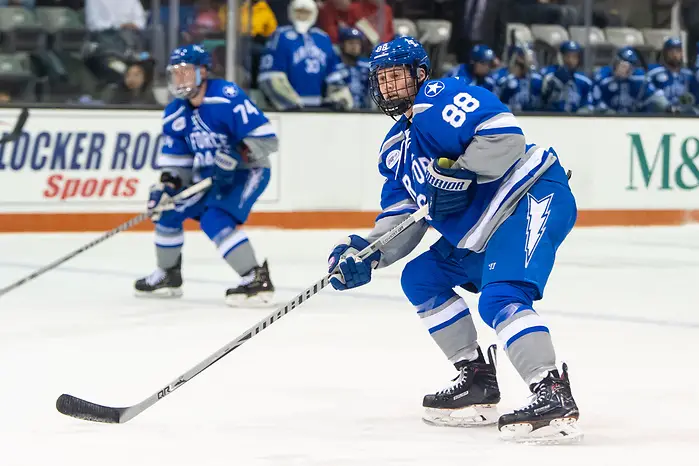 Air Force struggled out of the gate, going winless in the team's first seven games, unprecedented in the 23 years coach Frank Serratore has been behind the Air Force bench.
The streak included sweeps at the hands of No. 8 Notre Dame, Arizona State and league rival Rochester Institute of Technology. The RIT series saw the Falcons outshoot the Tigers 80-22 in two games but come away on the wrong side of 2-1 and 1-0 losses.
"Life ain't fair, and hockey ain't fair," said Serratore. "Our best weekend without question, was against RIT. Had we given (goaltender Zack) LaRocque two or three goals, we would have won both games."
After a loss to Sacred Heart the following Friday, Serratore went with sophomore Alex Shilling in net, who made his first collegiate start the next night and helped the Falcons to their first win of the season, 4-3 over the Pioneers.
As it so often happens after a goaltending change, the Air Force offense came to life. The Falcons scored a total of eight goals in their first seven games, all losses, but 11 goals in their next three games, all wins.
"We showed good determination against Bentley," said Serratore of last weekend's sweep of the other Atlantic Hockey Falcons. "We found a way to win in a couple of close games."
Air Force's special teams are also showing signs of life. The Falcons were two for seven with the man advantage in the Bentley series after going one for 34 in their prior eight games.
Last Saturday's win over Bentley was the first time all season that Air Force scored more power play goals than its opponent.
"We're working on it," said Serratore. "We're working on a lot of things. This is a resilient group."
Legacy
Long-time Mercyhurst equipment manager Mike Folga lost his battle with cancer prior to the start of the season. Mike made quite an impact on Mercyhurst as well as the greater hockey community, which included 11 years as a trainer in the NHL.
Mike's legacy will continue for a long time at Mercyhurst, thanks to the Class of 2020, which raised money to endow a scholarship in Folga's name that "is intended to benefit a student who actively supports Mercyhurst but encounters a major setback – an illness, accident, family or financial problem – that could jeopardize his or her education plans."
People outside the Mercyhurst community can donate here.
National recognition
The October edition of the the Hockey Commissioners Association players of the month has been announced, and an Atlantic Hockey player is among the three designees.
Each of the six Division I conferences selects its own player, goaltender and rookie of the month and then national winners is picked by the conference commissioners.
Joining Notre Dame forward Mike O'Leary (player) and Wisconsin's Cole Caufield (rookie) is Rochester Institute of Technology goaltender Logan Drackett.
Drackett helped RIT get off to its best start in its Division I era, a 5-1-0 record in October. In those six games, Drackett posted a 1.17 GAA and a .966 save percentage, and was named Atlantic Hockey goalie of the week three times.
When is a goal not a goal?
Atlantic Hockey's new overtime rules have only had to be applied twice so far this season, and I witnessed both: on Nov. 2 in a contest between RIT and Holy Cross and last Friday in a game between RIT and Niagara.
In case you missed it, the new overtime format includes three points for an outright win, either in regulation or the first (five on five) overtime, and two points for winning either the ensuing three on three session or a shootout, should be teams still remain deadlocked.
The loser of the three on three or the shootout earns a point. The NCAA considers the game a tie if no one scores during the five on five overtime.
The hockey purist in me approves of the way the NCAA handles this (although if Hockey East and the ECAC, the only remaining holdouts, give into peer pressure and adopt this format, we could see things change on a national level), but that's because I was fine with ties to begin with. That puts me in the minority.
"I've liked it so far," RIT coach Wayne Wilson told USCHO. "I'm a little more interested in seeing more of the three on three.
"I would eliminate the shootout and even the five on five. Go right to three on three for 10 minutes. After that, maybe it's deserving to be a tie at that point. I can live with that."
Interestingly enough, we haven't actually had a three on three yet in Atlantic Hockey. In both cases so far, a penalty continued into the second overtime, resulting in a four on three which would become a three on three at the next whistle. That whistle never came as play continued until either the overtime expired (in the Holy Cross/RIT game) or a goal was scored (in the Niagara/RIT game).
Did I say "goal"? Well, it wasn't really a goal as far as the NCAA or even Atlantic Hockey is concerned. Eric Cooley's tally sure seemed like a goal – it was a thing of beauty. You can see it, as well as Cooley's other goal, a "real" goal which tied the game in the third period and was also pretty special, here.
I'd venture that Cooley's non-goal, which touched off a wild celebration and was worth a point in the standings, would be considered one of his career highlights to date. If it counted.
Maybe we should just tie, already.
Looking ahead
This coming weekend will mark the first time that five conference series are taking place. Here are two to watch:
Niagara at Canisius: The teams are a combined 1-13-1 so far, but you can throw out the records in the Battle Of The Bridge rivalry.
Sacred Heart at RIT: The Pioneers and the Tigers occupy third and second place, respectively, in the standings, each looking to gain ground on first-place Robert Morris.