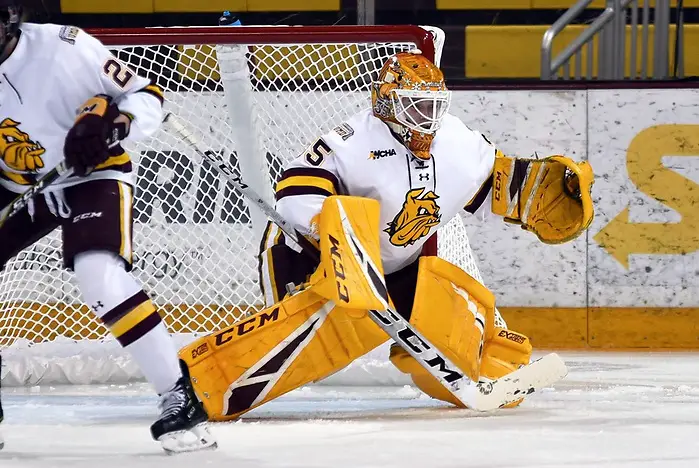 Arlan: Nicole, don't you just love early November? Even in a year like this one where the Four Nations tournament was canceled because of a Swedish boycott and a league like the WCHA goes on a one-week hiatus, some teams still wind up being bitten by player absences.
Canada and the US decided to play anyway. Princeton took to home ice minus forward Sarah Fillier and defender Claire Thompson, got thumped by Harvard, and squeaked by Dartmouth. Boston College didn't have the services of Cayla Barnes as it suffered its first defeat of the campaign courtesy of UConn. 
Maine was down to 13 skaters due to an international-tournament conflict of their own. Thanks for the assistance on this one, because I wasn't aware that the 5 Nations Tournament was taking place in Russia. In any case, several of these ladies were in the Eastern Hemisphere on gameday. Perhaps Merrimack got an assist from the Black Bears' resulting fatigue as it battled back from a 3-1 deficit to defeat them 4-3 in overtime on Friday, before Maine had enough gas left to push past Holy Cross on Saturday.
Which of these results do you see as the most impactful?
Nicole: If last year is any indication, Princeton's loss to Harvard will be the most damaging, especially if Harvard is as good as they've looked so far. I don't see how the top of the ECAC doesn't come down to some tiebreakers and since they all only play each other twice, record against the other top teams in the conference comes into play. Either way, I think Princeton will be ruing those lost points well into February. 
That's probably the more high-profile situation, but the Maine and Merrimack game could be the difference between making the postseason and not. The top eight Hockey East teams make their conference tournament and both these teams look like they might be vying for those final few spots. Even if they get in, there's a big difference between facing Northeastern and facing BU right now (sorry, Terriers). 
Arlan: Or am I making too big a deal of this? Maybe any women's hockey is a good thing, and the NCAA teams just have to suck it up, use the next-woman-up mentality, and deal with these absences just like they would with an injury or illness.
Nicole: I don't think you are.  Sure, all these teams should have depth to get through injuries, which is essentially what it's like when you're missing one or two players short term. Of course, I don't know any team that could have survived missing as many players as Maine, but there's probably a valid argument to be made about that being the price you pay for adding international-caliber players to your roster. 
But I also think it's unfair of country federations to use NCAA programs as the primary tool of women's top tier talent and also not take those programs' schedules into account. Changing the status quo would require a lot of finagling of the international calendar, but it certainly feels like the federations get the benefit of top tier instruction, training and facilities for their players (that most of those federations refuse to even provide themselves) and also take advantage of the programs providing those things by taking their players for international competition whenever they want. It just seems like this could and should be a bit more of a cooperative relationship. 
I wrote a column on this last year that I advocate folks read as it touches on all the reasons why a discussion about moving Four Nations (and maybe also Five Nations) to outside the regular college women's hockey schedule should at least be on the table. 
Arlan: While I do hate to see some top players having to miss a portion of their college seasons, I have a selfish reason for my displeasure as well. Last time, we bemoaned the fact that it is almost impossible to predict the outcome of games in some leagues.
Now we have to sort out what Harvard's 6-2 win over Princeton means. Are the Crimson really four goals better than the Tigers? Are the Crimson the better team, but by a lot closer margin if both are at full strength? Do we throw out the result entirely for future analysis? It could be that this is just a reversion to historical form, where Katey Stone's team always seemed to have Princeton's number in the Jeff Kampersal days.
Nicole: I certainly don't have any more idea what this win for Harvard means for the state of things and I've decided to reserve judgement for a few more weeks. I'd like to see how they fair against Boston University next week and then the following weekend as part of the Country Classic in Nashville with BC, Wisconsin and Minnesota. I'm taking advantage of having family in Memphis to make the trip, so I get to see them against three of the top-ranked teams in the country and I get to see them play in person, which is always better than trying to infer things from a stream. Harvard also have off this coming week, so we won't be any closer to figuring them out any time soon. 
What I know about the Crimson is that I really, really like Lindsey Reed in goal. I like how she moves, I like how she uses her size and she gives them the chance to be in every game. It seems as though the offense has figured this out – they're averaging five goals per game thus far. When Harvard traveled to Madison last season, they gave the soon-to-be national champs pretty much all they could handle as the Badgers eked out two one-goal games. In the past, playing up or down to their opponent has plagued them, but again, the first few games imply they may have broken that mold. Here's hoping, for their sake, that this isn't just about small sample size. 
In the other direction, I never imagined Quinnipiac would be at the bottom of the ECAC with an 0-4-1 start to conference play? Do you see the Bobcats rebounding? To what do you attribute their struggles?
Arlan: More than anything, I think that the Bobcats' start is a function of their schedule. They opened ECAC play with a game at Princeton, and it wasn't surprising that they would lose that one. The Tigers, who are Quinnipiac's travel partner, are much more highly regarded, and they were only 2-2 over the next four games, so it isn't shocking to struggle versus that group of teams. As we discussed above, Harvard looks to be improved, so Dartmouth is the game that the Bobcats really needed to win, rather than settling for a 1-1 draw. 
Even when Quinnipiac enjoyed its zenith and made the NCAA Tournament, the team wasn't built on being explosive offensively. That's been the case again, as it scored more than two goals in regulation only versus Sacred Heart, an opponent that has traditionally helped offenses get healthy.
My guess is that Quinnipiac will show improvement when it travels to Rensselaer and Union, squads that have one win between them. If that doesn't happen, ask me about the Bobcats again in two weeks, and I'll look deeper into what may be amiss with Cassandra Turner's team.
Nicole: Looking ahead, we've got some fun games this weekend – and into Tuesday. (10) Minnesota Duluth heads to (7) Ohio State, (6) Boston College plays at Boston University on Friday and then faces off against (4) Northeastern on Tuesday. 
I haven't gotten to see either the Buckeyes or Bulldogs in person yet and just one series each via stream. Do you have any insights on how that series in Columbus might play out?
Arlan: This is one of the most intriguing pairings in the WCHA, because it matches the leagues only female head coaches and teams that are determined to join Wisconsin and Minnesota as national powers, but are often tripped up by teams below them. In most years, there's going to be room in the NCAA Tournament for at most one of UMD and OSU, so their head-to-head games become extra critical.
Over the last two seasons, the home team has swept every series, and in Nadine Muzerall's first year behind the OSU bench, the Bulldogs took all four games. Six straight sweeps looks to be too orderly of a trend to continue, so I'm looking for some form of a split this weekend.
The Buckeyes have been slightly better to date, taking a game from Minnesota. Despite going winless in Mankato, they have been better at beating the teams that they need to beat, grinding out a sweep in Bemidji, a city where UMD was swept. The Bulldogs look to have played their best hockey out of conference, splitting with Clarkson and taking the IceBreaker Championship in Buffalo by defeating Mercyhurst and Colgate.
I haven't been able to see much of either team. I tried to watch a TV broadcast of St. Cloud State in Duluth, but there were technical difficulties with the Bulldogs ahead 1-0. When coverage returned some time later, the Huskies were now leading. UMD rallied to win with two third-period goals 14 seconds apart, but I can't speak to its defensive vulnerabilities. I should get to watch the Bulldogs in person in a couple of weeks.
Nicole: I'm super excited to watch that BC/Northeastern game. The Huskies are allowing less than a goal per game and Boston College trails only Minnesota and Wisconsin for goals scored – they're averaging more than four goals per game. I'm also interested to watch how the Eagles' defense handles the puck-handling and movement from the Huskies' top skaters. They're two very different teams and watching them play on the same ice can be fascinating. Do you have a preference for one style over the other? Which do you think will be most effective – both in this game and in the long run of the season?
Arlan: In the past when I've watched Northeastern and Boston College, I haven't seen a ton of difference stylistically. Both teams are speedy and want to get up and down the ice in a hurry. If you look at last year's statistics, Northeastern finished slightly ahead of BC in both scoring offense and scoring defense, but the two differed by less than a tenth of a goal per game.
I'm guessing that in the long run, they'll wind up fairly similar once again. Both have areas where I'm sure that they will be looking to improve over last year. Northeastern's power play only converted 17 percent of the time, which ranked in the middle of the pack; it's currently at 21.4 percent. BC was hurt by its penalty kill, which was successful only 83.6 percent of the time. So far, that's improved to 86 percent, but was part of the problem in its loss, as UConn scored two power-play goals.
As for where they'll end up, it's too soon to say. We remember the Eagles' 2018-19 season as being a train wreck, but it didn't go off the rails until the end of November. That started a stretch where BC dropped six of seven games, culminating with another loss to the Huskies before turning things around the next day by finally defeating Northeastern. All told, the teams met five times with NU holding a three-two edge and earning both Hockey East crowns.
The BC versus Northeastern games were pivotal, but not necessarily predictable. I expect that the race will go down to the wire this year, with not more than a game or two separating them in the standings. If I had to guess, I'll say that BC narrowly takes both the conference race and Tuesday's first meeting.
In our prior column, we looked forward to the Wisconsin at Minnesota series, and wound up saying it would likely be split, because most of their series are. That wound up being true, with the only surprise being that the Gophers were the team that got the larger slice, and ultimately, ascended to the top ranking.
In comparing them to last year's championship club, I thought that the Badgers missed Maddie Rolfes and Mikaela Gardner, who finished as their top pair on defense. What did you take away from that series and what it could possibly mean to Wisconsin in attempting to repeat?
Nicole: The Badgers defense got exposed pretty significantly in the series. You're absolutely right about them missing their top defensive pair from last season. The focus had been on the loss of Annie Pankowksi and Emily Clark on offense, but clearly we should have been talking about what graduation did to the defense. There wasn't a Badger blue liner that wouldn't like a do over for that Minnesota series. There were bright points, but overall they looked a bit like they were standing still while the Gophers skated right by them. And the problems seemed to compound so that by the end they were diving in, biting on easy moves and getting beat along the boards. It was sloppy.

That being said, there were a number of individual great plays and I think those are the things the team can focus on and build from. I'm thinking specifically of a play late in Sunday's tie where Chayla Edwards just plain stood up Sarah Potomak, who pretty much had her way with the Badgers all weekend. Edwards disrupted Potomak's drive, blocked the shot and prevented her from getting a rebound. And Alexis Mauermann was the star of the weekend. She was all over the ice and absolutely relentless along the boards. 
I think it was surprising in that the cracks hadn't really shown much before that for the Badgers. Obviously Minnesota is the toughest team they play, but Wisconsin had their best series in recent memory against Ohio State earlier in the season. In the end, I'm sure Mark Johnson and the players would say it's a good time to learn the lesson. You'd rather figure out where you need to put in work in November than in January. The bonus for Wisconsin is they had this past weekend off and you can bet there was a lot of practice and film study based on those results. 
I'll admit the outcome surprised me, as it had felt like Minnesota was still finding their rhythm a bit through the early season and Wisconsin has been cruising. I still figured it would be a tight, close weekend, but I think I expected the balance to be more in the Badgers favor based on the hockey I'd watched through the first few weeks. 
As for what it means? It seems pretty clear right now that Minnesota is the front-runner. Obviously any games between these two are toss-ups and I don't expect if they played again this weekend the results would be the same. But when it comes down to it, tf the Badgers have any hopes of repeating, they've got work to do.