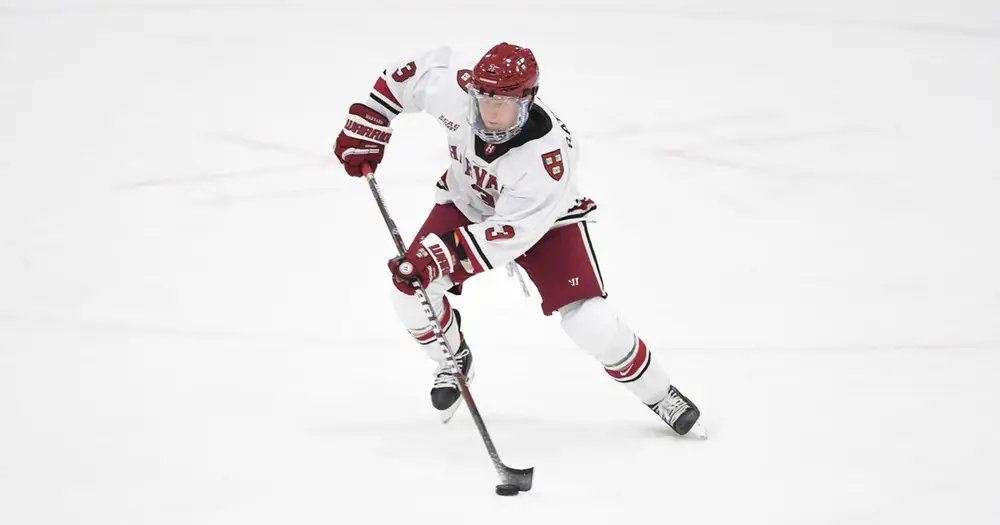 Harvard freshmen goalie Mitchell Gibson had an impressive collegiate debut Friday against Princeton.
But any thoughts about his upcoming start were the furthest thing from his mind the night before.
"I had a ton of homework [Thursday] night, so I was more focused on that," Gibson said. "I was up in the Lamont Library until about midnight knocking that out."
It didn't impact his play on the ice, as the Washington draft pick made 31 saves in a 3-0 win over the Tigers. He followed that up with another strong performance in a 7-2 win against Quinnipiac on Saturday.
"It's funny when you hear that your starting goalie is off to the library," Harvard coach Ted Donato said. "He actually got off the ice early [Thursday] as well because he had a gateway exam for his math class. Obviously, it didn't hurt his performance tonight, so I think it's a nice message to our players that they can do both things well."
Gibson is the center of a retooled Crimson defense that lost starting goalie Michael Lackey and four of its top six defensemen from last season. Two of those defensemen, Adam Fox and John Marino, are currently playing in the NHL.
"We had a pretty experienced defensive corps last year," sophomore defenseman Jack Rathone said. "Coming in, you learn a lot from the leadership with the seniors we had, along with 'Foxy' and Johnny."
It wasn't long ago that Harvard had some good teams held back by lack of depth on defense. That changed over the last several seasons, as the Crimson defenders helped drive the pace of play and create offense from the back end.
While it's early, it looks like the latter option may be the case this season despite the offseason turnover. Rathbone and Reilly Walsh are now the veteran leaders of the defense, in addition to being established offensivee threats, while freshman Henry Thrun has four points in his first three collegiate games.
"It's awesome. I think it's something that I was ready for coming in, something that I prepared for over the summer," Rathbone said of he and Walsh entering the season as the veteran members of Harvard's defense. "It's not just us. We've got some freshmen that have come in and played really well. It's easy when you've got guys that can make plays and guys that want to make the right play in the 'D' zone and then jump up.
"It's fun to play with guys that want to push the pace and get our forwards the puck."
The departures on defense have also opened up minutes for several returning skaters who didn't see much playing time during their first few seasons at Harvard.
Junior Benjamin Foley has played in all three games thus far after only making four appearances during his first two collegiate seasons, while classmate Nick Azar made his Harvard debut in the season opener and has played two games thus far.
"They work hard in practice and they really haven't been rewarded in the first couple of years with ice time," Donato said of Foley and Azar. "I thought that the minutes that those guys have played in the first two games have been very good and they've played a positive role in helping the team have success."
Not only has the pair helped the Crimson get off to a 3-0 start, but they've sent a positive message to the rest of the team as well.
"Quite honestly, as a coach you like to see guys get rewarded from all the hard work that they do," Donato said. "I think as teammates, it helps create a positive vibe in the locker room when you see guys that work hard and take advantage of the opportunity when they get it."
Barron powers Cornell
Cornell's Morgan Barron emerged as one of the league's top forwards last season.
It's early, but the Big Red junior appears ready to bring his game to another level this year.
Barron was named the league's player of the week after scoring four goals last weekend, including a hat trick in a 6-2 win over Yale on Saturday. Overall, the New York Rangers prospect has five goals and five assists in four games for the undefeated Big Red. He leads the nation in points per game.
"He's a flat-out beast when he wins puck battles and the way he can shoot the puck … he has a pro shot," Cornell coach Mike Schafer said. "When he combines that with determination and moving his feet like he did tonight, he can be almost unstoppable."
Power outage
Brown (first), Cornell (second), and Rensselaer (eighth) each boast power-play units ranked among the top ten in the nation.
But it's been the opposite for several other league teams.
Union has drawn the second-most penalties in the nation, but is only 4-for-52 on the power play. Colgate's first goal of the season came on the power play, but Raiders are in a 0-for-35 slump on the man advantage since then.
Yale has yet to score on any of its 14 power-play chances this year. The Bulldogs will host Dartmouth on Friday, who is only 1 for 9 on the man advantage in the early going.
From a roar to a whimper
Princeton opened some eyes with a win and a tie at St. Cloud to open the season two weeks ago.
The Tigers battered the Huskies for ten goals in two games after averaging less than three goals per game last season.
But it was the opposite last weekend, as Princeton scored one goal in two games en route to getting swept on the road by Harvard and Dartmouth.
Against the Crimson Friday, the Tigers had 31 shots, but generated few second chance opportunities. On Saturday, Princeton tied the game in the third period before Dartmouth scored twice to pull away for the win. The Tigers will play at home for the first time this year when they host Rensselaer and Union this upcoming weekend.