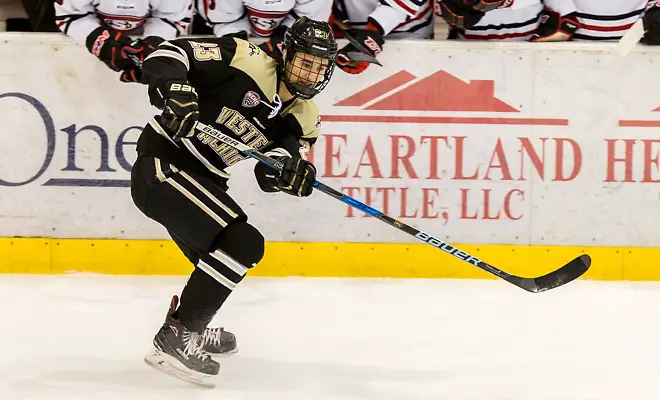 Around mid-October, Western Michigan was mired in a mini-slump, having lost three straight games.
After a strong start to the season with a tie and win in the Ice Breaker tournament, the Broncos were swept by Bowling Green and then suffered an ignominious 4-0 defeat to in-state rival Michigan.
The back half of the weekend series against Michigan saw the Broncos get back on track, defeating the Wolverines 4-1. Since then, Western hasn't lost, going 4-0-1 since the Michigan loss.
To hear coach Andy Murray tell it, his team was doing a lot of the right things, but not getting the bounces. The Broncos felt they just needed to stick with it to turn it around. There was never any panic in the locker room.
"We've played tough teams," Murray said. "Bowling Green is a good team. I mean, they were in the national tournament last year. We played them three times in a row. We played them in the Ice Breaker tournament, we beat them there, and then we played them in their rink and didn't play well, and then we dominated the game the next night and lost in overtime. In reality, we lost a game, but we played really well and felt in our first three games of the first four, we played really good hockey. We had one win and then with the overtime, two losses and one tie with Ohio State in a game that we outshot them badly in the first period and dominated that game. I mean, we were getting good chances, we just were not scoring. We were out-chancing teams and not finding a way to score.
"Our goalie was playing well, and we were losing games giving up only two or three goals. I actually thought we were playing good hockey. To me, it wasn't that we needed to change a lot. We just needed to stick with it and just score on our chances."
Last weekend, the Broncos swept Ferris State by scores of 4-2 and 8-2.
In Saturday's 8-2 win, sophomore forward Rhett Kingston had a hat trick. Kingston, who was born with only three fingers on his right hand and needed multiple surgeries to make the hand functional, pulled his glove off and flashed the three fingers after the hat trick. Kingston has battled injuries, missing part of last year after playing on the top line in the second game of the season against North Dakota. He was also injured at the start of this year, and Saturday's game marked his first return to the top line, an opportunity he took full advantage of.
"To him, he doesn't he doesn't even talk about it," said Murray of Kingston's hand. "He doesn't see it as a hardship. He doesn't know anything different, because he was born that way. The big thing with him is he's a tremendous skater, and he's got good size and is physical. When he uses his physicality and when he skates and uses his speed, he can be a very good player. He just has to learn how to do that every shift and every game."
Several things have been impressive about Western's 5-3-2 start. One is that the Broncos have had a lot of players injured, including players who were team leaders in scoring for them last year. Two, they have been getting scoring from players who haven't always been in that role. For instance, Paul Washe, a junior, currently leads the team in scoring with 12 points, which is more than he had his entire sophomore year and only five points away from his total points in his first two years.
Lastly, Western has done well while only playing three of its first 10 games at home. For a team that has depended on its strength at home to offset a middling to poor road record in recent years, this is a big step forward.
"We've had a lot of injuries," said Murray. "Mattias Samuelsson missed a number of games. Cam Lee has not played yet, who had 26 points last year. He'll play this weekend against Omaha. Wade Allison has missed games, Hugh McGing missed games, Ethen Frank missed a game. The list goes on and on. So, I am optimistic about our team. We've played 10 games and have three losses in those games, and we've played seven games on the road. Even when we didn't have the wins, I liked our team. I liked how they were competing."
In addition to Washe, another surprise has been freshman goaltender Brandon Bussi, who started in the first game of the year and has taken over the position.
"What does he have, a goals-against of 2.3 something?" asked Murray. "And he's got almost a .92 save percentage. I mean, his problem is we don't give up many shots, so if he lets in a goal, it hurts his save percentage. He hasn't let many goals in. You look at Paul Washe, he's also winning I think over 60 percent on faceoffs right now. He's always been a hard worker. His line has been good.
"Lawton Courtnall has been playing with him most of the season and played with him last year. Lawton's been playing at a different level, and his speed and ability to make good decisions with the puck for both him and Paul Washe, it's been it's been fun to watch."
One area Murray knows can improve is the special teams. The power play has only seven goals in 44 attempts (15.91 percent), while the penalty kill has been slightly better at 84 percent.
"When your power-play players are not scoring five-on-five, it's difficult to score on the power play, too," Murray said. "Some of our top power-play guys have not found the range yet. When we look at the goal totals for a lot of the guys that play on our power play, which they should be on our power play, they haven't scored yet five-on-five either, but they're playing good hockey. I think once they start producing five-on-five, then I think it carries over into the power play as well.
This weekend, the Broncos face a tough test when they host resurgent Omaha, which has wins over Ohio State and Wisconsin already this year. Murray mentioned staying out of the box as a key to success.
"Mike (Gabinet) has done a great job," said Murray. "I talked to him a couple of weeks ago about something else, and he just talks so much about his young guys and their enthusiasm. You watch them play, they're fun to watch. They can skate. They're physical. They play the game the right way. I'm excited for him to see how he's done such a good job with that program. We have to be ready and focused. We have a lot of respect for their team. We've already seen a lot of video on them, and we know how good they are. We know they'll have some surprises for us as well.
"We don't want to take a lot of penalties. To be honest with you, I don't want to be tested like that. We know their statistics and how good they are. You're foolish if your penalty kill is tested too much. They're a very well-coached team. They're getting very good goaltending this year. They've got the one young freshman defenseman that's having a great year, and a couple of their young forwards, I mean, they had back-to-back rookie of the week awards in the NCHC in the last two weeks. They're going to be excited to come in here and try and quiet down the Lawson Lunatics, which is not easy to do. We have to play good hockey."
Denver to host North Dakota
For No. 2 Denver, this weekend provides the second stiff test in a row.
Last weekend, the Pioneers suffered their first loss of the season, a 5-2 defeat to No. 6 Minnesota Duluth. This weekend, Denver plays host to resurgent No. 9 North Dakota. Last season, the Pioneers swept the Fighting Hawks in the first round of the NCHC playoffs, ending their season.
This weekend will see the renewal of a fierce rivalry.
"It's never a good feeling thinking about the time where they ended our season, so it's going to be a little extra oomph in our game," said North Dakota forward Mark Senden in a video interview posted on the team's website. "We're going to bring it, but we just kind of have to stick to what we do and play with a little swagger. We can't get too caught up in they ended our season last year. It's a new year this year, a different team."