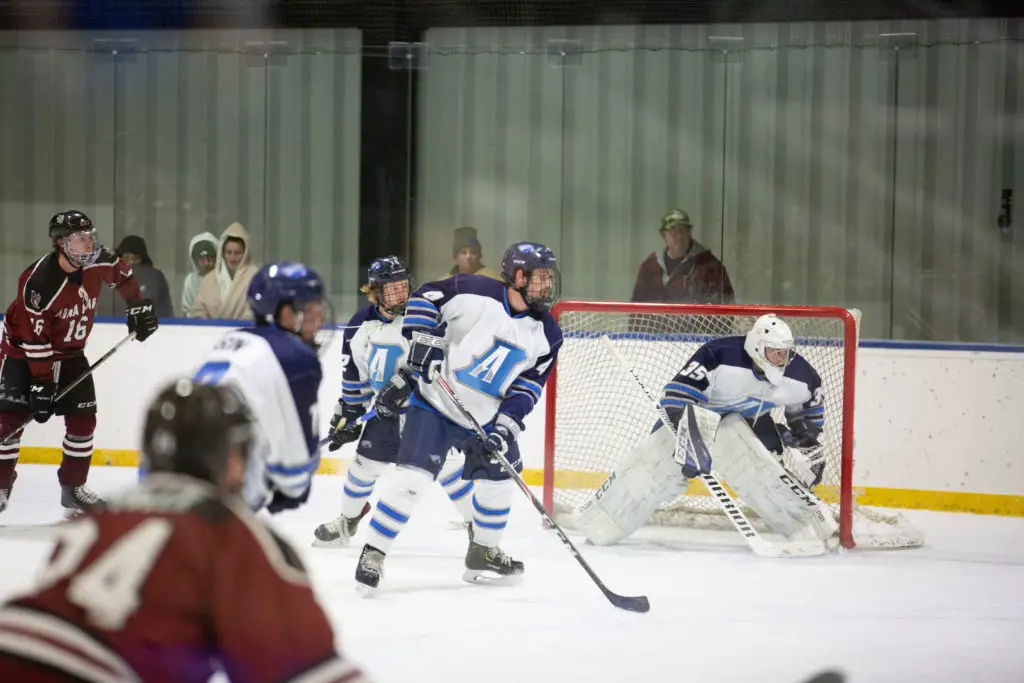 For head coach Kyle Wallack, the road to Albertus Magnus' first season as an NCAA D-III program took about 700 days but he believes he has the right recruits and built the foundation for a solid and competitive program in the highly competitive New England hockey landscape. Going 0-2-2 in their first four games, Coach Wallack has seen a lot of good things to build on and lots of coaching opportunities for his young Falcons to become a winning hockey team.
"It has been a process to get our program going," said Wallack. "It was legitimately a 700-day project with recruiting and getting our $6M facility built out and it is all very exciting for the program and the school. Our administration has been very involved so the support has been incredible and New Haven is a good hockey town so we will have a good fan base to draw on as we build the program in the community. We wanted to attract and recruit A-level competitors, good citizens and kids that can play with passion. I think we have done that, and the results will come as we build the daily habits for success with the team."
Wallack, a former goaltender, believes the foundation of the team starts in goal and Pierce Diamond has delivered on the needed performance to give the Falcons a chance to win every night. Through four games, Diamond has surrendered just seven goals, has a .954 save percentage and a 1.69 goals-against average for Albertus Magnus.
"We recruited two top caliber goaltenders," noted Wallack. "Unfortunately, Hunter Virostek got hurt in about the third minute of our first practice, so Pierce has had to carry the load and he has [played exceptionally well. He is fiery which I like because he expects a lot of his teammates. He is passionate and can throw his stick a time or two in practice, but he knows there is a line on how much of that passion can come out and I make sure he knows where that line is. We have been in every game with good goaltending which helps us compete and, at times, get by some mistakes a young team will make."
The Falcons are young with just one sophomore on the roster, transfer forward CJ Smith from Wisconsin – River Falls. The team is expected to compete while they learn collectively from their experiences. The first weekend at St. Michael's provided an early opportunity as the team surrendered a heart-breaking goal in the final 15 seconds of regulation to drop their opening game, 2-1. The team didn't swell on the disappointment and came back the next day to pick up a hard fought 2-2 tie against the Purple Knights.
"We want to compete and get better," stated Wallack. "I may be more demanding than some coaches, but we want to play with speed, and I focus on "field position" with our game – we want to be in the offensive end getting opportunities and controlling the puck. It's hard for opponents to score from their goal line. We have played 12 periods of hockey so far and really, there has only been one lackluster period. The team is competing hard and will continue to learn from their experiences."
While entering this season as an independent, Albertus Magnus will be playing a challenging schedule that includes games against teams from the UCHC, NESCAC, NE-10 and NEHC. Next season, 2020-21, the Falcons have an affiliate schedule set with the NEHC where they will play an 18-game schedule against the likes of Norwich, Hobart and Babson.
"It is great that we have the affiliate schedule already announced and planned," stated Wallack. "We also play in the Codfish Bowl tournament this year so will see UMass-Boston from the NEHC to start the New Year this season. We are very focused continuing to make progress and earn our results as a program. The kids have embraced the blank sheet of paper we have given them to define our program going forward day by day and are doing that every day on and off the ice, on campus and in the community. It is great to see!"
On Friday night, the Falcons played their home opener in front of a raucous crowd at the still be renovated Ralph Walker Skating Rink. The played a 1-1 overtime tie with fellow independent Anna Maria that saw Diamond make 41 saves for the Falcons.
"It was a great opening night," said Wallack. "The kids have been supporting the other sports as part of the effort to build a fan base and New Haven is a good hockey town so we will find our place in that. I spent some time at Yale, Quinnipiac and UConn and am a Connecticut native, so I am very excited to be a part of building this here. We had music blaring and food trucks for the opener – it was a great atmosphere with a lot of excitement around the program and the game. Our renovations should be done this week and I know moving into our locker room and offices will be another big step for the program."
The Falcons complete a four-game homestand with two games on Monday and Tuesday next week against two other Connecticut schools in Post and Conn College.