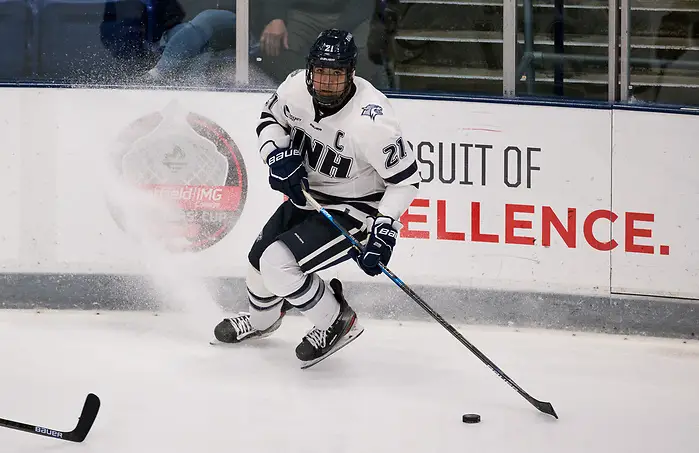 If you have watched college hockey – or any elite level of hockey – over the past decade or so, you understand that using the term "defenseman" to describe the two players on each shift who help protect the front of the net is probably selling the efforts of those players a little short.
In reality, the defenseman position has become one of the most complex on the ice. Sure, you're expected to be in position and be moving backwards towards your net as your opposition attacks.
But at the same, defensemen are responsible for moving the puck quickly and transitioning from defense to offense. Simultaneously, those same players are become relied upon more and more to help create offense.
Gone are the days where offensive defensemen had the chance to shine on the power play. Each and every shift, the blueliners are expected to jump into the offense, help create chances and, ultimately, score goals.
New Hampshire, under second-year head coach Michael Souza, has been executing that in spades.
Through eight games, his team has scored 24 goals. Seven of those goals, or just about 30 percent of total offense, have come from defensemen, a number that places UNH among the nation's leaders in offense coming from the blueline.
For Souza, he understands that backend scoring is part of the lifeblood of any modern college hockey team. His recruiting efforts have paid dividends in bringing in talented, puck-handling defensemen who can skate and all of whom feel a level of comfort become part of the offensive attack.
"I think the game today is one in which mobility on the back end leads to being able to play in transition," said Souza. "I think it's something that we've targeted, that our 'D' corps skates well. If you look at the teams that have been successful the last couple of years, UMass immediately comes to mind. A real mobile 'D' corps. Providence, players like Jacob Bryson. BC and BU have always had mobile 'D' corps."
Souza calls it a four-man attack, knowing that every time his team skates up ice that his three forwards always have the support of at least one defenseman in trying to create offense. Certainly, that creates pressure and responsibility to ensure that if the puck gets turned over that either both defensemen can immediately be in a position to defend or that one of the forwards reacts and immediately changes to a backcheck mode.
When creating defensive pairings, it isn't always about making sure that there is one offensive defenseman paired with a more defensive-minded partner. Instead, Souza tries to look at his forward group to make sure the front men with an offensive posture are supported by a back end that willing jump into the rush.
"We've moved guys around; it's not something we sit there and overanalyze," said Souza. "There's not a huge emphasis on creating balanced pairings. If we have a more offensive-minded defenseman, we try to get them out there with our more offensive minded forward group."
The ability to skate well on the attack led Maine head coach Red Gendron to refer to New Hampshire as a skating team in his weekly radio show in advance of a two-game series this weekend at Alfond Arena. Souza feels that is an accurate summation of his team's abilities to date.
"We're clearly not as heavy [as Maine]," said Souza. "I like to think we can play against them and I think we can skate, so that's probably a fair characterization."
All that said, New Hampshire will likely insert one of its heaviest players this weekend in Filip Engaras is finally eligible to begin his college career. The redshirt sophomore sat out all of last season and the first eight game of this year after the team he played for in Sweden was ruled as professional by NCAA standards. Engaras is listed on the UNH roster at 6-foot and 190 pounds, but is built solid and will be one of the most physical players that the Wildcats can insert.
He enters at a near perfect time as UNH will faceoff against its ultimate rival on the road this weekend. Unlike many of the recent seasons where either New Hampshire or Maine were in the middle of down seasons, each team has been more-than-competitive to date. That, says, Souza, is good for one of college hockey's best rivalries.
"I think it's great for college hockey if UNH and Maine are having great seasons," Souza said. "It's exciting for kids on both teams. There's some great history there.
"I know that Maine beating UNH in the national title game in 1999 is the moment most people think about, but there's been a lot of great games through the years and a lot of great players on both sides."
In the faceoff dot
There is always talk around hockey at all levels – college, obviously, is no exception – as to the importance of faceoffs. Or maybe to the lack thereof.
The statistic might not be very accurately tracked from building to building around college hockey (just like, say, shots on goal). But taking a look at the data to this point in the season (for most teams, we're about a quarter of the way through the schedule, if not further), there seems to be a clear benefit to winning faceoffs.
The top team in faceoffs thus far is UMass Lowell (winning 55.3% percent of the draws), followed by Boston College (53.8%), Providence (53.3%) and UMass (51.3%).
Looking at those four teams, they represent four of the five teams from Hockey East currently ranked in the USCHO.com poll (Northeastern is the fifth Hockey East team, though they are sixth in faceoffs and slightly below 50%).
You can't draw a direct correlation between the ability of a team to win faceoffs and ultimate success. There are simply too many other elements to consider.
But in today's game where puck possession is such a critical part of the game for most teams, winning draws certainly can go a long way.
Diggin' Dugan
If you're not a fan of Providence and anyone asked you who holds – far and away – the lead for points in NCAA men's division I hockey, would your answer be Jack Dugan?
Put down your hand because you know you didn't know that.
Providence has played more games than most teams, but Dugan's 24 points (five goals, 19 assists) is eight more than his teammate Tyce Thompson, who is second in the nation in points.
Even if you want to move to the more accepted stat of points per game, Dugan's 2.4 PPG is second only to Cornell's Morgan Barron who has five goals and five assists thus far in four games (2.5 PPG).
Dugan's rookie campaign was impressive recording 39 points in 41 games. But this year, Dugan's offensive play has moved to a new level.
After Saturday's crazy 6-5 win over Boston University, Dugan added four assists to his point total. His ability to set up plays is unmatched, but his head coach is happy to see other parts of his game improving as well.
"What I was happiest about is he was shooting the puck in the third period. He didn't pass up his shots," said Providence coach Nate Leaman after Saturday's game. "We had him out last minute of the game, too [with BU's goaltender pulled]. I thought he was good in that situation."
Friendship Four to air again on NESN
Though there hasn't been a formal announcement, Hockey East sources have confirmed that NESN will once again air all four games of the Friendship Four tournament played in Belfast, Northern Ireland, over Thanksgiving weekend.
Northeastern and New Hampshire will represent Hockey East while Colgate and Princeton represent the ECAC.
Once again, Aaron Murphy, a Canadian-born broadcaster who has become synonymous with televised hockey in Europe, will have the calls of the games. Murphy has called every game of the Friendship Four since its inception in 2015.
This is the final year where Hockey East will be guaranteed two teams in the field.
In 2020, the tournament will be opened up to Atlantic Hockey, as well. The field announced for that year's men's tournament includes Quinnipiac from the ECAC alongside Mercyhurst, Sacred Heart and Army West Point from Atlantic Hockey.