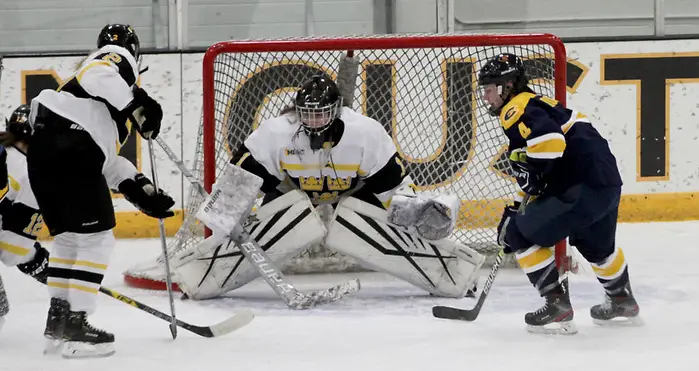 Though they have often been near the top of the MIAC conference, Gustavus Adolphus entered this season in unfamiliar territory, as two-time All-American goaltender Amanda DiNella graduated. The Gusties are young, with 12 freshmen on the roster, and faced a tough early test last weekend against then No. 7 Wisconsin-Eau Claire.
It seems that defense still reigns at Gustavus, as the Gusties earned a 1-0 win over Eau Claire, continuing their strong 3-0 start. According to coach Mike Carroll, his young team is growing and being rewarded for early hard work.
"Well, a lot goes into it. I think number one, we've got two really good senior leaders that have been through a lot of ups and downs, mainly ups, in their career. I think the last couple of years, our team hasn't had the depth and talent that we've been used to having over the course of the last 20 years or so. I think our team speed has improved. The bottom line, our kids are just working hard. It's nice to play good competition early. You just never know how it's going to go. We have a lot of unanswered questions with our team because we're very, very, very young, but so far, it's been really rewarding to watch their growth day by day and week by week, and hopefully it will continue."
One thing that has helped the Gusties early has been the steady presence of senior defenseman Kristen Cash, who is back contributing after an injury cut short her junior year.
"She unfortunately last year broke her ankle in her second game of the season. She was a returning all-conference defenseman, and we were without her virtually the whole season. She did come back in February, but did the best she could on one leg and just got through the season. It's really nice to see her get fully healthy and back in there to try have a goal of having her best year her senior year. She just brings a stabilizing influence back on D, cause she's a hard worker. She's a leader by example, sort of a silent leader. Her work ethic speaks for itself."
So far, no favorite to take over for DiNella has emerged. Carroll has rolled three different goaltenders in the team's first three games, and all three have performed well. Freshman Katie McCoy got the start against Eau Claire and made 19 saves, a performance that earned her MIAC women's hockey athlete of the week. Rookie Francesca Gerardi and sophomore Emilia Helms-Leslie have also played well.
"We've been spoiled the last couple years because we've had a two-time All-American, and even her senior year deserved a lot of votes to be a three-time All-American. We knew it was a huge void to replace her, but people graduate and you have to just try to do that. We're hoping to reload on the fly, and we've got basically all three of our goalies, even though Emilia is a sophomore, at zero game experience coming into the season. We had each one of them start one of our first three nonconference games, and they all did well in their own right. It's really good to see. Katie McCoy from Milwaukee, who probably had the biggest challenge against Eau Claire when they pulled the goalie, had a lot of really big saves, and it's really nice to see the three of them working hard and supporting each other. It gives our team confidence that maybe we have some really good options."
Also contributing early is freshman forward Molly McHugh, who has two points in the first game. She has made a quick transition to the collegiate level, according to Carroll.
"One thing that Molly brings to the table is she comes from a winning program. She comes from Minnetonka High School, and she's played in probably the toughest conference in a high school hockey in Minnesota. So, she's more used to the level of play. The difference in the level of play from high school to college is pretty great. So far, the transition for her has been maybe a little bit easier than some. Of course, I have her with two really good players on a line, our senior captain, Amelia Vosen, and probably our quickest and most speedy player, Tina Press on the left wing. Together they have done a really good job, and we've asked a lot out of Molly, both five-on-five and then on special teams."
This weekend, the Gusties will start conference play against St. Catherine. The MIAC is one of the conferences that has an automatic bid to the NCAA tournament, and Carroll knows that his team will have a lot of challenges this season if they want to make the tournament.
"I feel that our conference is probably the most improved and toughest top-to-bottom arguably of any of the conferences that give an automatic bid, especially the last five or six years. The gap between the top teams and the not so top teams has really narrowed, and that's really good for all the teams because it makes everything so much more competitive. Obviously conference games matter the most at this stage of the season. We're just hoping to get off to a good start on the road. We won our first game on the road, and hopefully we can go up there and give it six good periods of hockey."