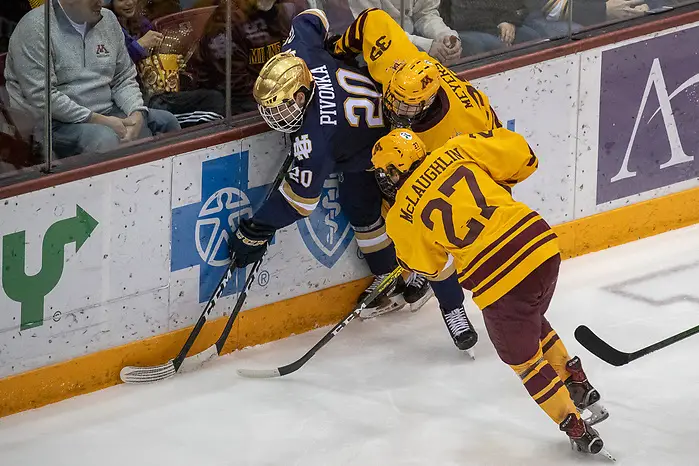 Maybe it's time to put the narrative about Notre Dame being a defensive team to bed.
Head coach Jeff Jackson has a potential different phrase to use.
"Everybody considers us to be a defensive team, but I'd rather look us as being a puck-possession team," he said. "Because [when] we possess the puck more than the opponent, that's the best defense of all."
As we enter the midpoint of the second month of the season, the undefeated Fighting Irish have the fifth-most potent offense in the nation. Notre Dame is averaging 4.12 goals per contest, 1.32 better than its mark last season.
"I don't think we've changed how we approach the game," Jackson said. "I think the difference is maybe we're getting a little more depth scoring, that's been a huge component to it. We go into every year, just like every team, expecting certain guys to be productive offensively and then you're always hoping that guys develop, and that's been the strength of our team over the years. Every year, guys tend to get better and better and more productive offensively."
The college hockey preseason is very short. Teams generally get down to business after one exhibition game. Even so, Jackson said developing a scoring touch early is a key point in the process of a campaign.
"We spend a lot of time on scoring skills, especially in training camp, trying to develop guys and their ability to finish," he said. "It's about more than their shot, it's about their ability to make a play in tight with the puck, sometimes it's making the goaltender move, but it's also rebounds and deflections and redirects and things like that.
"We always expect that some guys will be big contributors, but it was good to see some of the sophomores and some of the freshmen showing some ability to finish and to be more-effective getting inside that dirty area where most goals are scored."
The Irish are allowing 2.25 goals per game, so they haven't abandoned their strong defensive style. In its Big Ten opener against Ohio State last weekend Notre Dame won 3-2 in overtime on Friday and 2-1 Saturday, coming from behind in both games.
"We were fortunate to be able to come back both nights late in the game and tie the game and win it late or in overtime," Jackson said. "We scored key goals at key moments of the game and that was exciting to see."
Through eight games, Notre Dame's offense is being paced by three seniors. Cal Burke has four goals and nine assists, Mike O'Leary has five goals and seven assists and Cam Morrison has two goals and seven assists.
"It's always good when you have good seniors, every time we've had a good senior class it's made a big difference in our team," Jackson said. "I, to some degree, expect Cal Burke to be productive player, but he's progressively gotten better over his time here. As has Cam Morrison. Cam, right now, seems to be more focused and more driven to be successful this year, and that's a real positive."
Jackson said he was particularly impressed with O'Leary.
"Mike O'Leary's probably the one guy that's taken the most strides since he's gotten here," he said. "He really came out of the shadows last year, midseason. He got the opportunity, based on some injuries and things like that, to be on the power play for the first time and to be more of a factor on the top two lines and he took full advantage of it."
The plethora of experience amongst the top two lines is beneficial for the younger players on the team as it allows Jackson to work the matchups and put them in a position to succeed. Freshman Trevor Janicke is fourth on the team in scoring with four goals and three assists and sophomore Jake Pivonka has six points this season.
"There's less pressure on them than to play in a top-two-line role," Jackson said. "Our sophomore class, last year especially, they all played significant minutes and they were all strong contributors. It's really positive to see Jacob Pivonka starting to show some positive signs offensively."
The depth of goal scorers, like Jackson eluded to, is also a key point. The Irish have had 15 different players light the lamp at least once this season.
This weekend the Irish travel to Wisconsin to face another offensive-team. Jacksons said that the Badgers are the deeper offensively than they've been since Notre Dame joined the conference, and that he thinks they'll get better as the season progresses.
"I'm sure that once they gain that confidence to be able to do it on a nightly basis, they're going to potentially go on a bit of a tear," he said. "Hopefully, that doesn't happen too soon."
Michigan, Michigan State prepare for battle
The only in-state rivalry in the conference will be renewed this weekend when the Wolverines and Spartans play a home-and-home series.
The two teams have met 324 times, making it the most-played rivalry in college hockey. Michigan holds a 165-135-24 advantage in the series. The two teams will play in Ann Arbor on Thursday night and in East Lansing on Saturday.
Michigan State head coach Danton Cole said he prefers that his players prepare for every game the same, regardless of opponent, but conceded that Michigan week is special.
"All that being said, there is something different about this week," he said. "It's a big rivalry, and it has been in hockey for a long time. I don't think you get away from that emotion there."
Wisconsin seeks power-play consistency
Wisconsin may have won last Friday's game against Omaha, but the Badgers went 0-6 with the extra man. They did score a power-play goal on Saturday, going 1-5, but lost 5-2.
With Note Dame, a team averaging only 8.12 penalty minutes per game, coming to town any opportunity with the extra skater is going to be important this weekend.
Badgers' head coach Tony Granato said he saw improvement in the power-play units last weekend, despite only scoring once.
"I thought it was much better over the weekend," he said. "I think we could have had some more go in for us. We moved the puck better. I think the adjustments we made, personnel-wise we did some shifting around, kind of gave ourselves a couple different units that I thought gelled pretty well together (and) complimented each other very well."
That being said, he stated how important the power play was going to be against Notre Dame and beyond.
"It's going to have to be a big part of our team," Granato said. "Obviously, teams have done a good job of fronting certain shooters and we haven't responded and made the plays that are available to us. Now, with how we have it setup, we have the opportunity to get back on track and be able to be difference-makers in games. That power-play unit should difference-makers in games."
Minnesota prepares for Penn State, tough run in to holiday break
After taking five of six points from its trip to Michigan, Minnesota doesn't get much time to revel in its success.
The Gophers welcome Penn State to Minneapolis this weekend. The adage is that the first team to three goals has a good chance to win the game, but head coach Bob Motzko said the rules are different when playing the Nittany Lions.
"With Penn State, that's not the case," he said. "In four league games they've got six, six and five. They have the most-potent offense in college hockey, I'm convinced. I know I picked them first this year to win the league. They're older, they're veteran (and have) tremendous depth offensively. You'd better respect them or they're going to make you pay."
After the Nittany Lions the Gophers have two tough home series against Wisconsin and North Dakota followed by a trip to Ohio State to close out the first half of the season.
"We have a very tough stretch heading into Christmas — you can't hide from it," Motzko said. "I've never been scared of schedules because they've all scared me since the day I got into coaching. I'm just used to it, this is a tough weekend, and we've got to get ready for it."